JUMP! The Rise of Dockless Electric Bike Share Systems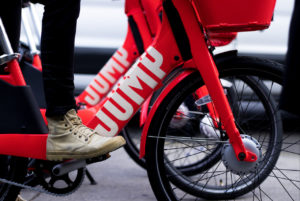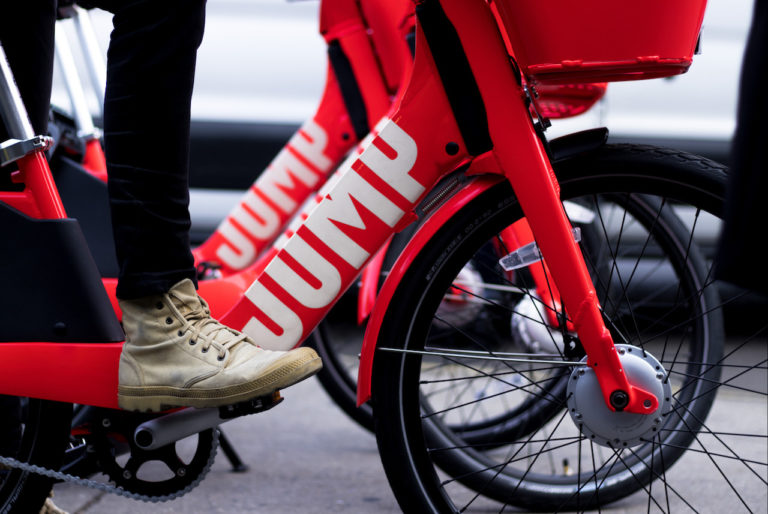 By Richard Schrubb
Dockless e-bike sharing programs are landing in major cities around the US and the rest of the world.
A development from the dockless traditional bike market, they both compete favourably in cost with public transport, and due to their range with private car use in many cases.
The media likes a good bad-news story and due to the stacks of dockless bikes left in major cities, there's a bit of a hurdle to jump before such schemes become widely accepted – and loved – around the world.
Brooklyn, NY, based Jump Bikes is a development of Social Bikes, a traditional bike sharing scheme that has been running for nearly eight years and now has connections to 40 territories around the world.
There are now nine Jump Bikes e-bike sharing schemes in the US, Canada and Europe, and the company is running a pilot with Uber in San Francisco.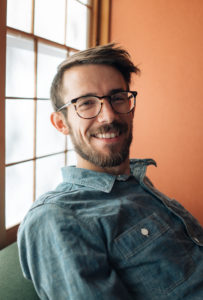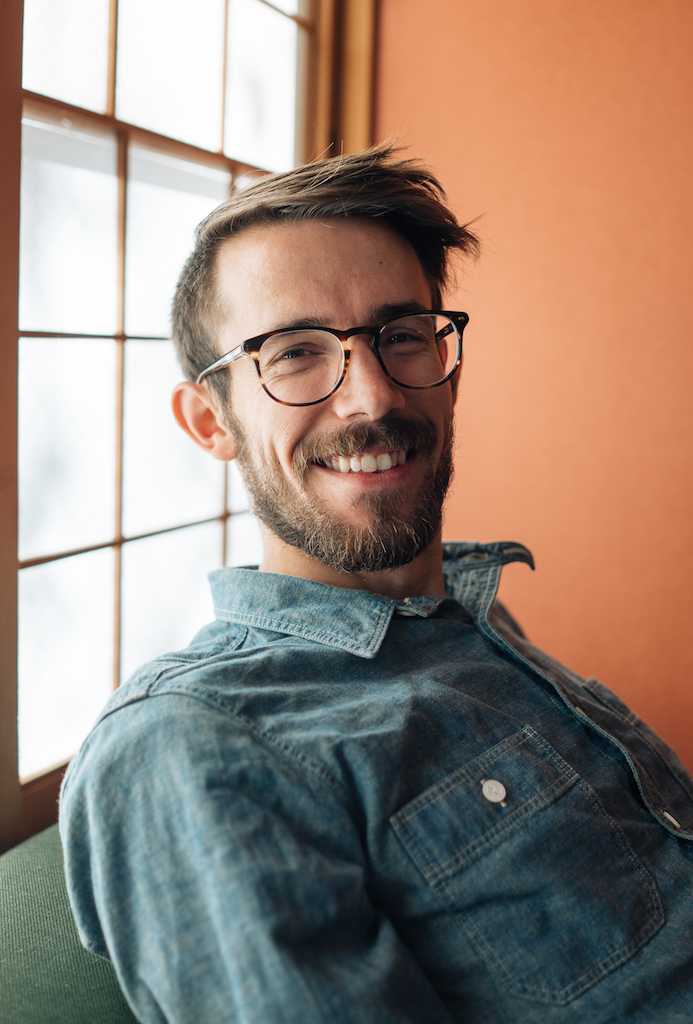 Head of Product Nick Foley explained that their unique system will not result in stacks of dumped bikes on pavements because of the way they are locked.
Chinese bike share companies oFo and Mobike have locks that just lock the wheel.
Foley explained, "We have a lock that physically locks through something. You don't see the level of chaos with 'free locked' bikes stacked on pavements".
Essentially, with the user having to lock the bike to a railing one cannot just dump the machine in the way so many do with the 'free lock' system used on many rivals' machines.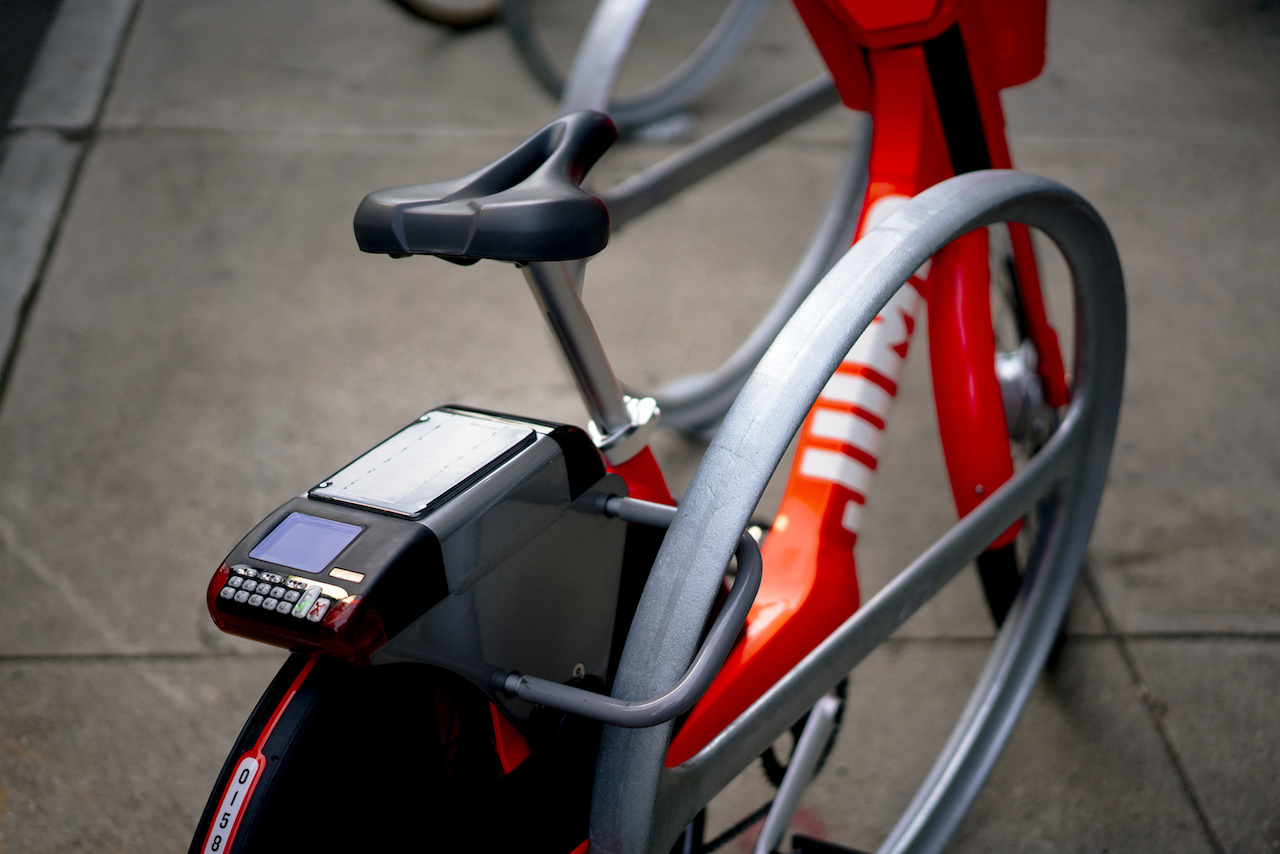 How They Operate
The way the user experiences the Jump Bike is that they find a bike on an app or nearby, reserve and unlock it using their app, and then use it on their trip.
In the US, the user is charged $2 for the first half hour and then per minute after that, at a rate of around $4 an hour. They then lock it to a railing when they have finished.
Foley said, "Most rides cost around $2 as the journeys are no more than 2-3 miles and under half an hour. This compares favourably with public transit, and incredibly favourably with taxis such as Uber where you could easily pay ten times the amount you'd pay for a Jump bike."
There are several advantages to using an e-bike over using a traditional bike too.
The energy from the motor extends your range, and requires less energy to use so you will be less tired after an equivalent journey by bicycle for example.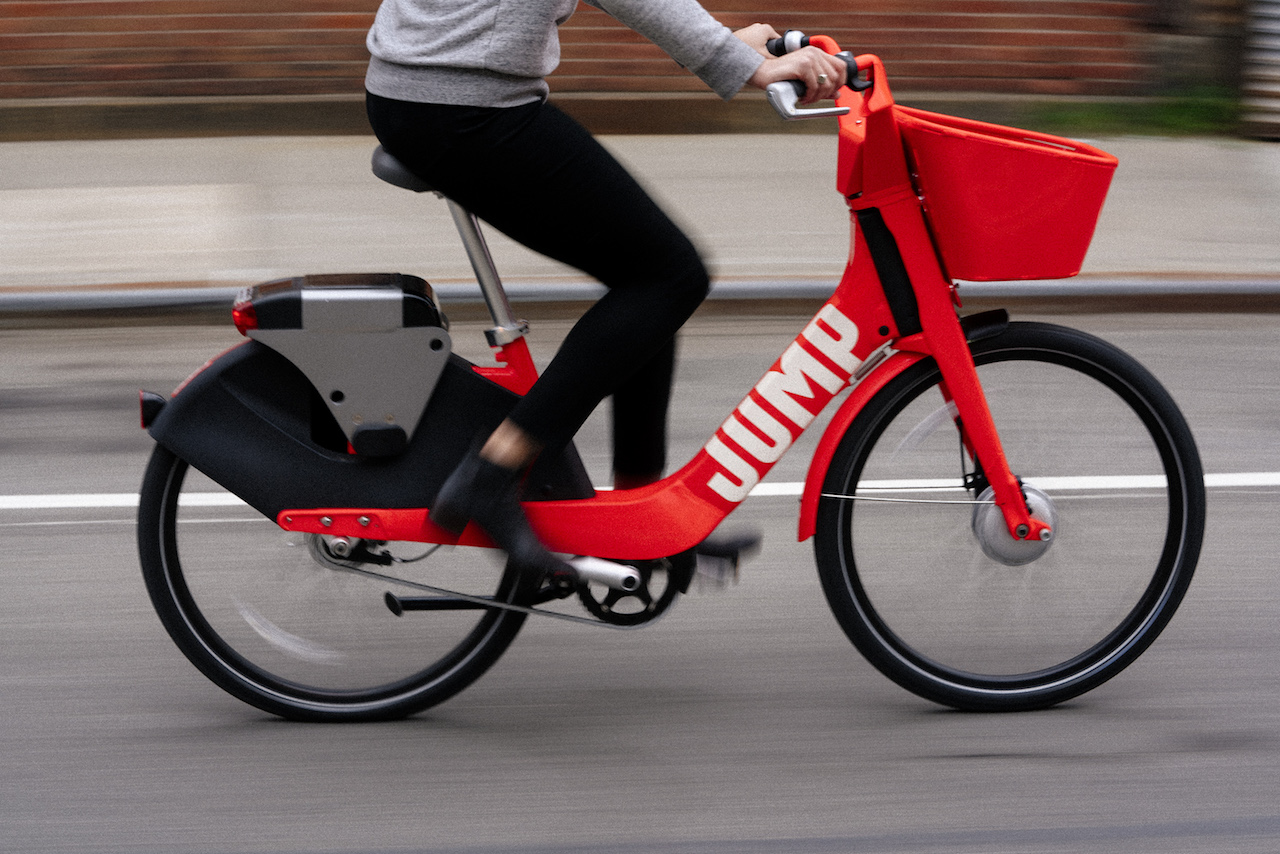 This is borne out in the way people use Jump's bikes. Foley said, "The average distance used on a shared e-bike versus a traditional shared bike is two times the distance. On our shared e-bikes you will see all the trips done on a bicycle (1-2 mile trips), but we are also seeing tons of traditionally car trips of 2-5 mile range."
While there seems to be a definite replacement of car journeys by Jump e-bikes the company has no data available to suggest that they are killing off the car in the cities in which they operate.
The schemes in question have only been around a short time, but the signs suggest that long term there could be an impact.
Different User Groups
Another observation made by Foley was, "You are opening bike sharing to a drastically larger audience with the type of commutes you can serve. With the e-bike systems we have higher utilisation numbers. In addition to each bike being used for longer distances, the number of times an e-bike is used is way higher, and the types of people that use them is more diverse. We are reaching beyond traditional bike commuters to those who would not usually use a bike on their own."
You don't have to be young and fit to use a Jump e-bike.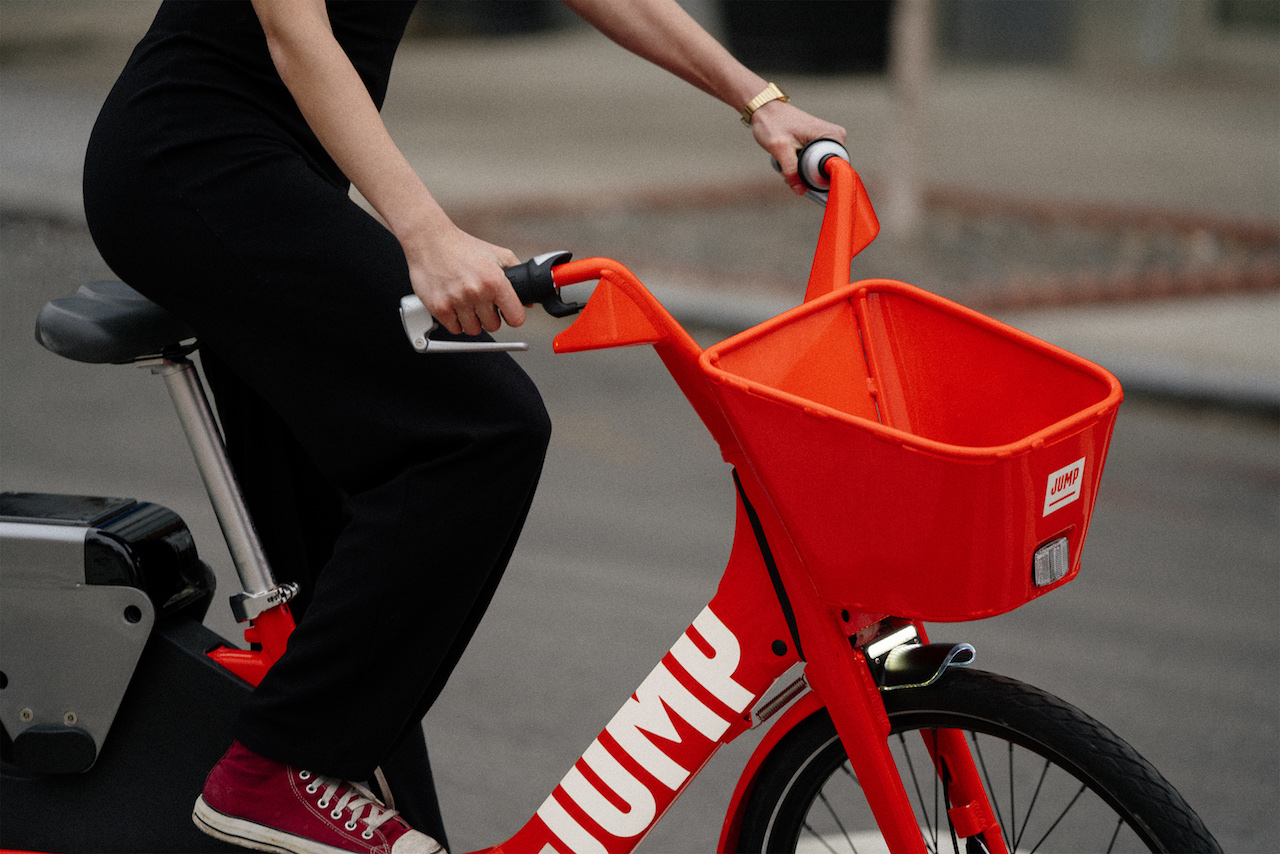 The Jump e-bike sharing system also helps more people become economically active. The company has a number of low income programs in place around the world to enable people to get to work over longer distances.
"Having access to an electric bicycle that someone else maintains for you can make the difference between having a job and not having a job because you have no way of getting to it," suggested Foley.
Good Neighbors
Good relations with the cities into which they work is core to the philosophy of running an e-bike sharing scheme well. Many cities are adopting a permit framework to control bike sharing.
"We respond to that framework and run a pilot. After that we increase the number of bikes until it gets to a scale that competes with other bike share schemes and meets the needs of the whole city."
He continued, "We are aware of other bike share schemes that have launched thousands of bikes on a city overnight. We don't believe people want change that quickly. That's just not the right approach."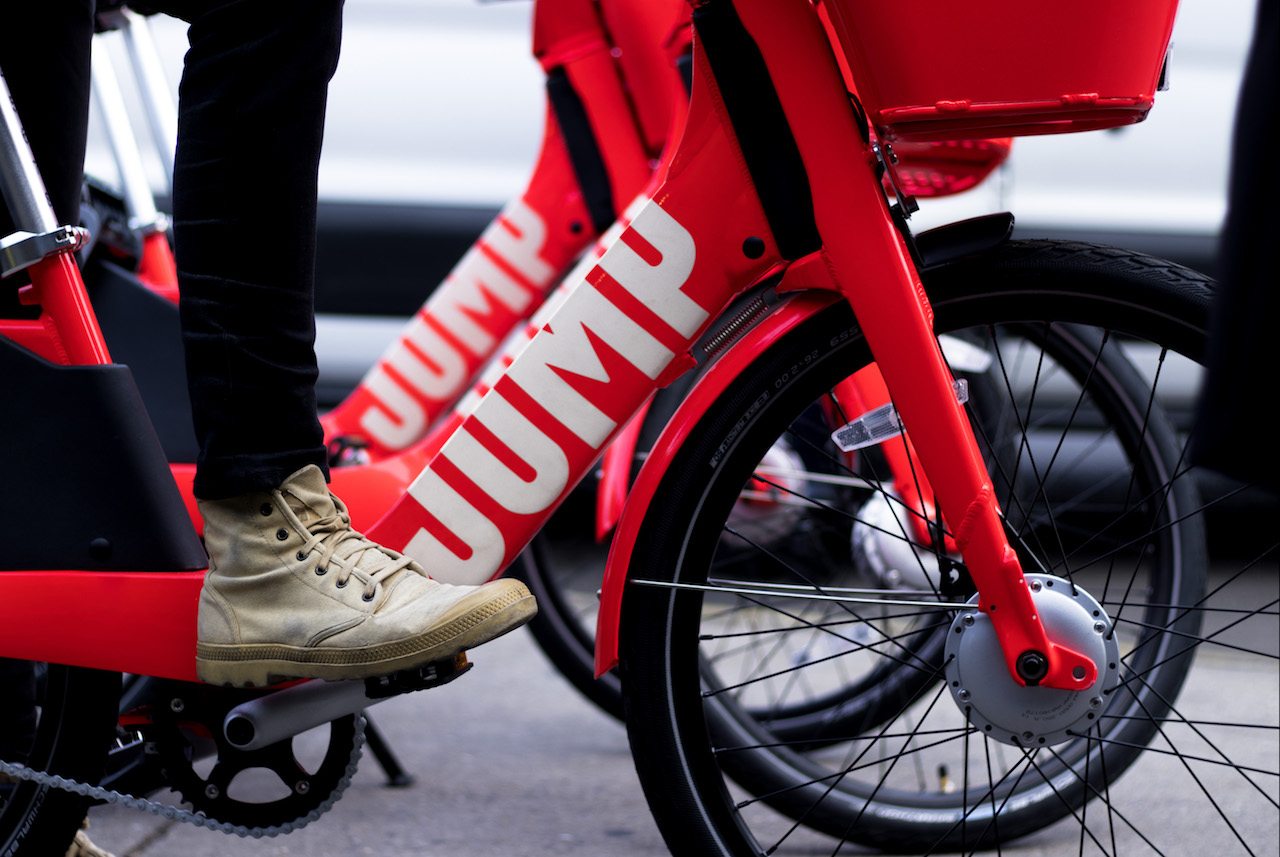 Jump have found that because their individual e-bikes are so well used they don't need so many machines on the streets. In San Francisco for example the company only has 250 machines on the streets. Ofo recently indicated they would like to put 100,000 on the streets of London in England!
Shared bikes are frequently abused and vandalised, but Jump have found that due to the relatively smaller numbers of bikes on the streets, this has resulted in as few as 1% of the machines being trashed.
Foley suggested, "A lot of people act out their frustration at the large numbers of machines that are like litter on their streets. Our high quality vehicles that are extremely well organised just don't get that reaction."
In the USA in particular these are often the first e-bikes people encounter. To that extent they are generally better received than when the public are presented with stacks of machines piled on street corners.
E-bike sharing schemes are going to be in large numbers of major cities around the world in the near future.
The best managed and most socially responsible ones will be those that encourage other cities to use them, and may well be the ones that stay in business while their misbehaving rivals are chased out of town.
-By Richard Schrubb
P.S. Don't forget to join the Electric Bike Report community for updates from the electric bike world, plus ebike riding and maintenance tips!
Reader Interactions