Diamondback Union 2 Review 2023
There's few things better than an electric bike that feels exactly as fast as it is.
I like racy bikes — ones that don't just roll fast, but look fast — and for me, Diamondback's Union 2 electric commuter bike hits in exactly the right way. It's sleek, has sporty geometry, no suspension (don't @ me rigid bike haters) and is powered by the ultra-lux Bosch Performance Speed power plant.
To put it short, this bike is exactly as quick as it looks. It's a thrill to ride and is a surprisingly affordable option in the growing lineup of Bosch-powered Class 3 commuter bikes.
We got the chance to do a brief review of the Diamondback Union 2 during the Big Gear Show in Park City, Utah this August and were impressed by the bike's considerable power, stable handling and solid spec level. It's a lot of bang for your buck.
This is a shorter review than we typically do at Electric Bike Report (our normal in-depth reviews typically take several weeks, which isn't particularly feasible during a morning at a crowded trade show) though we hope to land a bike for a long term-review of the Union 2 soon, so stay tuned.
Diamondback Union 2 Performance and Handling
Speed and handling
The Union 2 is an incredibly quick bike.
Much of that speed is courtesy of the Class 3 Bosch Performance Speed motor, but Diamondback clearly built this bike with speed and distance in mind.
It handles as if it's built to cruise all the time at 28 mph. The bike loves fast corners and it feels really planted. We didn't get a chance to weigh the bike, but it's not a particularly light commuter (few electric commuters are featherweights). But the Union 2's heft actually did its handling some favors.
The center of gravity felt very low and the bike handled as if its tires were being squashed into the asphalt. Its relatively wide 2.4" Schwalbe Super Moto tires rode like they were on rails and did a good job of soaking up the bumps. This bike is fully rigid — there's no suspension of any sort — so I appreciated the gentler ride. Some readers are going to scoff that a bike at this price point doesn't come with suspension, but I'd argue suspension would be sacrilege on a bike of this sort — speed and efficiency are the name of the game here. If you're looking for suspension, we also checked out Diamondback's Response electric bike which sports a front fork and shares the same ultra-fast componentry as the Union 2.
Diamondback Union 2 Components
Motor and battery
The Union 2 is packing the Bosch Performance Speed motor powered by a 500Wh battery, giving this commuter a very solid range.
That Bosch motor is capable of laying down up to 85Nm of torque and can power the bike up to 28 mph. Describing the motor as powerful might be a disservice — we used a long climb across from the Big Gear Show event grounds as our test track, and that motor easily sustained 15 to 20 mph up that hill with little physical exertion. Even on eco mode — the lowest pedal assist setting on Bosch units — the Union 2 climbed like a considerably lighter bike.
I was also impressed by the Union 2's range. Park City is extremely hilly, and though we weren't able to perform a full range test on the bike, the Bosch PowerTube 500 battery handled the additional stress of steep hills without losing much charge.
Drivetrain: Shimano Deore
Diamondback spec'd the Union 2 with the Shimano Deore 10-speed drivetrain.
This is a groupset from Shimano's mountain bike lineup that we've seen increasingly often on commuter-style e-bikes, and for good reason. Shimano Deore is affordable, reliable and employs a host of mountain bike drivetrain technology that's also useful to commuters. The derailleur shifts extremely well under load — an important feature considering the torque produced by mid-drive motors — and it utilizes a clutch technology that reduces chain slap and helps prevent dropped chains on rough roads.
Brakes: Shimano four piston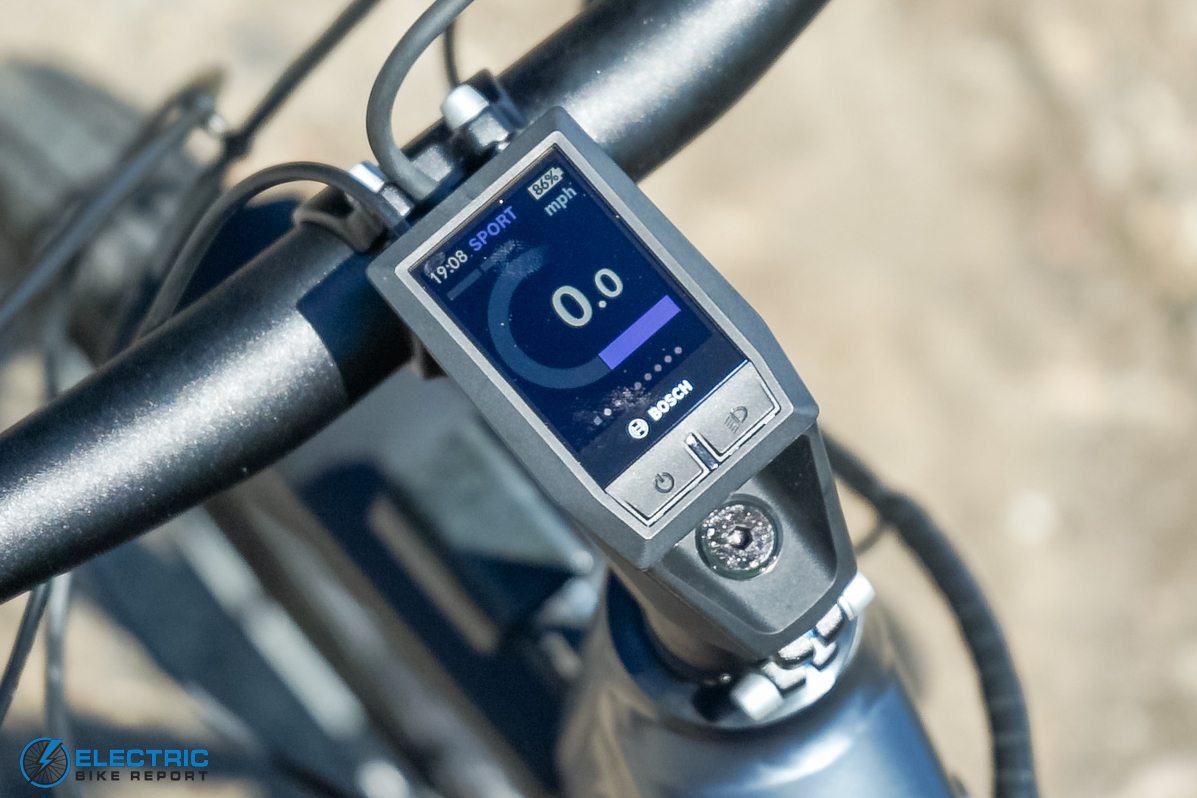 The Union 2 is spec'd with Shimano MT420 four-piston hydraulic brakes, giving the bike considerable stopping power.
Many Class 3 e-bikes do just fine with the more typical two piston hydraulic brakes, but I really felt like the Union 2 was deserving of the more powerful four piston setup. They gave me more confidence to brake later into corners, despite the Union 2's considerable heft (we didn't get a chance to weigh the bike, but it is heavy) and, more importantly, I never felt a hint of brake fade or overheating on long descents. Which is surprising considering the descents in Park City are really long.
Other notes: Accessories, racks and lights
As a commuter, the Union 2 is (naturally) spec'd with a pannier rack, fenders and front and rear lights.
The final word on Diamondback's Union 2
For a company known mostly for building mountain bikes, they sure managed to build a stellar electric commuter bike.
During the Big Gear Show, an event where I'd test five or more bikes a day, the Diamondback Union 2 is a standout for me. It's exceptionally quick, handles intuitively at speed and offers a premium motor system and drive train at a relatively affordable price. It also feels incredibly intentional: Diamondback built this bike to be a good, fast and reliable electric commuter and I'd say they hit their mark.
The Union 2 is the nicer of two models on the Union lineup. It's more affordable sibling, the Union 1 boasts many of the same components and features as the Union 2 but lacks integrated lights and has a slightly smaller 400Wh battery.
You can buy either bike from a local retailer or, if you'd prefer having the bike shipped directly to your door, you can buy them off Diamondback's website.