Diamondback Response Review 2023
Hipsters and young folk in bike-saturated cities know and love a flavor of commuter bike dubbed the "urban assault bike," or, to the unindoctrinated, a mountain bike that's been repurposed as a go-anywhere do-anything asphalt commuter.
It would appear that there's some hipsters and young folk on the Diamondback product development team.
The Diamondback Response electric bike is, for all intents and purposes, an urban assault bike. At its core, the Response is a Bosch-powered hardtail mountain bike with a few tweaks — like Schwalbe Super Moto semi-slick tires and Class 3 capabilities — that make it uniquely capable in paved environments. It's a bike equally at home ferrying you to the office or sending stair sets.
Electric Bike Report got the chance to do a quick-hit review of the Diamondback Response at the Big Gear Show in Park City this August. It's a shorter review than we typically do — it's tough to squeeze in-depth testing into the schedule of a trade show — but we got to spend enough time with the bike to get a good feel for it.
Diamondback Response Performance and Handling
Speed and handling
The Diamondback Response shares the same Bosch Performance Speed motor and 500Wh PowerTube battery found on the ultra-fast Union 2 electric commuter bike. Which means, this bike too is also ultra fast.
It's a Class 3 e-bike which means the motor will assist your pedaling up to 28 mph and that Bosch motor is capable of a whopping 85Nm of torque. Bosch motors are also among the most responsive on the market, so it kicks on as soon as you start to spin the cranks. It's an incredibly quick bike.
Thanks to its mountain bike roots, the Response is poised in rougher terrain and holds its own in off-road environments. We didn't spend much time with the bike off pavement, but the ultra-wide 2.8-inch Schwalbe Super Moto tires hooked up well on dirt despite their semi-slick profile. Diamondback actually said they've gotten feedback from dealers that some customers are swapping the semi-slick tires for full-fledged mountain bike knobbies, a testament that the bike can handle trail.
But with those slicks, the Response has the soul of an urban shredder. It wants to huck curbs, roll stairs and wallride concrete embankments. It's a super fun riding bike.
Diamondback Response Components
Motor and battery: Powered by Bosch
I'm always impressed with Bosch drive systems and the Performance Speed motor is one of my favorites.
It's got a massive amount of torque for a commuter motor and has no problem accelerating to and then maintaining 28 mph. The motor seamlessly responds to your pedaling without being overpowering and the 500Wh PowerTube battery has a solid range. It's also one of the most widely serviced drive systems on the market, so if something breaks, odds are good your local bike shop can lend a hand.
Drivetrain: Shimano Deore
The Response uses the same Shimano Deore 10-speed drivetrain found on the Union 2.
This is a solid mountain bike groupset that balances affordability with functionality. It's also been an increasingly popular OE choice for commuter bikes. Deore is a burly groupset that can handle the additional force thrown down by mid-drive motors and even shifts well under load. I could easily get the bike to cycle through its 11-42 tooth cassette as I was climbing. It also features Shimano's chain stabilizing technology that uses a clutch to reduce chain slap and help keep your chain from jumping off on rough roads (or big curb hucks).
Brakes: Magura four piston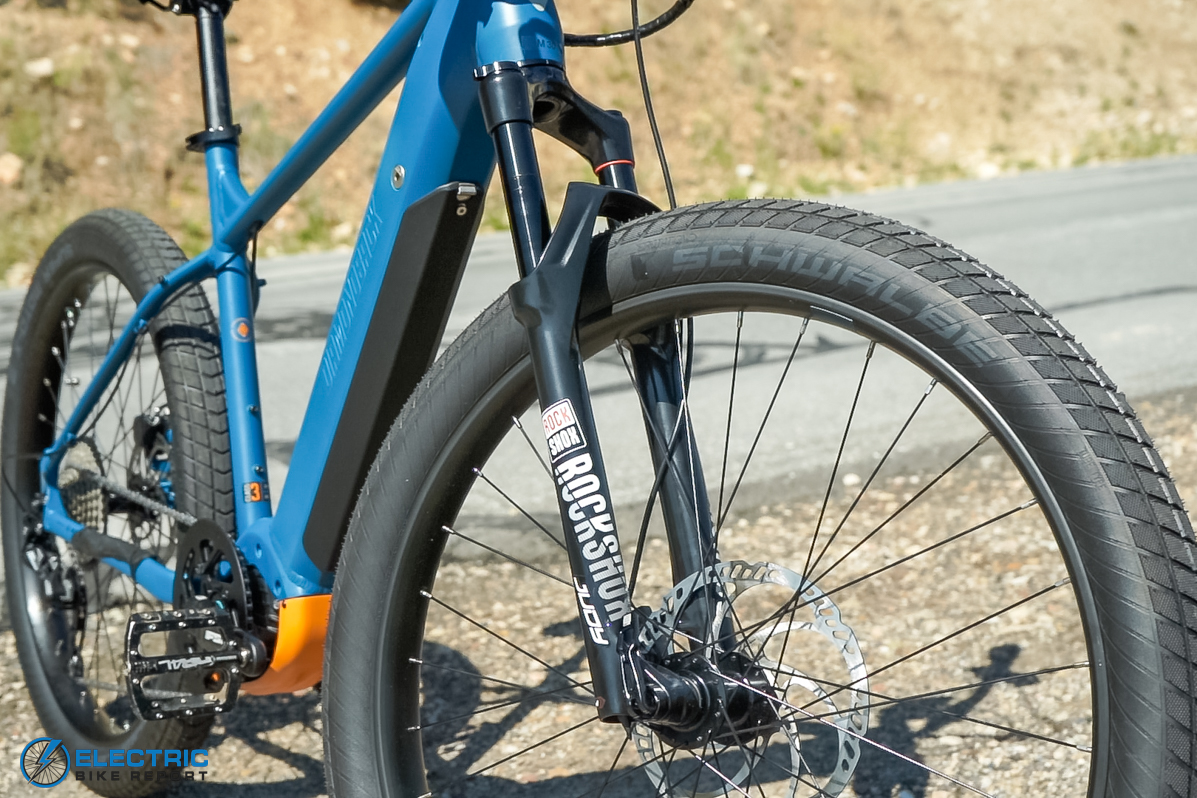 Diamondback outfitted the Response with stout Magura Fifty4 hydraulic disk brakes.
Those brakes are clamping onto a mondo 203mm brake rotor in the front and a 180mm rotor in the back. These brakes mean business, and did a spectacular job of navigating the tight twisty road descents of Park City. The bike never suffered from brake fade and they had ample power to bring this hefty bike to a quick but very controlled stop.
Other notes: Suspension and accessories
Smoothing the ride out front is a RockShox Judy Gold suspension fork with 120mm of travel. From a mountain bike perspective, the Judy is a little light-duty for the sheer weight of most modern eMTBs. But applied to this urban assault bike, it's just enough cush to handle the demands of urban riding without jacking up the bike's price or weight.
Other than that, the response is fairly spartan on the accessory front. There's a kickstand but not much else.
The final word on Diamondback's Response
It only makes sense that Diamondback's first e-bike lineup would include a mountain bike-inspired commuter. This is a company that got its start making BMX bikes in the late 70's afterall, of course they'd build a commuter that shreds faces.
If your ideal commute is hucking curbs, wallriding embankments and rolling staircases, then the the Diamondback Response is for you. Or, if your ideal commute is on a stable, well handling e-bike that'll cruise easily at 28 mph, this bike is also for you. The Response is equal parts metal and smooth jazz; it'll play nice when you want to get to work without breaking a sweat, but it'll also pop wheelies and jump off stuff with the best of them. I like that.
Diamondback sells its bikes in its nationwide network of brick-and-mortar stores, or, you can order the bike from their website and have it shipped directly to your door.