Bosch Performance Line SX Motor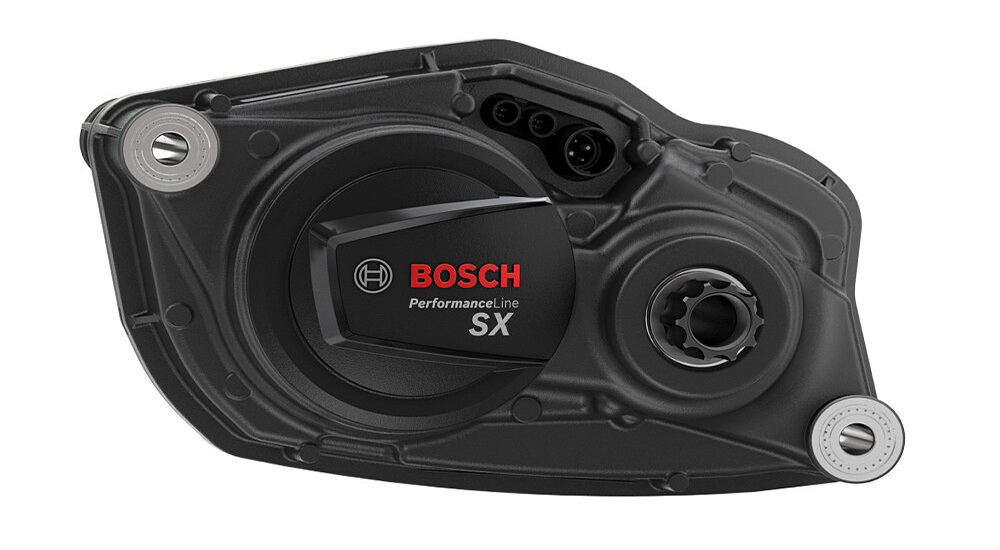 German e-bike system manufacturer Bosch has unveiled a new addition to its Performance Line of motor and battery systems, just in time for the Eurobike trade show. The Performance Line SX now ranks as Bosch's lightest drive system.
The Performance Line SX is aimed at higher-performance e-bikes, particularly eMTBs, road e-bikes and gravel e-bikes. The entire system, including controller weighs just a bit more than 4kg total. We will dig more into the weight in a bit, but because so many lightweight systems give up performance to save weight, we will first look at the impressive output of this system.
Surprising power
The Performance Line SX motor produces up to 600W. That's the number they lead with because it's the number that most impresses on paper, but it doesn't really sell this motor the way it deserves. It also produces 55Nm of torque. What they don't say up front is that like other Bosch mid-drive motors, the Performance Line SX runs at 250W nominally, which is the same as other Bosch mid-drive motors.
A 250W mid-drive motor that produces 55Nm of torque and maxes out power at 600W would be a snooze-a-rama if this were a hub-drive motor, but for a mid-drive motor, these are very solid stats. Mid-drive motors are able to multiply their output with the aid of the e-bike's drivetrain. Just as gears help a rider get up a hill and back down, those same gears can help a mid-drive motor's output translate into what is effectively more than 1500W thanks to the 600W max output of the Performance Line SX motor.
People often wonder why Bosch's motors are limited to a nominal rating of just 250W. There are two answers to this question. The first is simple: EU regulations don't permit them to make a mid-drive motor that produces 750W and 100Nm of torque. The second answer is more existential: Once someone has had a chance to ride an e-bike with a Bosch motor, they are unlikely to declare it underpowered.
Featherweight performer
The Performance Line SX motor weighs just 4kg, as does its Powertube battery. Motor plus batter plus controller weigh a nick less than 9 lbs. total. That sounds great, but the implications are impressive. An eMTB built with this Performance Line SX motor and battery have the potential to allow an eMTB maker the ability to produce an eMTB with a higher power-to-weight ratio than anything currently on the market.
For comparison, the Specialized SL 1.2 motor and battery are nearly identical in weight to the Performance Line SX motor and battery; Specialized claims a weight of 2kg for the battery and 1.95kg for the motor, while Bosch claims 2kg each for the battery and motor, a difference of 50g.
Performance wise, the Specialized's SL 1.2 motor produces the same nominal wattage: 250. However, its torque is almost 20 percent lower, at 45Nm. More dramatic, though is that while the Specialized SL 1.2 maxes out at 320W of power, the Bosch Performance Line SX can deliver almost double that—600W.
Better power at high cadences
One issue that many mid-drive motors have is that they operate best at a fairly narrow range of cadences. They often struggle to produce optimal wattage at cadences below 80 rpm and above 100 rpm. It's a range that works well for many riders, but for cycling enthusiasts—especially road and gravel riders—their cadences tend to run closer to 100 rpm; for veteran road riders, a cadence of 120 rpm is not uncommon.
Most mid-drive motors see a substantial fall-off in power above 100 rpm, but not the Performance Line SX motor. For this reason, it shows promise for spec in more than lightweight eMTBs, particularly road and gravel e-bikes.
Simple, but powerful, controller
The controller for the Performance Line SX is mounted in the e-bike's top tube, just behind the head tube, putting it in a location where it is easy for the rider to reach as well as see, but also out of the way of knocks and dings to decrease the chance of damage in a fall.
The controller is simple to operate; it features just two buttons: one for power at the top of the panel and another to select PAS level. Unlike many current Bosch systems, the controller for the Performance Line SX gives riders five PAS levels: Eco, Tour, Tour+, Sport and Turbo.
The LED lights for the controller also give riders the battery's current charge. Five blue lights means 100 percent charged. At 90 percent the display shows four blue lights and one white light, showing a 10 percent reduction in charge.
Of course, Bosch offers more support for riders than that one controller. They offer the "Mini Remote" which is a wireless trigger for the controller so that riders can increase or decrease their assistance without taking a hand off the bar.
Bosch also makes a smartphone app for iOS and Android called Flow which allows riders to fine-tune performance parameters, and also use their smartphone as a security key. The Flow+ premium service adds an alarm and tracking function for riders.
Bosch offers riders a walk mode to aid riders should they need to do some hike-a-bike in steep terrain and they add another feature found in many cars today: hill holder. This feature will prevent the e-bike from rolling backward should a rider need to dismount on challenging terrain.
Sprint mode
To make use of the 600W max output and to ensure that riders who are pedaling quickly don't suddenly find power tapering off just when they need the assistance most, Bosch has created a new power delivery mode called Sprint.
When selected, Spring mode increases wattage as cadence climbs, making it perfect for sprints and steep climbs, the opposite of how many motors process a rider's cadence. Ultimately, what this means is that a rider who wants more power from the motor need not pedal harder; they can simply pedal faster, and for a rider reaching their limit in strength or aerobic capacity, sometimes the only more that's left is pedaling faster.
Range
Bosch says their new CompactTube 400 battery is the most energy-dense e-bike battery on the market. It packs a 400Wh charge in just 2kg (4.4 lbs.). It's a claim with plenty of merit, considering their PowerTube 500 weighs a third more—3kg (6.6 lbs)—but only increases capacity by a fifth. Bosch's PowerTube 660 and 725 batteries are even less energy dense.
The CompactTube 400 is also a speedy charger, reaching 50 percent in just 1.5 hours and maxing out at 100 percent in 3.5 hours.
Riders will range anxiety can add a secondary battery, the aptly named PowerMore unit, which is said to fit in a water bottle cage and will add an additional 250Wh of riding.
The experience
Bosch reports that riders will find a ride experience different than what their other motors deliver. First, riders will notice less pedal resistance when the motor is off, as well as quieter operation overall. They also report that it applies power more gently so that the motor doesn't surge so much under hard pedaling. Additionally, they have shrunk the width of the cranks, that is, how far the pedals extend to the left or right of the centerline of the frame. Cyclists call this width Q factor and for smaller riders, a lower Q factor is often more comfortable.
While most new products developed for the e-bike market are aimed at the general public who may or may not have ridden in the last five years, the Bosch PowerLine SX system is aimed at experienced riders who want assistance that more accurately reflects their riding style.