Bosch Performance Line CX Race Limited Edition: A Motor For eMTB Racing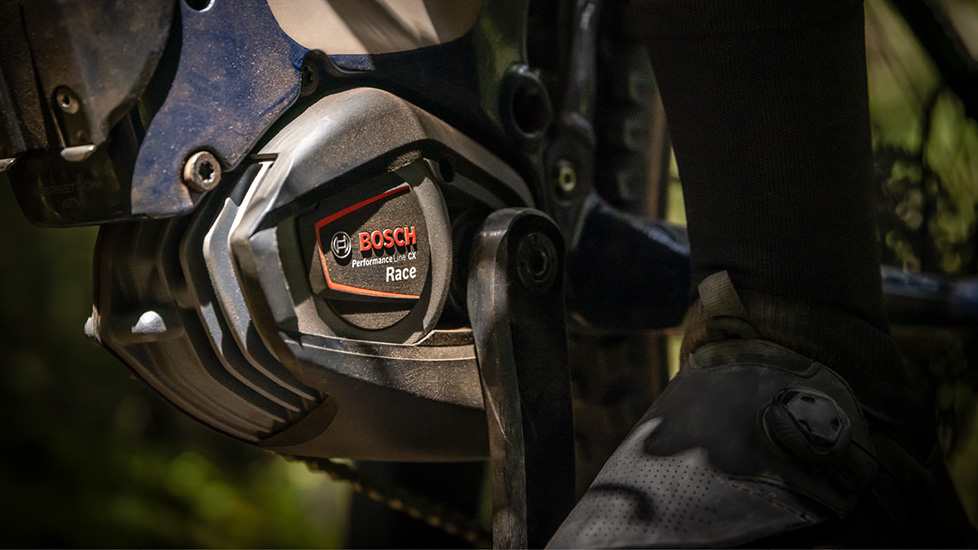 Bosch Performance Line CX Race Limited Edition: A Motor For eMTB Racing
Stuttgart, Germany—In a move that will excite eMTB enthusiasts, Bosch has introduced a limited-edition motor destined specifically for eMTBs that will be raced. While eMTB racing isn't huge in the U.S., in Europe eMTB racing has taken off and the e-bikes used by racers have been dropping in weight. This new lightweight motor is called the Bosch Performance Line CX Race Limited Edition; it presents an evolution and upgrade from Bosch's existing Performance Line CX motors. This new motor will be found on top-of-the-line eMTBs from recognized brands.
What Makes The Bosch Performance Line CX Race Limited Edition
The Bosch Performance Line CX Race Limited Edition can, like some of Bosch's other motors, multiply a rider's effort up to 400 percent, while tipping the scales at just 6.1 lbs., making it the lightest motor in the Bosch e-bike portfolio. In decreasing the motor's weight, the overall e-bike weight will be reduced, which will improve the eMTB's handling and make it easier to corner with and jump over obstacles. The controller will offer a "Race" mode which will offer even punchier performance than found in Bosch's Turbo mode. They claim that only very experienced riders will possess the skill set necessary to fully utilize and control the motor's performance in Race mode.
In designing the Bosch Performance Line CX Race Limited Edition, the engineers gave it some very impressive performance parameters. In addition to multiplying a rider's effort by as much as 400 percent, the motor also delivers a whopping 85Nm of torque, which will deliver exceptional performance on steep climbs. They also gave Bosch's Extended Boost feature an upgrade. Extended Boost allows for an extra kick when encountering boulders, stairs, downed trees or extended rooty passages; it is said to provide additional power for up to 2m (about 6 feet). Top speed will be limited to 20 mph.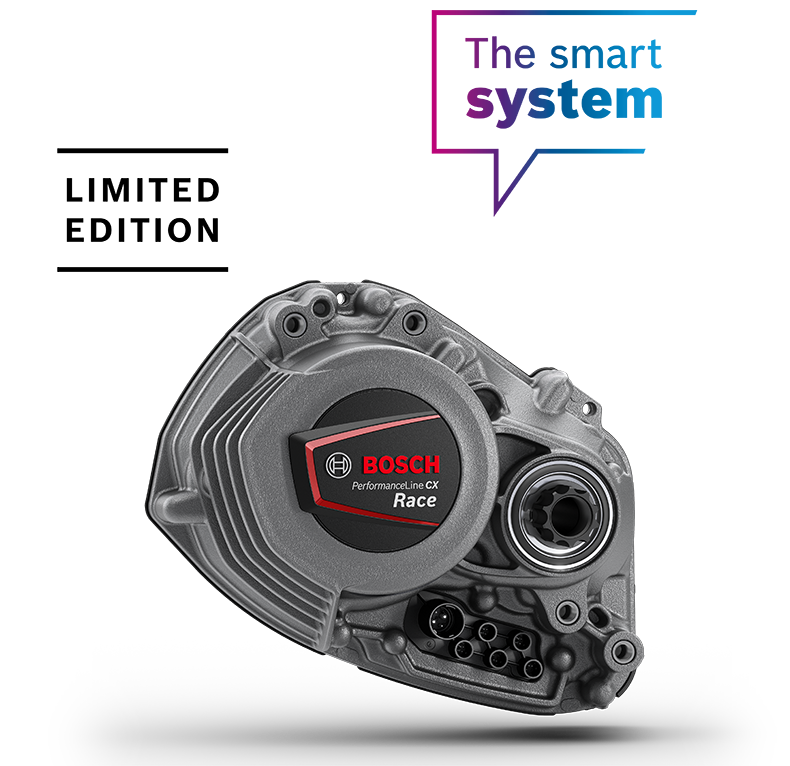 Riders are presented with a number of performance parameters that can be adjusted to their riding style in Bosch's e-bike Flow app. These include: strength of support, dynamics, maximum speed and maximum torque. One of the benefits of this different software is that full power is available the moment a rider begins pedaling, giving it the fastest, most powerful response of any e-bike motor currently sold.
An interesting feature of many eMTB races is that the race length is too long for most batteries to last the entire distance in Turbo mode; as a result, racers have to choose where and when they use the eMTB's full power and conserve when possible, which is what makes the rider-controlled parameters important.
In a departure from other units, the system controller will be integrated into the top tube, in part to protect it in the event of crashes or falls. For those who want something more easily at hand, Bosch will offer a handlebar-mounted device called the Mini Remote which will offer control of the unit via a Bluetooth connection. Like some of Bosch's other units, the Performance Line CX Race Limited Edition will include both Walk Assist and Hill Hold functions for when riders are forced to dismount.
The Performance Line CX Race Limited Edition will be paired with Bosch's popular Powertube 625 battery, which, as its name suggests, provides 625Wh of power.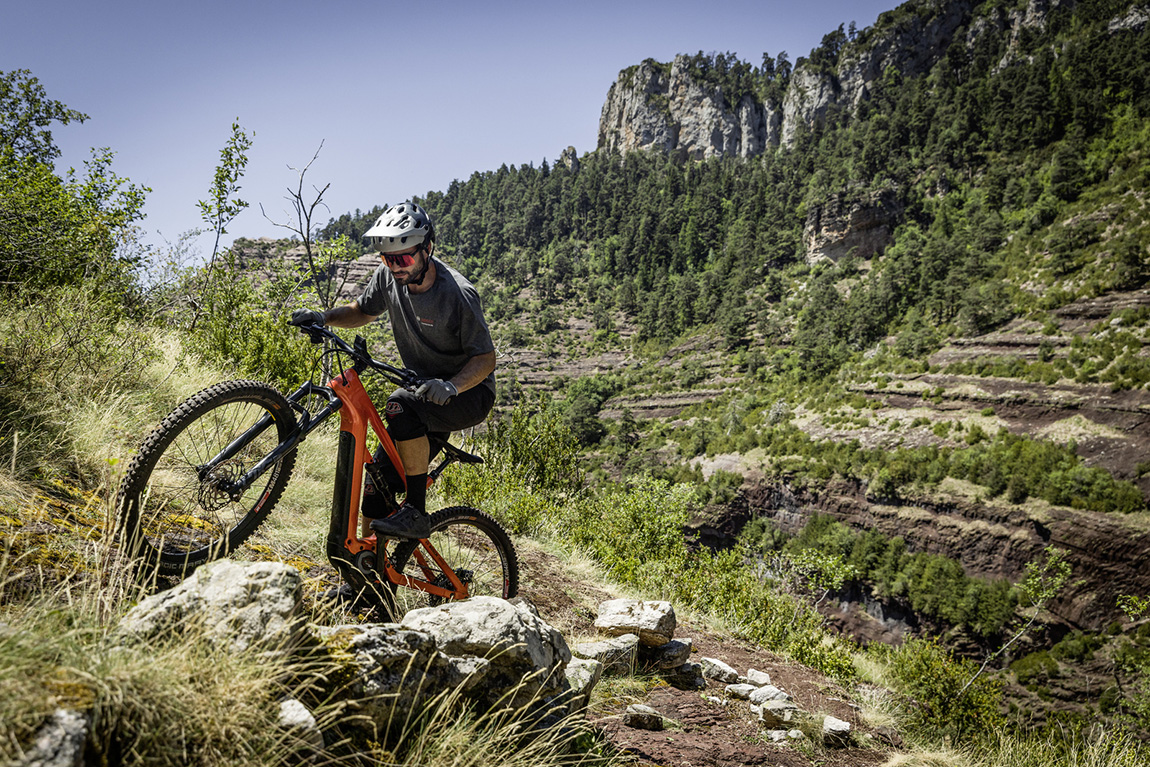 EBR's Take on the Bosch Performance Line CX Race Limited Edition
Here at Electric Bike Report, we've been waiting for a race-specific eMTB motor. In our estimation, given the way eMTB racing has been growing, both abroad and here, we knew someone was going to release a racing-specific motor at some point, and while we weren't sure who would do it first, our money has been on Bosch from the beginning.
Some of the features of the Performance Line CX Race Limited—like placing the controller in the top tube—are likely to trickle down to other product lines. Why? Having the controller positioned out of the way, where it would be difficult to damage in the event of a fall or crash, is a terrific idea; mounting an easy-to-replace Bluetooth selector on the handlebar means that the e-bike can still be ridden even if the selector is damaged, and because it won't contain any of the critical circuitry or processors, replacing the switch is unlikely to cost much. This is an idea some companies, including Specialized and Orbea, have already adopted.
Extended Boost is a fascinating feature, one that promises to make eMTB riding and racing more dynamic. We can see its utility, not just in racing, but in all technical riding. The trails near our offices are exceptionally technical and often require dynamic movements to ascend sections that feel more like steps than slopes. Extended Boost is a feature that will allow riders to simply goose the pedals briefly and then focus on rider position, weight shift and steering. It's a feature that will make riding safer in some places, but carries with it the challenge of figuring out how to ride an eMTB with a motor that keeps going after a rider has stopped pedaling.
We are curious to see how this new motor will be priced, and ultimately how the bikes it is spec'd on will be priced. The "Limited" designation seems likely to spur demand among riders who may worry that it will be in short supply.
While this new motor is considered a limited edition, we've placed our money on the idea that this motor is just the first of a series of dedicated race motors. It seems unlikely that Bosch would devote so much effort to developing a race-specific motor and not have plans to develop this technology further.
What are your thoughts on Bosch's latest motor? Let us know in the comments below!
Reader Interactions