Blix Packa Genie Cargo E-Bike Review 2023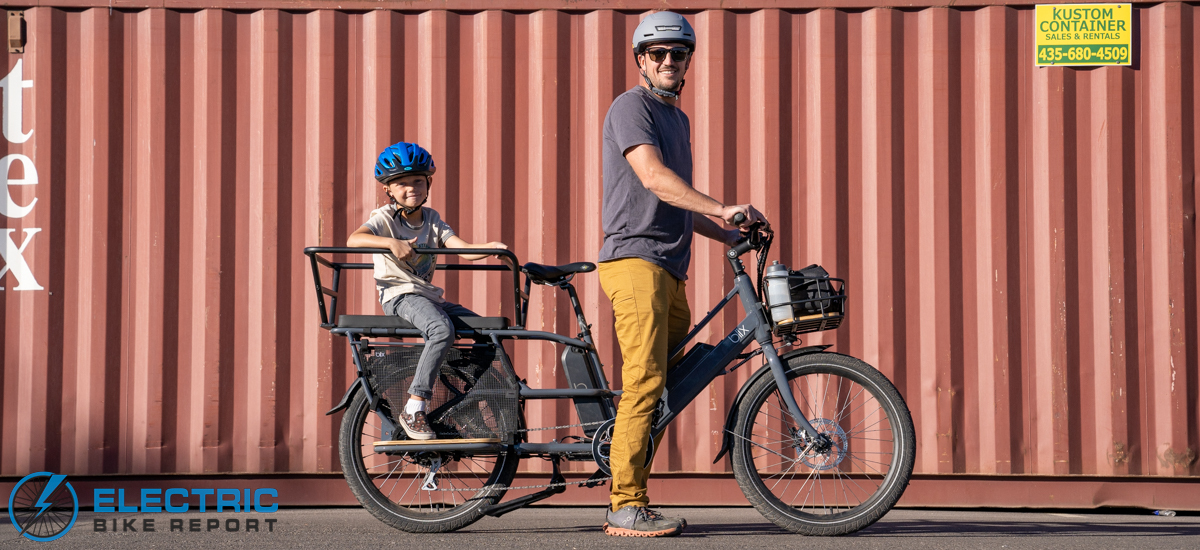 With so much talk the past several years about e-bikes being a substitute for vehicles, at times we find ourselves disappointed in the reality of how challenging it is to actually replace your car with an e-bike.
So, as I dove into our review of the Blix Packa Genie, I continually asked myself a few different questions. Would this e-bike work as a vehicle replacement? How does it ride with and without cargo? Is this an e-bike I would buy myself?
To answer these questions, we took the Blix Packa through our battery of standard tests: the circuit test, hill test, range tests, and brake test. And then we added one more: the 'Grocery Store Test'. Our regular readers are familiar with our standard tests, but the Grocery Store Test is a new one. It's also simple: I have to ride the bike to the store, buy what I need to, and see if I can make it home.
How did the Blix Packa Genie do? Let's dive into our full review and find out!
Bike Category:
E-Cargo / Utility
Bike Class:
Class 2: PAS/Throttle assist, up to 20 mph
Blix Packa Genie Video Review

Pro's
Good quality, value-priced e-cargo bike that lets you carry up to 400 lbs (up to 200 lbs of cargo)
Great handling for an e-cargo bike. Riding around I easily forgot that the bike is 81" long
Over 200+ accessory combos, making it easy to load the bike up with cargo and/or kids
Very long range with dual battery setup (up to nearly 80 miles in our real-world range test)
Powerful climbing hills, even when loaded up with weight
Good, quality components (hydraulic disc brakes, Shimano drivetrain)
Easy to get on/off thanks to 24" wheels and low, 19.4" step-over frame

Con's
This is me being super nit-picky, but I'd like to see a slightly larger front chainring. On PAS 5 you really don't have to pedal much at all to get the bike cruising at 20 MPH.
You can do so much with this bike, and there are a ton of accessories already. I just want more – specifically some type of large cargo basket for the rear rack.
ELECTRICAL SPECS & FEATURES
Battery 1: 614 Wh | 48 V (each battery)
Battery 2: 614 Wh | 48 V (each battery)
Display: LCD w/ USB charging port
Motor: Rear Hub, Geared 750W
Headlight: Integrated front
Taillights: Brake light
Peal Assist: 1-5
Real World Range Test: 24 – 40 miles (single battery) | 48 – 80 miles (dual battery)
Throttle: Yes, thumb
Weight & Dimensions
Claimed weight, 2 batteries: 75 lbs
Claimed weight, 1 battery: 67 lbs
Claimed weight, 0 batteries: 60.5 lbs
Maximum rider weight: 250 lbs
Maximum cargo capacity: 200 lbs (50 lbs front rack | 150 lbs rear rack)
Total Maximum Weight Capacity (Cargo + Rider): 400 lbs
Components & Accessories
Brakes: Bengal Hydraulic Disk brakes, 180mm rotors
Fenders: Yes, standard
Fork: Rigid
Frame: 6061 Aluminum Alloy
Drivetrain: Shimano 7 Speed, Revo Shift
Grips: Rubber, ergonomic
Saddle: Padded
Handlebar: 640mm x 31.8mm clamp, riser bar
Kickstand: Yes
Pedals: Metal
Tires: 24" x 2.4", puncture resistant, reflective sidewall
Blix Packa Genie E-Cargo Bike Review: Bike Overview
The latest version of the Packa was dubbed the 'Genie' as a reference to being a 'genie in a bottle'. Riders of previous versions of the Packa consistently asked for three upgrades:
1. Hydraulic Disk Brakes
2. Stronger motor for climbing steep, daunting hills (especially when loaded up with cargo)
3. Longer battery range for heavy loads
Blix was able to offer those three upgrades for this 'Genie' version. However, the team here at Electric Bike Report were more impressed with HOW the Blix team was able to integrate these three elements into their new model. It's not necessarily hard to upgrade a bike to have hydraulic disc brakes. It's not hard to strap on another battery and make a bike go forever. And it's also not hard (in theory) to just adjust the motor to be more powerful.
However, it is VERY HARD to do these things well and keep an e-cargo bike priced around $2k. We think Blix implemented all three of these goals seamlessly into the Packa, making it one of our favorite rear-hub motor e-cargo bikes.
With more torque, higher max motor output and a very slick dual battery system, riders will be able to climb hills (seriously, check out our hill test data below) and ride up to 80 miles without breaking a sweat. In addition, you can add a ton of different accessories, load up your kids, add the groceries, and still feel like you're riding an actual bicycle.
It's pretty impressive.
Blix Packa Genie Review: Motor Performance, Speed and Acceleration
The circuit test tells us 1) how fast does the bike go at each PAS level, and 2) is the change in speed between assist levels steady and consistent?
We were impressed with the Blix Packa Genie's results. We observed a smooth, steady increase in speed from one PAS to the next. The bike topped out right around 20 MPH, as it should for a Class 2 e-cargo bike. And the Packa felt smooth on each of the circuit test laps.
That being said, we do think that Blix could increase the motor output on PAS 1. You'll notice from the graph above that Griffin's speed didn't increase much in going from zero assist to PAS 1 (13.2 MPH to only 13.4 MPH). However, it's worth noting that Griffin was able to pedal this rather large e-cargo bike without any assistance at 13.2 MPH. That's comparable to speeds he gets on commuter and city bikes. No, he didn't say it was fun by any means, but that's a higher speed than we expected and speaks to how well the bike pedals in general.
We found PAS 2 and 3 to be fairly reasonable at 14.5 and 15.2 MPH, respectively. In my personal testing riding alone, riding loaded with cargo, and riding around with my son, I found myself most often using PAS levels 2 and 3. They were more than sufficient getting around town and did excellent even under heavy loads.
PAS 4 and 5 is where you will see the biggest speed jumps in our test results, coming in at 16.7 and 19.8 mph. In PAS 5, the Blix Packa gets up and goes! It's powerful, speedy, yet still handles very well at those speeds.
Blix Packa Review: Range Test & Battery Performance
If you are looking for a hub motor e-cargo bike that has a very long range, then the Blix Packa Genie is going to be at the top of your list.
Blix claims up to 80 miles of range with the dual battery set-up, and our real world range test results got almost exactly that: 78.10 miles with almost 2000 vertical feet climbed over that range. That's pretty impressive for a bike that weighs 75 lbs.
You'll notice in our test results above that we also got just shy of 50 miles on our high power (max PAS) range test. I want to restate this so you can let these results really sink in: We went 47.4 miles, climbed 1,192 ft on a single charge, pedaling at almost 20 mph. That's far for any bike, but it's especially far for a cargo bike that you can load up with 200 lbs of gear.
While we do expect that range will decrease the more you load up the bike, those results strongly suggest that you should spend a little bit more $$$ and go for the dual batteries if you are someone who needs range. However, with just one battery you can still expect to go 25 miles on full assist, which is already a lot further than almost anyone I know will be riding this bike.
Ironically, I actually think Blix could help riders get even more range without changing the battery or motor. One of the challenges our range tester had was that at PAS 5 and without any cargo, the Packa Genie feels slightly under geared (under gearing makes it so it's almost too easy to pedal and can lead to ghost pedaling). That means the motor is then doing almost all of the work with little to no rider assistance.
Of course, the challenge that Blix faces with this is that they also need the bike to pedal well while under heavy loads. What I found on the Packa Genie is a bike that feels really good when loaded up with cargo, but feels slightly under geared when it's just me riding.
Personally, I'd like to see Blix swap out the front chainring for something larger. I actually didn't have to shift below gear 7 on the Packa, even when I was loaded up with $150 in groceries and an inflatable paddleboard (see my 'grocery test' details below). With a larger front chainring (maybe even just a 52t), I think the bike would perform better in PAS 5. Then, when you are carrying a lot of cargo, you would simply shift to a lower gear if/when needed.
Blix Packa Genie Cargo Bike Review: Hill Test
Simply put, the Blix Packa Genie climbs hills like a champion. It's very obvious that Blix listened to their customers when they said they wanted a cargo e-bike that would climb challenging hills.
As the person who does the hill tests for EBR, I was shocked at how well the Packa climbed Hell Hole on both throttle only (74 seconds, 14.7 mph) and PAS 5 (60 seconds, and a WHOPPING 18.1 mph). I typically re-run test results like that, but in this case there was no need – I could feel the power of the bike climbing and knew the results were going to be stellar.
With a 750 watt HP rear hub motor that obviously peaks higher (we have asked Blix what the peak wattage and torque are and will update this review when we have that data), you will have no problem climbing steep hills on the updated Packa.
Blix Packa Genie Review: Brakes and the Brake Test
The Blix Packa Genie comes stock with Bengal Hydraulic disc brakes + 180mm rotors. These are brakes we have seen quite frequently the past 2 years, and they have always performed very well on our test.
That didn't change when it came to the stopping power of the Genie, which stopped with an average of 23'1" (Griffin doing the brake test, at around 230 lbs). Again, we've switched up our brake test the last few months to be less of a full-out panic stop and replicate how far it takes an average rider to stop, while seated, when traveling at 20 mph. 23'1" is a few feet longer than some of our other recent tests, but given the extra weight of the e-cargo bike that's to be expected.
Bottom line on the brakes – we have really liked the performance of the Bengal Hydraulic disc brakes on e-bikes. This version also has a cut-off switch, so as soon as you tap the breaks the battery cuts power to the motor. This is a nice safety feature we wish was standard on all e-bikes.
The only thing we'd point out is that we have seen slightly more maintenance required on the Bengal vs Tektro hydraulic brakes.
Blix Packa Genie Review: Ride Comfort, Handling and Cockpit + "Grocery Store Test"
For this segment of the review, I'm going to focus on the Packa as a cargo e-bike, which changes things a little bit. You shouldn't expect a cargo bike to ride the same as a traditional commuter or cruiser. It's going to be longer and heavier, and those facts will affect performance.
Given that the Blix Packa is 81" long, I was worried that there would be a lot of flex in the frame and make it feel like the bike was fishtailing, especially when loaded with cargo. However, as soon as I took my first spin on the Packa Genie I completely forgot about the longer length. The bike rides much more like a normal bike than I expected. It's a great bike for even just commuting to work and/or joy riding around town. Not as great as the Blix Aveny is by any means, but again much better than I think a cargo bike should be.
After riding around 'naked' (i.e. without any accessories or cargo), I decided to really load up and test the bike. After all, no one is going to buy this bike to just cruise down main street or ride to and from the park. You're buying this bike to replace a vehicle, or at least minimize your vehicle usage somewhat on trips to the grocery store, the bank, etc. Or, you're buying the bike to load a kid or two and have a fun family bike ride together.
So, I made a grocery list of the following items, added the rear pannier bags and a milk crate for storage, and rode to the nearest grocery store. My list included just over $150 in groceries, so this was a decent trip, but nothing crazy.
I should have gone crazy.
I was shocked at how much groceries I could fit into the Packa without really even trying. My list included:
2 Boxes of Cereal
1 Gallon of Milk
1 Dozen Eggs
2 Bags of tortilla chips
12 Pack of Soda
2 Loaves of bread
1 Block of cheese
2 Pepperoni / Deli Meat packages
Apples/Oranges (4)
Tomatoes (8)
Avocados (4)
Onions (1)
Cilantro (1)
Limes (4)
Frozen Pizza (2)
Bag of rice (1)
Dish soap (1)
Toilet Paper (6 pack)
Gummy Bears, M&M's, Twizzlers, and some chocolate (for a well-balanced meal)
I filled up the pannier bags, the milk crate, and the front storage rack. I easily could have added another milk crate of groceries so I did what anyone else in my position would have: I decided to add more, and was able to load up an inflatable stand up paddle board behind the milk crate.
(Side note: I also test paddle boards for our sister site, Supboardguide.com, and we had quite a few boards laying around to choose from. I chose the iRocker 10' Ultra All-Around because it fit perfectly).
After loading the bike up with all the groceries and the paddle board, the bike pedaled and handled very well. When I just had the groceries, I could feel the extra weight but only marginally. There was no fishtailing, and I think almost anyone would be able to handle the Packa Genie with that much cargo. However, I will admit that the bike fishtailed just a little bit when I added the paddle board. I was able to ride around a few miles though no problem, but I did have to be more careful and conscious of the weight behind me.
Finally, I took off all the cargo and just added my 5 year old son, AJ. AJ is a great tester for this bike because 1) he has ridden in about every e-bike that we have tested in the past 2 years that comes with any kind of child seat, and 2) he's crazy picky about which bikes he likes. Let's just say that we have a hard time getting him excited to go on e-bike rides with us because he's not that comfortable.
You'll notice in most of the pictures we got of AJ that he's giving the bike a 'thumbs' up. He said it's his favorite bike so far and would love to go on more e-bike rides now that we have this one. I'm calling that a win and can whole-heartedly recommend the Blix Packa Genie for anyone looking to ride with their kids on the back.
Blix Packa Genie Cargo Bike Accessories
Blix touts being able to 'carry up to 200 lbs in 200 different combinations' with their accessories. We were able to get our hands on several of them (see photos below) and loved every one. To really see all the different options, head over to the Blix Packa Genie page and scroll down to the accessories section. However, below I'll go over my personal set-up that I use for the Packa Genie.
And yes, this really is how I've set up the bike for me to use. Griffin isn't going to be happy, but I'm pulling rank and am going to take this one home because of the smile it's going to put on my wife's beautiful face.
My personal setup for the Packa Genie includes the following accessories:
Front Basket
VIP Section (which is extremely versatile for both kids and cargo)
(2) Rear Rack Cushions
Running Boards
Mess Wheel Cover
(2) Everyday Bags
(1) Plastic Milk Crate (purchased for about $5 from Walmart)
This setup allows me to use the bike with my 5 and/or 9 year old sons, but not have to change anything for when I want to commute to work and bring home groceries. I don't have to swap out accessories, and only have to remove the Everyday Bags which takes maybe 5 seconds if I don't want them.
If AJ was still younger I would add the Thule Yepp Child seat.
Blix Packa Genie Cargo Bike Review: Summary / Where to Buy
As you can tell from the rest of this review, we don't have a lot of complaints about the Blix Packa Genie cargo electric bike. It delivers great performance and value as we've come to expect from other Blix electric bikes we've reviewed.
For a bike that's right around $2K in price, it checks the boxes of what an e-cargo bike should be:
It's very comfortable both with and without cargo
It has a very high weight capacity
It's safe, with improved hydraulic disk brakes, front and rear lights, and solid build quality
It has tremendous range, given the ability to have dual batteries
It's powerful up hills, under high weight
In other words, Blix did exactly what their customers wanted and created a 'genie in a bike'. As such, this is currently at the top of our list for Best Cargo Electric Bikes in this price range.
If you are someone who is looking for a good-quality, less expensive electric cargo bike to replace your vehicle, or even just cruise around town with your kids, then we highly recommend the Blix Packa Genie.
'Happy Riding, make sure to let us know if you have any questions down in our comments section or if you think we left anything out in this review of the Blix Packa Genie cargo e-bike.
Reader Interactions