The Quick-Install Bimoz E-Bike Mid Drive Kit [VIDEO]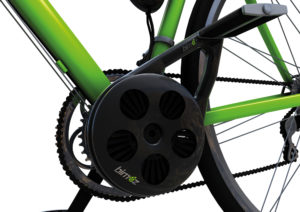 By Richard Peace
European firm bimoz say they are nearing a rollout of the 'lightest and easiest e-bike retrofit system' that will fit 'almost any conventional bicycle within twenty minutes.'
bimoz has been designed to replace the non-driveside crank arm with a crank incorporating a gearless (direct drive) motor, powered by a fame-mounted battery.
So fitting is a matter of swapping out the crank and frame-mounting a connector and battery. Here's a video that shows the installation:
The 250 watt direct drive motor is built into the left crank arm.
bimoz say other selling points are:
High performance, sub-2 kg 250W motor (with standard battery)
Direct drive technology without motor gears
It can become your personal trainer. Using the bimoz app you can 'cycle up mountains', even on the flat, as pedal resistance can be programmed into the unit.
bimoz inventor, Italy's Giacomo Carcangiu's has a racing engineer background which he says 'has been a major advantage in the development of such a light solution. Besides the innovative patented drive we only use materials like aluminum and magnesium, combining lightweight and robust, high-quality finishes. In addition, combining the drive housing with the pedal system saves weight.'
bimoz Product Manager, Roland Eschler, told Electric Bike Report ' bimoz will be manufactured in Bari, Italy (well known as Bosch has an e-bike factory there). We plan to sell bimoz online and offline, starting to build up a worldwide distribution network within the next couple of months. Due to it's simple installation we will also have direct online selling through different online shops worldwide. Currently we are running an IndieGoGo campaign.'
It will be interesting to see how bimoz overcomes the inherent technical conundrum of mounting a gearless motor in the crank area; a comfortable pedalling cadence for most riders is around 60-100rpm whilst motors like to spin at a far higher rpm to work efficiently.
Carcangiu told EBR 'By optimising electronics and the number of poles and coils the Bimoz is efficient from 45-120rpm'.
bimoz Paper Specification:
Motor +standard size battery:  4.4 pounds or 1.97kg
Motor weight:  3 pounds or 1.37kg
Top speed: 15 mph or 25kmh
Max torque: 50Nm
Gearshift detection: Yes
Regenerative braking:  No
Battery capacity: 80Wh or 220 Wh
Price: starts at $899 on their IndieGoGo campaign 
Stay tuned for more e-bike news!
P.S. Don't forget to join the Electric Bike Report community for updates from the electric bike world, plus ebike riding and maintenance tips!
Reader Interactions