Aventon Pace 500 Electric Bike Review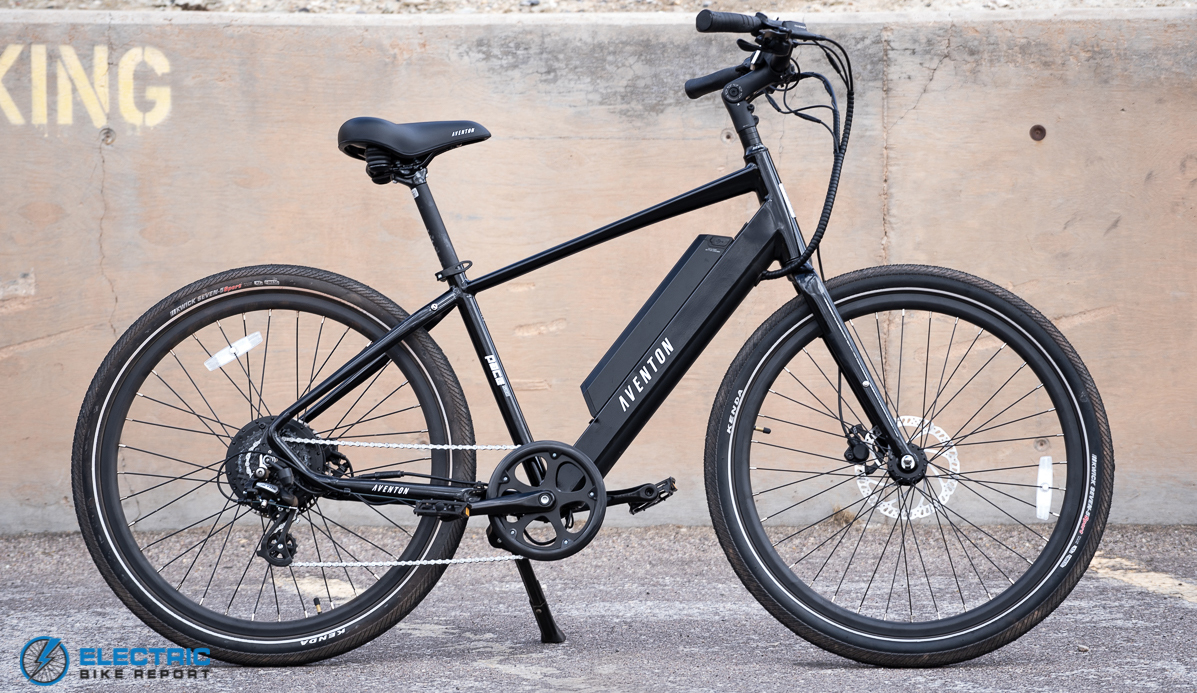 SUMMARY REVIEW: Aventon Pace 500
*For a review of Aventon's latest Pace 500 model click here.
Like many other city e-bikes, the Aventon Pace 500 sets out to provide you a ride that strikes the right balance of comfort and power. After we've had a chance to review the Aventon Pace 500, we feel it largely achieved just that.
The Aventon Pace 500 is a class 3 e-bike that has quality components, at a likable price. With hydraulic disc brakes, 28mph top speeds, and a comfortable riding position the Pace 500 feels like it should cost more than it actually does.
If you want to take in the views and smell the roses while maintaining comfort and control the Pace 500 is a great option for you to consider.
The Pace 500 is far more comfortable and capable than we were initially expecting for its price point. If we have learned one thing from the Pace 500, it's to not judge a bike by its cost – some really great bikes can be found at affordable prices.
Bike Category:
City/Cruiser Style E-bike
Bike Class: CLASS 2 | CLASS 3
(20 MPH THROTTLE | 28 MPH PEDAL ASSIST)
Pro's
The Pace 500 weighs only 49 pounds, the lighter weight is great for the bike's handling, and it makes it easier to move around when off the bike too.
It was great to see that Aventon has equipped the Pace 500 with Tektro HD-T285 Hydraulic Disk Brakes while maintaining a low price point.
The sleek, stealthy, low profile design caught our eye, it's definitely a good looking bike.
The riding position was easily changeable from city/commuter to cruiser with the adjustable stem.
The Aventon Pace 500 was quick, and easy for us to assemble out of the box.
Con's
The handlebar swoop may be a little too large for some riders, the cockpit may feel a little cramped because of all the components on the handlebar.
ELECTRICAL SPECS & FEATURES
Battery: Lithium-ion 48V, 11.6Ah (556.8Wh) with Samsung Cells
Display: LCD Smart Easy Read Display with Backlight
Motor: 750W (Peak), 48V Brushless Rear Hub Motor 500W (Sustained)
Pedal Assist: 5 Levels
Range: 25-60mi
Throttle: Lever Throttle, Up to 20mph
Weight & Dimensions
Battery weight: 7.2lbs
Total bike weight: 49.8lbs
Maximum rider weight: 250lbs
Maximum load on rear rack: 50lbs
Unfolded Dimensions: 32.5in x 72in (height x length)
Components & Accessories
Brakes: Tektro HD-T285 Hydraulic Disc Brakes w/ 180mm Rotors
Fork: 6061 Aluminum Alloy, tapered
Frame: 6061 Double-Butted Aluminum Alloy
Gearing: Shimano Altus 8 Speed
Grips: Ergonomic Comfort
Handlebar: Aluminum 31.8 15 Degree Sweptback (640mm)
Kickstand: Yes
Pedals: 9/16″ Alloy Platform Square Tapered, Sealed
Tires: 27.5″ x 2.2″ Kenda Kwick Seven Sport, E-bike
Performance Review: Aventon Pace 500
Acceleration/Speed
If you are looking for the fastest acceleration we would recommend either purchasing the throttle-on-demand setup at checkout, or keeping it in PAS level 4 or 5.
Because of the 750w of max power, the Pace 500 will get up to speed quickly and smoothly without the rider having to strain. Whether you are using the Pace 500 as a city-cruiser, or commuter you're going to have enough speed and acceleration to meet the criteria.
Shifting / Gear Range
The Pace 500 comes with a full Shimano Altus 8 Speed Drivetrain, everything from your cassette, to derailleur, to shifter is all Shimano Altus and it performs as well as we hoped it would.
The 8 speed shifter shifted crisply, and quickly which helped us stay in the right gear no matter the situation. The 8 gear range feels like plenty for the Pace 500, and you're going to have to find an insanely steep hill if you want to use your granny gear.
A full Shimano Altus Drivetrain is definitely an appreciated touch to the Pace 500, it's clear these components were meant to work in unicent with one another. Shimano parts are also easier to come by than some of the other component manufacturers, so if ever you're in need, replacement parts will likely be at your local bike shop.
Handling (cornering, slow speeds, etc.)
The Pace 500 handles like a city/commuter bike when it comes to rolling speeds, braking power, and traction, and like a cruiser when it comes to the comfortable riding position, saddle, and grips.
Regardless of if you are on the city or cruiser side of things with your riding, you'll likely appreciate the riding experience that the Pace 500 provides. Those who feel they are looking for a more "pure" commuter should check out our review of the Aventon Level.
Comfortability
Thanks to the 15 degree swept back handlebars, Velo Comfort Saddle, and ergonomic grips the Pace 500 is pretty comfortable, however that doesn't mean it couldn't be better. Because the Pace 500 is a fully rigid bike, riders must accept the tradeoff of having a lighter weight bike that will feel bumps in the trail or road a lot more than they would on a bike with some form of suspension.
For what the Pace 500 is intended for, we think a suspension seat post would be a nice addition to the bike as it would still keep the rider comfortable while still maintaining the efficiency and performance of a fully rigid bike.
Overall the Pace 500 is still quite comfortable to ride, and because of the adjustable stem riders should be able to find their preferred riding position for commuting or cruising.
Range test: Aventon Pace 500
With the Aventon Pace 500 falling somewhere between a city bike, and cruiser we were curious how many miles it would take to deplete the 48v 11.6ah battery from a full charge, and if the results would yield solid enough results to justify commuting on the Pace 500.
In short, commuting is easily justifiable considering we reached 26.04 miles, at an average speed of 21 mph on max pedal assist while pedaling the whole time.
And when we pedaled the Pace 500 on the lowest assist level, we reached 51.37 Miles, with an average speed of 12.5mph – that's pretty quick considering how far our test rider went.
Whether you are commuting, or cruising on the Pace 500 you'll have more than enough battery life to get to your desired destination, so don't be afraid to put the pace through its paces… it's going to last.
Those looking for an even longer battery life should check out the Aventon Level, which is stocked with the same motor, but has a 14ah battery as opposed to the Pace's 11.6ah battery.
SPEC REVIEW: Electrical Components
Motor
The Aventon Pace 500 had enough power for us to feel like we were riding on flat ground as we climbed up some moderately steep hills. The Pace 500's 48V brushless rear hub motor has 500W of sustained power, and 750W of peak power. We found this motor to be a great spec for flying up hills, and maintaining speed on the straight aways. As we've noticed in other Aventon e-bikes we've reviewed, Aventon seems to have finely tuned the Pace's cadence sensor, as you can tell the motor engages and shuts off consistently and quickly which definitely adds some points to the safety of the Pace 500.
Battery
Powering the Pace 500's motor is a lithium-ion 48V, 11.6Ah Samsung battery. Before we rode the Pace 500 we were wondering if it would die quickly when the bike was at peak power, or higher assistance levels because of it being 11.6Ah.
Thankfully, that wasn't the case, and as mentioned in our range tests we got more than enough range out of the battery. Not only did we get a wide range, the battery also did a good job of staying cool as the ride heated up for us during warm-weather riding.
Pedal Assist
The Aventon Pace 500 comes with 5 total levels of pedal assistance, the fastest boosting you up to around 28mph. Because we like to go fast, lots of our riding was done in PASL 3 or above, but for those wanting a little bit more of a mellow pace PAS 1-2 does a great job of being subtle and only helping you when you need it. In all, having 5 levels of pedal assistance, and 8 gears will provide you with the perfect difficulty and speed ratio that you're after.
Throttle
Aventon gave us the option of testing the Pace 500 with a standard throttle-om-demand throttle or their throttle-after-pedal option. Because we were not as familiar with the TAP design that's what we decided to test. Not being able to throttle from a standstill took some getting used to, but we could really see this feature coming in handy in regards to safety.
Because you have to pedal first, there is no way you can accidentally hit the throttle unless you are already riding. Those who want to use the Pace 500 as more of a cruiser will likely prefer the TAP design, but those planning to do their daily commute on the Pace 500 will likely want the benefits of a standard throttle-om-demand design.
We like that Aventon has done this, not only does it show they care, it also shows they are thinking about all the minor details that add up into the bike. The only thing we would like to see different is having the TOD and TAP setup become a setting that's programmable via the display. If riders had the option to switch between the two seamlessly we see this feature being that much more useful.
Display
The LCD Easy Read Smart Display comes with a backlight, and all the information and data you'll want to see on your ride. This display is not the most visually appealing, but it gets the job done when it comes to the utility of it.
While the display shows you everything you need to know (speed, battery life, total miles, etc) we feel the display's format and visuals are slightly lower tier than the rest of the Pace 500. Yes, we know that the Pace 500 is a $1500 e-bike and they have to save money somewhere, but a display with a wider color range and more "Aventonesque" layout would definitely add to the overall looks, and experience of the Pace 500 in our opinion.
Components and Accessories
Brakes
Hydraulic Disc Brakes on a $1500 e-bike? Yes, you heard correctly! Aventon has managed to equip the Pace 500 with Tektro HD-T285 Hydraulic Disc Brakes w/ 180mm Rotors while still keeping the price point competitive.
With the Pace 500 easily exceeding speeds of 25mph, stopping power is crucial, and it appears that Aventon was definitely conscious of that based on the brakes they've provided consumers with.
We liked the Tektro HD-T285 Brakes for a few reasons. They stop you on a dime and provide great modulation with how hard or soft the caliper grabs the rotor. We also liked having these brakes because Tektro is a well-established company in the biking industry, which means replacement parts shouldn't be hard to come by as some smaller component companies.
Your local bike shop also is likely to have a Tektro Bleed Kit for when your brakes begin to lose their power. In summary, the HD-T285's are good value and easy to maintain/service thanks to Tektro being well established in the biking industry.
Fork
The Pace 500 has a tapered, fully rigid 6061 alloy fork that fits the rest of the Pace 500s low profile, stealthy theme nicely. Because the fork is fully rigid, it was very responsive and snappy in its handling and steerpath when on road.
It also helps with the efficiency of the bike, as none of your pedal stroke is soaked up by suspension bobbing up and down. While the rigidity helps with those things, it also makes the Pace 500 a tad bit more bumpy when on rougher surfaces. We don't see this as a con or flaw by any means – it's just the tradeoff being made for lightweight, city-oriented bikes, but it is definitely something worth noting. If you stick to road-like surfaces, you're going to be just fine with the rigid fork. If you insist on doing off road trails and roads look into something with front suspension at the very least.
Frame
The stealthy frame consists of 6061 double-butted aluminum alloy. What is double-butted aluminum alloy you ask? Double-butted alloy is an engineering/manufacturing technique where the alloy tubes are thicker at their ends/merging points for additional strength but thinner in the middle to save weight overall. Because of this the Pace 500 is below 50 pounds, but just as structurally sound as its heavier competitors.
With subtle logos, and a minimalistic approach we think that most consumers are really going to dig the design of the Pace 500's frame. This frame design also uses a semi-integrated battery which is definitely preferred over a "piggyback" design where the battery is bolted to the frame.
Drivetrain
The Pace 500 has a full Shimano Altus 8 Speed Drivetrain, which means the cassette, derailleur, and shifter are all the same tier, and because of this work really well together. The shifting was very immediate and because of that we had a smoother ride overall.
It makes sense to have everything match, but you'd be surprised about how many companies cut costs by putting a lower tier shifter, on a higher-end drivetrain. Aventon hasn't taken the approach of some of their counterparts, and that is definitely to the consumer's benefit.
Grips and Saddle
Keeping you fresh at the contact points are a Velo Plush Saddle, and ergonomic Grips. The Velo Plush Saddle is 245mm wide which is definitely more on the cruiser end of the spectrum. Because of the saddle width your body weight will be more evenly distributed on your sit bones than on a smaller saddle, and you won't get saddle sore near as quickly.
The ergonomic grips feel natural to hold on to and they fit the anatomy of the human hand really well because of the way they're shaped. The grips are a semi-soft rubber compound that we feel a lot of people will find to be comfortable.
Handlebars
Taking some influence from cruiser style bikes, the Pace 500 has 640mm handlebars with a 15 degree backsweep that is great for staying upright on your ride. Our test riders with more of a mountain bike background who are used to wide, straight bars felt a little bit "cramped" when riding the Pace 500 at first, but after getting used to the Pace 500 all of them felt okay with the cockpit layout.
We liked that Aventon went with a swept back handlebar for the Pace 500, as they already have a commuter style bike with straight handlebars (the Level). Those who value comfort and an upright riding position will probably appreciate the 15 degree backsweep of the Pace 500's handlebar.
Pedals
The Pace 500 comes with alloy platform pedals that have "fixing pins" to keep your feet from slipping off of the pedal. Nothing is worse than a metal pedal to the shin, so having the pins for additional traction and control was very much appreciated. These pedals also come with orange reflectors to help with visibility to others when riding.
Tires
What's fast rolling, e-bike rated, puncture resistant, and reflective? The Kenda Kwick 27.5 x 2.2 tires of course! Kenda has designed the Kwick series to be perfect on road e-bike tires, as they come with K-Shield puncture protection, reflective sidewalls, and a versatile tread pattern.
We've had great luck with these tires, even at slightly lower pressures nothing punctured the casing. This was very much appreciated, as changing flats on the rear wheels that have a rear hub motor is no easy feat. Tires are always interchangeable too, so if you want something a little more off road oriented, you can definitely find a tire that will fit your needs.
Summary review / where to buy
After putting the Pace 500 through its paces on long rides, steep hills, and cruising through town we have concluded that the Pace 500 is truly a great value for the price point it's listed at. In e bikes below $2000 especially, quality and performance can range drastically from brand to brand.
What you get for the money you pay can vary quite a bit from bike to bike. With the Pace 500 being around $1500, we didn't know if it was going to perform to the standards set by some of Aventons higher tier models, but we were pleasantly surprised.
The Pace 500 felt more than ready for all city and cruiser riding, and despite no suspension, the Pace 500 rolled respectively smoothly over all the on-road terrain we rode it on. It's clear to us that Aventon cares about the fine details of their bikes, and it definitely is apparent when riding their bikes around.
From stocking a $1500 bike with hydraulic disc brakes, to giving the consumer two options for the throttle setup it's clear they care, and because of this we see Aventon maintaining their well-established reputation in the industry for years to come.
The Pace 500 didn't feel like a pure city or cruiser bike, it fell somewhere between the two. It's capable of commuter speeds and handling, but still has a more leisure-oriented geometry than a pure commuter would. Because of this, it's up to you how you use the Pace 500, and as long as you're not mountain biking you'll likely be pretty satisfied with the experience this bike offers.
If you're interested in purchasing the Aventon Pace 500 you can buy directly from their website at the button below:
No bike is perfect, and there were a couple of things we would like to see implemented, or changed for future models. Namely being to have the throttle variations be a programmable setting on the bike as opposed to the bike having one throttle, or the other. We are sure that there are plenty of people who would want to try both throttle designs before deciding, and having the option to swap between the two would help loads with setting up the bike for your needs and preferences.
It would also be good to see a more vivid LCD display with a wider color range in future models, while the current display isn't bad, it also isn't screaming "quality" at us like lots of the other components on the Pace 500. Even if it raises the price slightly, we feel a higher-end display would tie together the experience of the bike a lot better. At the end of the day though, these are mostly minor gripes on what is otherwise an outstanding ride.
With Aventon's history in the fixie scene, owning their own manufacturing facilities, and their reputable customer support, it's clear to us that Aventon is doing what they can do to get you a quality bike at a good price point. They also back up their bikes with a 5-year warranty on manufacturing defects, and a 1-year warranty on all electrical, and mechanical components.
In all, it was great to see Aventon does not take shortcuts even on their more budget-oriented designs. With that being said, the Pace 500 is a great bike for those who want to cruise casually or navigate about the city on their way to work.
Reader Interactions