Sondors Bikes Fold XS eBike Review, 2020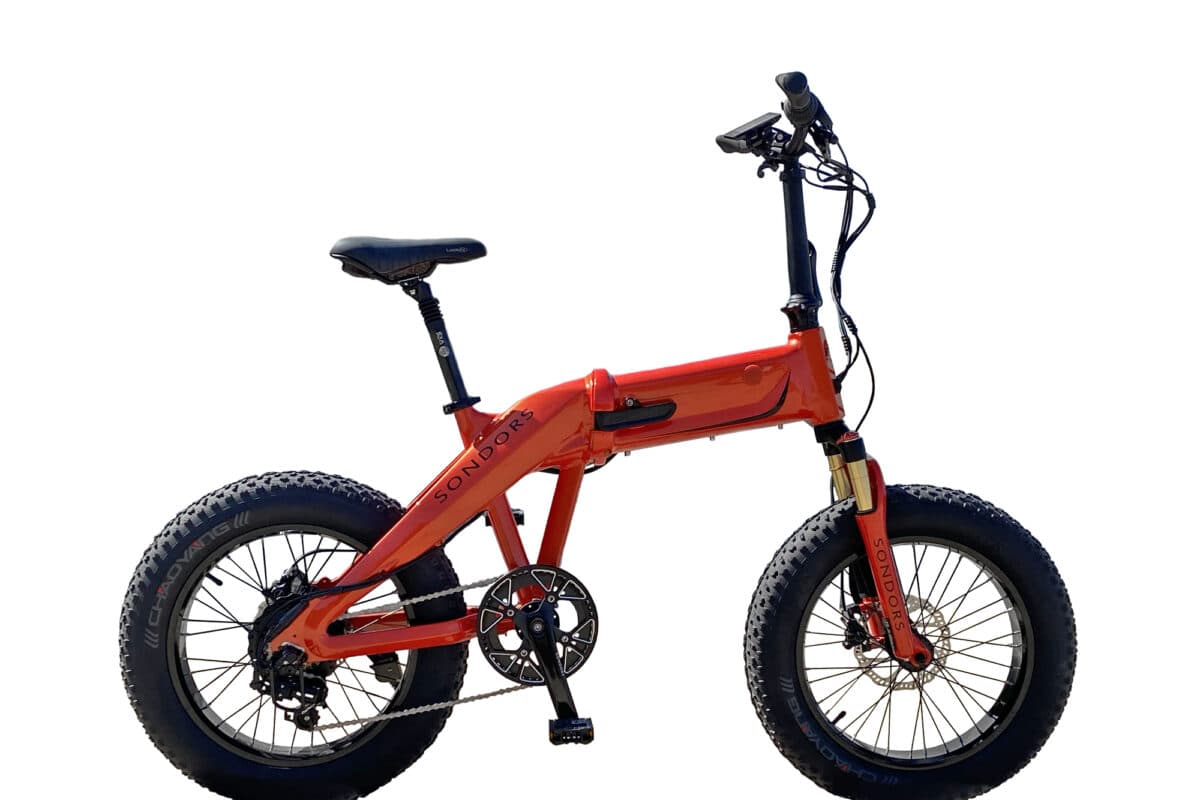 In this Spec Review we will take a look at the build, design and components on the Sondors Fold XS.
The Sondors Fold XS is a folding Class 2 ebike (Class 3 optional) with playful fat tires, a low wheelbase, telescoping handlebars and a powerful 750watt Bafang rear hub motor with responsive cadence sensor, twist throttle, and 80Nm of torque. The Fold XS has been upgraded in 2020 to make it even more user friendly. The folding frame collapses down so this bike will fit in your trunk or truck bed and the extended one-year warranty is a valuable addition on a direct-to-consumer ebike. Sondors has long been a presence in the ebike space and offers several bikes for users of all abilities. The Fold XS provides a good option for those who want a sturdy folding ebike with impressive kick. The base model does not include extra accessories which keeps the bike price low so you don't pay for extras you don't need. The XS is currently offered online from Sondors for $1699 in two colors: Torch orange and Graphite gray. The XS only comes in one frame size, but there are several adjustable features to make it work for riders of all sizes. This is a peppy ebike that is great for trail riding, off-road recreation, zipping around town, or taking a jaunt along the beach.

Bike Category: Folding Fat Tire eBike
Class 2: Pedal Assist and Twist Throttle
Can be unlocked to reach 28mph for Class 3 designation
Pros:
One size fits all frame has telescoping handlebars with angle adjustment for optimal rider control.
Low wheel base (20" tires) is easy to get on and off
Comes in two playful colors: Torch and Graphite
Integrated (removable) battery slips up into the folding frame for protection and can be charged right on the bike.
Provides a zippy 80Nm of torque for powerful assist; handles hills and rougher terrain with ease
LCD display is large but not removable; 5-bar battery readout
Full front suspension and rear suspension seat post make for a comfy ride
Great for around town, off road, trails, beach or city streets
Pedals fold in half so they don't crack or get dinged with the bike is folded
Cons:
Heavy when folded and can be difficult to lift
Accessories not included; these must be purchased separately.
7-gear drivetrain is somewhat limited and doesn't provide extensive gear range; but the motor offsets any lack of pedal power
Fold XS Electrical Specs & Features
Motor: Bafang 750 WATT rear hub motor
Controller: 20 AMP
Battery: 48V 14Ah Lithium-ion battery with Panasonic® cells
Range: 40-60 miles*
Speed: Up to 20 mph
Charger: 3A Smart Charger Included
Throttle: Twist Throttle to 20mph
Fold XS Components & Accessories
Brakes: Tektro Auriga Hydraulic with 180mm discs
Fork: 45mm Air Suspension front fork; pressure adjust
Wheels: Aluminum rims, front hub with sealed bearings
Crank Set: Premium 48T
Pedal Assist: 12 magnet sensor
Gears: 7-speed with 4-finger grip shifter
Seat: Premium ergonomic Selle Royale Gel saddle
Handlebars: Aluminum Alloy, Low Rise, ergonomic, 660mm width
Stem: Aluminum Alloy, 270mm to 400mm telescoping height
Kickstand: Heavy-duty, rear mounted (no pedal lock)
Display: Color LCD with USB port and five levels of pedal assist, 5-bar battery display
Frame: Aluminum, One size: 15.5", Two colors: Torch and Graphite
Tires: 20" x 4″ Chaoyang
Fold XS Weight & Dimensions
Total bike weight: 70 lbs
Max rider weight: 300 lbs
Unfolded Dimensions: 27" reach, 26" standover height, 26" wide, 64" long
Folded Dimensions: 39" x 18" x 29"
Spec Review
Electrical Specs & Features
Battery

The Fold XS has a 48 V 14Ah Lithium-ion battery tucked inside the bike frame so it isn't in the way while riding and stays protected when the bike is folded. This battery will provide about 25 miles of straight electric power and from 40 to 60 miles of range on pedal assist. Total range varies a little with each rider and is affected by assist level, terrain, and any cargo weight. The charging port is located at the front of the top tube and protected by a color-matched port cover. Be careful however, as there is not a tether attached to the port cover so it could get lost or dropped when you pop it off the bike. If you lose the port cover, the exposed port could get dirt or grit inside which would damage the battery. The Sondors XS battery is cylinder shaped for easy removal — simply fold the bike in half and slide the battery out of the base of the top tube. No tools are required to fold the bike or remove the battery. It can also be charged both on or off the bike. A 3amp charger is included which will recharge the battery in roughly 3-5 hours.
We like that Sondors has placed the charging port on the right side of the bike, so when you engage the kickstand or fold the bike, the port is on the exterior side — which both keeps it up off the ground and makes it easier to access when charging.
An extra battery (or replacement) is available from Sondors for $389 which is an affordable price for a full battery. You can take an extra battery along for a longer trip to avoid range anxiety, or just keep one around for backup as needed. The battery weighs roughly 7.5 pounds.
There are a few advantages to Sondor's internalized battery system:
The battery is protected in the top tube. In the event of a fall or crash the battery won't come disconnected from the bike and is shielded from direct impact.
The battery is hidden — for a stealthy ebike look
The battery port is matched to the paint for a streamlined design
The battery is not in the way when getting on or off the bike. You won't accidentally kick it and it doesn't impede the stepover height.
The battery can be charged right on the bike without being removed; can also be removed without tools while on the trail.
Sondors advertises this battery as having Panasonic, LG or Samsung cells so it is well tested and reputable
A few drawbacks to the internal battery:
Not quite as interchangeable as an external battery that can be easily replaced or swapped out
The paint-matched port cover does not have a tether and could get lost
Motor


The Sondors XS has a rear hub Bafang motor with 750 watts of nominal power, 1000 watts of peak power, and 80Nm of torque. The Sondors XS includes a sensitive 12-magnet cadence sensor that is highly responsive. Usually with a cadence sensor there is a short lag before the assist kicks in, but Sondors has dialed in the sensitivity on this 12-magnet system to make the assist instantly responsive. Usually on bikes with a cadence rather than torque sensor you have to add a bit of throttle to offset the bike weight when starting from a full stop due to the slight lag in cadence detection. The XS doesn't have this problem so you can quickly start from a full stop on pedal assist alone. (Although a touch of throttle provides a nice kick.)
A rear hub motor does pull the weight down and back a bit — and limits your gearing to a 1-7 system, but this Bafang motor provides so much power you don't notice. Also, the combination of impressive motor power with the lowered wheelbase and fatty tires give the XS a fun, sporty vibe — this isn't your Grandma's sluggish beach cruiser.
Display
The computer display is a Sondors branded Bafang DCP-18. It is not removable but there is a charging port on the right side. The backlit display is 3.25" large and has pretty good visibility. As with any display, it can be challenging to see in very low (garage) or very bright (full sunlight) conditions.
Metric Readouts on the Display:
Battery percentage
Current speed
Power meter
Trip Distance
Odometer
Max speed
Average speed
Trip time
Assist level (0-5 levels of assist)
A few facts about this display:
The control panel is separate, but mounted right next to the display for an easy thumb reach.
This display is not removable, so you can't take it off the bike. It is subject to the elements should you leave your bike out (in the rain, sun, etc.).
The display fits seamlessly into the handlebar system — it is easy to see but not in the way since it is mounted on the left handlebar (shifters and throttle are on the right).
The backlit color LCD is a good size; it is easy to read with large numbers and letters.
As with other handlebar-mounted displays, it may be difficult to see for those who have limited vision
Lights
The Fold XS does not include lights. In keeping with Sondors policy of providing affordable bikes to every rider, the XS includes minimal accessories so riders don't pay for extras they don't need. Lights would need to be purchased after market. Sondors does not currently list lights as an available accessory on their website. We always like to see lights — they keep you more visible as well as improve overall safety while riding. Even a rear reflector would help a ton here without adding weight or much cost, so we recommend riders consider adding lights or reflectors after purchase.
Components & Accessories
Brakes
The Sondors XS has Tektro Auriga 180 mm disc brakes with four-finger brake levers for more precise control. Even though the XS is a class 2 bike that limits the speed to 20mph (as opposed to 28mph on class 3 bikes), the Bafang motor is well known for its power and kick — as a result, responsive brakes are important since you need to manage the higher speed of an ebike. These Tektro brakes have good stopping power thanks to the 180mm rotors so you can always feel in control of the bike. Motor inhibitors also shut off motor power any time you tap the brakes so you don't brake and run the motor at the same time.
Fenders
Fenders are another accessory that is not included on the Fold XS. The fat 20" tires can spit up a bit of dirt and dust so fenders may be a good after-market addition for those who plan to use the Fold XS for commuting or other trips where you may not want to get all dirty. If you plan to ride this at the beach or along dirt trails for recreation, you may not need or want to attach fenders.
Fork
The air suspension fork helps a ton here to mitigate bumps and jarring from the road. The fork provides 45mm of travel and is both lockable and adjustable. Sondors has outfitted this bike with a 30mm suspension seat post which provides a lot of rider comfort from bumps and dips in the road. The seatpost has a preload adjustment bolt in the base and a quick-release skewer so you can easily raise and lower the seat.
Frame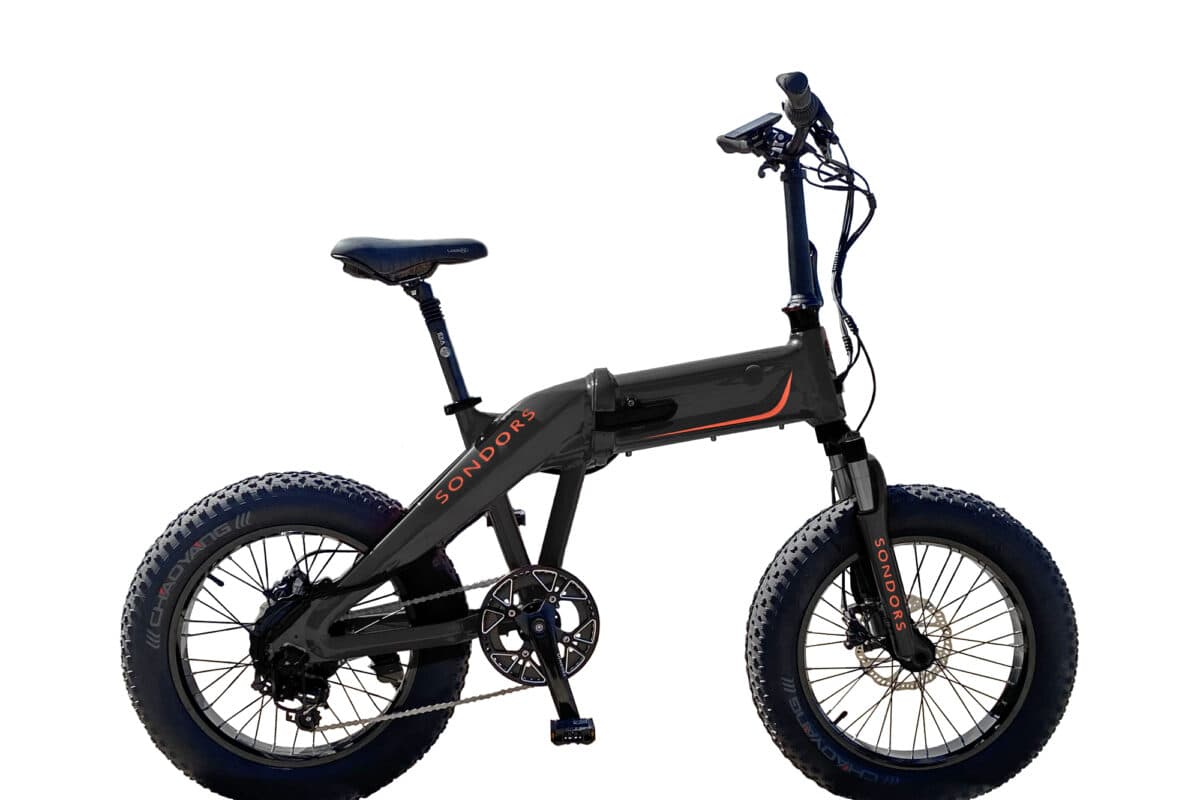 The aluminum alloy frame is sturdy and looks hearty. Sondors has dialed in the folding mechanism so it is easy to fold up and stays folded thanks to the magnetic locking system. The cabling is all connected and integrated so it stays protected and tucked inside the frame. This keeps the design sleek and uncluttered.
The XS only comes in one size, but the handlebars can be raised and angled per the needs of different size riders. The seat lifts and lowers as well. Sondors claims the XS will work for riders of all sizes, although those over 6'3" and under 5'0" may have to adjust a little.
Sondors does not include a lot of accessories, there are no fenders, lights or racks included, but rear bosses make attaching a rear rack simple.
The bike is heavy at nearly 70 pounds (68 pounds total weight) and when folded it can be hard to lift and maneuver. Getting it in and out of a car trunk may prove challenging – so even though this is a folding bike, be advised that moving and lifting it may be difficult for some riders.
Drivetrain
The 7-speed 14-28T gear system on the XS Fold provides just a bit of range but isn't really extensive enough to offset steep hills or a hard climb, especially since the bike weighs 68 pounds. Thankfully, that's what the powerful 750watt Bafang motor is for. The gears do allow for higher cadence, lower torque riding on flats and uneven terrain and this is where the XS Fold really shines. Fatty low-profile tires like this love sand, dirt, gravel and other off-road surfaces which is part of the appeal of the Sondors XS. The rear derailleur is standard, but Sondors has upgraded the chain to stainless steel to prevent rust. A 48T steel chainring in the front helps as well and we particularly like the double guard chain system and protective cover.
Grips and Saddle
You do get locking ergo grips on the XS which is a nice feature considering you may put a bit of pressure on the handles when tackling rugged terrain. The saddle is a Selle Royal Gel seat and we like how the grips and saddle are color matched. The suspension seat post is also a nice touch — suspension posts help make the whole ride more enjoyable.
Pedals
The pedals are nothing fancy, but they work. These are folding Wellgo pedals, but they're plastic which could lead to cracking or other issues if they don't get folded correctly. With proper care they should work fine.
Kickstand
The kickstand is adjustable and rear-mounted to avoid pedal lock. The kickstand is strong but lightweight and has a telescoping mechanism so you can adjust it based on the ground surface.
Rear Rack
As mentioned above, the Fold XS does not have a rear rack, but there are bosses to attach one and there's plenty of room over the rear tire.
Tires
One of our favorite features on the Fold XS is the Chaoyang, 20″ x 4.0″ fatty tires. It takes a minute or two to learn how to handle fat tires if you've never used them. They are more likely to spin out, especially with the added motor power, but with just the right handling ability, the Chaoyang 4.0" wide tires will tackle nearly anything. These tires don't include puncture protection, which is unfortunate because we anticipate users will love them on dirt, sand, and other trail surfaces. We recommend potential buyers get extra tubes or add some puncture protection to avoid flats.
Summary Review / Where to Buy
The Sondors Fold XS is a sporty, folding ebike with a powerful rear hub motor, integrated battery, 20" fatty tires and a nice color LCD display. The Fold XS battery is tucked into the frame so it isn't in your way when getting on and off the bike. The battery is easily removable — it slides in and out of the tob tube and doesn't require tools — and it is color matched to the frame for a seamless design. There are bosses for a rear rack and the bike has a handy telescoping kickstand. The Fold XS will go 25 miles on electric power alone and 40 – 60 miles with pedal assist. This fun urban bike is well suited for a bit of beach scrambling, heading off road, trail riding or just a quick jaunt around town. The Fold XS lacks front and rear fenders and does not have front or rear lights, or reflective stripes on the tires — so there are a few things to be aware of. It folds in half easily and stays locked — but it is difficult to lift and move when folded. Even strong owners may have a hard time getting this bike into the back of a car trunk or into a truck bed simply due to the weight.
We do love the crisp Torch colored frame (also available in Graphite), and the 750 watt Bafang motor is plenty powerful. You get 80Nm of torque and Sondors has dialed in the sensitivity to make sure riders feel the power right at the get-go. The 7-speed gear range is adequate but not extensive and the rear derailleur is entry-level but does the job if you shift carefully. We are impressed by the 180mm hydraulic disc brakes! These are ebike specific and provide instant stopping power which is needed on this sporty bike. The suspension seat post, gel saddle and locking ergo grips also add comfort while riding.
Sondors bikes can be ordered online directly from the manufacturer which saves on cost but limits buyers' ability to ride and test the bikes. The Fold XS is currently on pre-order and listed at $1699.
Sondors has long been a recognized name in the ebike industry and we like the upgrades they've made to the Fold XS with a new rust resistant chain and responsive pedal assist. This is a class 2 ebike with class 3 potential so make sure you are aware of local ebike laws when riding the Fold XS. As always, handle responsibly and enjoy — we look forward to a test ride soon ourselves!
P.S. Don't forget to join the Electric Bike Report community for updates from the electric bike world, plus ebike riding and maintenance tips!
Reader Interactions