eMTB racing at the Sea Otter Classic 2021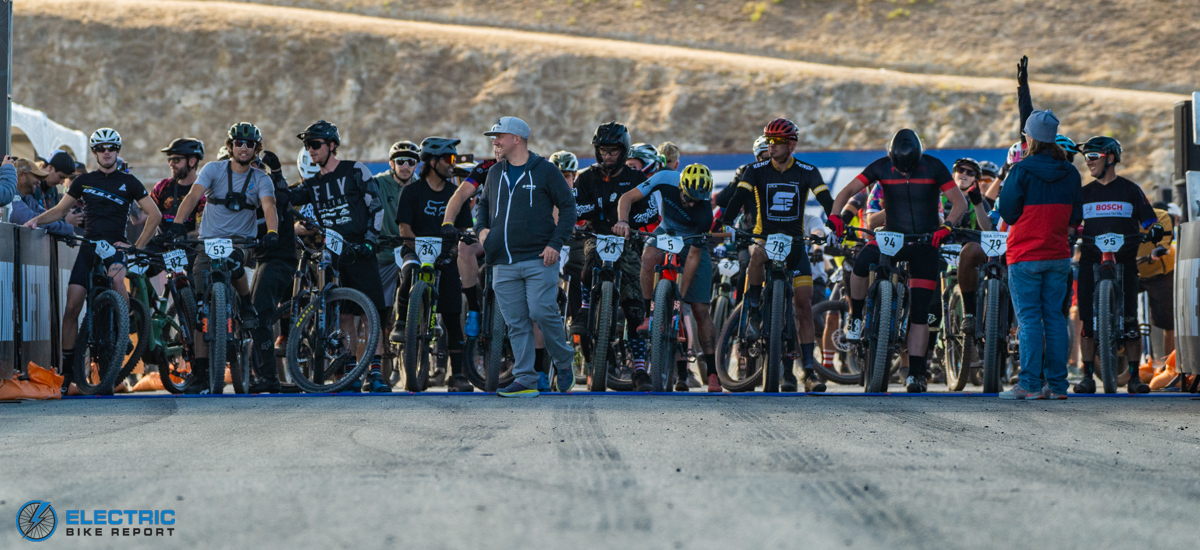 I raced an eMTB at Sea Otter. Here's what it was like.
Racing bicycles is nothing new, but what about racing an electric bike? At this year's Sea Otter Classic in Monterey, California, I got a chance to find out what e-bike racing is all about. Bosch loaned me a Cannondale Moterra powered by the Performance Line CX motor and I hit the track for the Sea Otter eMTB race.
I've ridden and raced quite a bit on my enduro bike and I've also had plenty of miles in the pain-cave on my XC bike. Both of these disciplines are ones that I'm very familiar with and feel comfortable doing, but I wasn't sure what to expect racing an eMTB.
The race took place on an XC short-track style course that was about 3.5 miles long. The goal? Do as many laps as you can within an hour. I didn't think much of the challenge, as I figured I'd be railing on maximum assistance simply holding on to the bike as it did its thing. I got the "hold on" part right, but it ended up being a challenge of harnessing the beast of a motor, and maintaining speed on steep, loose terrain.
The bike I used was a 2020 Cannondale Moterra powered by a 250W Bosch Performance Line CX mid-drive motor and PowerTube 625 battery pack. With 85 Nm of torque, there's no forgetting the Moterra is an e-bike. It's an enduro-oriented model that had the power and poise on nasty terrain to give me an edge on the steep, loose climbs that were a large part of the race course.
The bike: A Bosch-powered Cannondale Moterra
The course was a steep and loose affair, with lots of dust and technical sections specifically designed for eMTBs. One of these sections was a ridiculously steep and loose uphill where the course hung a hard right and climbed straight up the face of a hill overlooking the Sea Otter venue. This is one section where the 85Nm of the Bosch Performance Line CX motor really shined, giving me a predictable and measured amount of power for each pedal stroke.
One part of the track had loose, deep sand that wasn't easy to get through, so I shifted up to an easier gear than what felt natural and let the motor do its thing. The torque coming from the motor allowed me to prowl through the sand without expending too much energy or effort.
With 160mm of travel in the front and rear I had loads of traction uphill and lots of confidence on the downhill — I really enjoyed being able to fly at XC race speeds while still having the extra squish from the enduro-esc suspension. The Moterra with the Bosch Performance Line CX motor felt like the eMTB to do it all, it's ready for the chunkier, nastier terrain but it's also ready to climb up some seriously steep grades.
The Bosch motor shined most on the steepest part of the course. Even if I lost ground on a downhill or flat section I was able to make up lost time because of the motor's ability to boost me up the hill. One lap later in the race I ended up passing six people on the steep hill, speaking numbers to the Bosch systems capabilities.
What was e-bike racing like?
The mental stimulation of racing e-bikes is similar to that of a steep and rowdy downhill, you don't really have any mental capacity to think about anything other than what's happening in front of your wheels. The reaction times needed to pass, corner and ride smoothly proved to be a little more difficult than I was expecting.
I like to think I'm pretty fit (at least before all the beer at Sea Otter), and I was reassured of my fitness on the steeper parts of the course. I made most of my passes and power moves on the uphills, and tried to hold others' wheels on the downhills. I battled back and forth with one of my good friends from the Southern Utah mountain biking scene, Pete who I couldn't seem to shake.
He was hard to keep up with on the descents and I tried my best to reel him back in on the climbs. While I was proud of the effort I was putting down, the Bosch system really allowed me to take on the steeper climbs with confidence and speed. Based on feeling,and by how fast I was climbing, I wouldn't have guessed the Bosch mid-drive motor only was 250 watts.
I'm not sure what happened to Pete after I passed him on a climb later in the race, but I found myself with tunnel vision and one goal in mind: pedal my damn legs. I knew it wasn't going to be easy for the remainder of the race but I also knew I wasn't going to quit.
I figured the rest of the racers who weren't on the same drive system as I was were suffering even more, which gave me confidence going into the later laps. The Bosch set-up felt race ready, and tuned to feel very natural below me. I was able to ride like I do on a standard bike, only faster and with less strain on the nasty parts of the track. I ended up passing 6 riders on the steep hill climb, which ended up being a very monumental point in the race.
With Mark Weir, the Weirwolf himself, and Sam from Electric Bike Report heckling and motivating me from the side of the race course I felt like I had to finish as much for them as I did for myself — so I carried on….. to the wrong side of the fence on the second to last lap where I had to backtrack and make up time on a couple riders who passed me due to my fatigue-induced mistake.
I did my best to stay calm and within myself. It was dry, dusty and gritty but above all it was proper type 2 fun. I crossed the finish line all alone with cramping legs, and ended up finishing in 7th place — all things considered I am very satisfied with my result. I was very impressed with the 625 Wh Bosch PowerTube battery life, I still had half of the battery life after railing on the highest assistance level for over an hour.
All in all it added up to be an experience that I've been ecstatic about since, turns out eMTB racing is just as hard as normal bike racing, just different. In future eMTB races I really hope to be on some variation of the Bosch Performance Line mid-drive motor, the hour and a half of riding as hard as I could on it really sold me on its capabilities and quality.
Reader Interactions