2021 Sea Otter Day 2 – The Coolest Things We Saw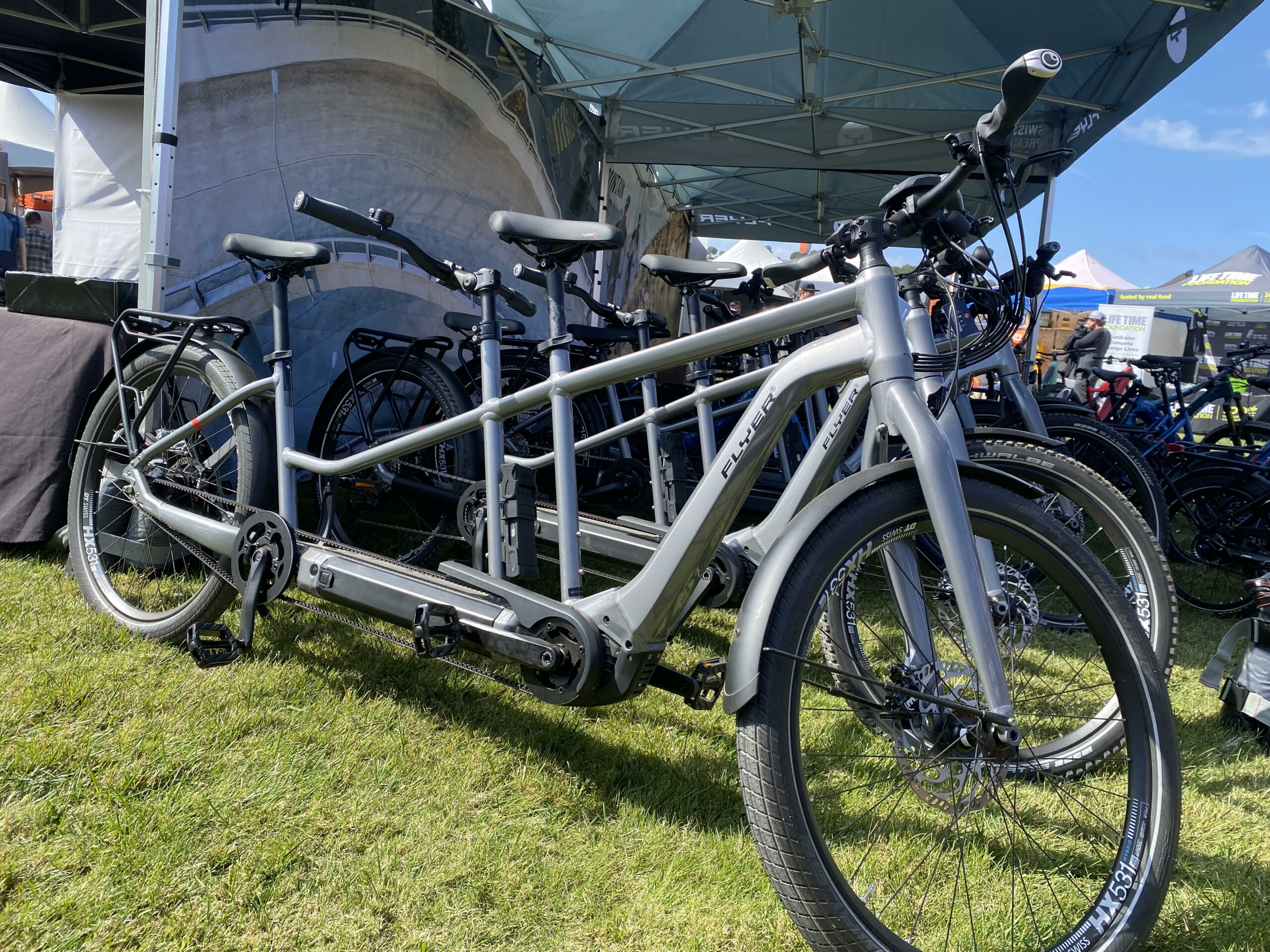 The second day of this year's Sea Otter Classic in Monterey, California was chock full o' new electric bike tech, innovative accessories and a whole lotta' racing. 
For the Electric Bike Report team, it was a day spent reviewing some of the coolest e-bikes on the market and taking a closer look at some interesting new ideas. We'll dive deeper into reviews and such later, but for now we present a small handful of products that caught our eye. 
Today's offerings include some cool magnetic alternatives to traditional clipless pedals, an extremely cool (and e-bike friendly) new take on a bicycle drivetrain and an e-bike big enough for you and a friend.
Hustle Bike Labs magnetic clipless pedals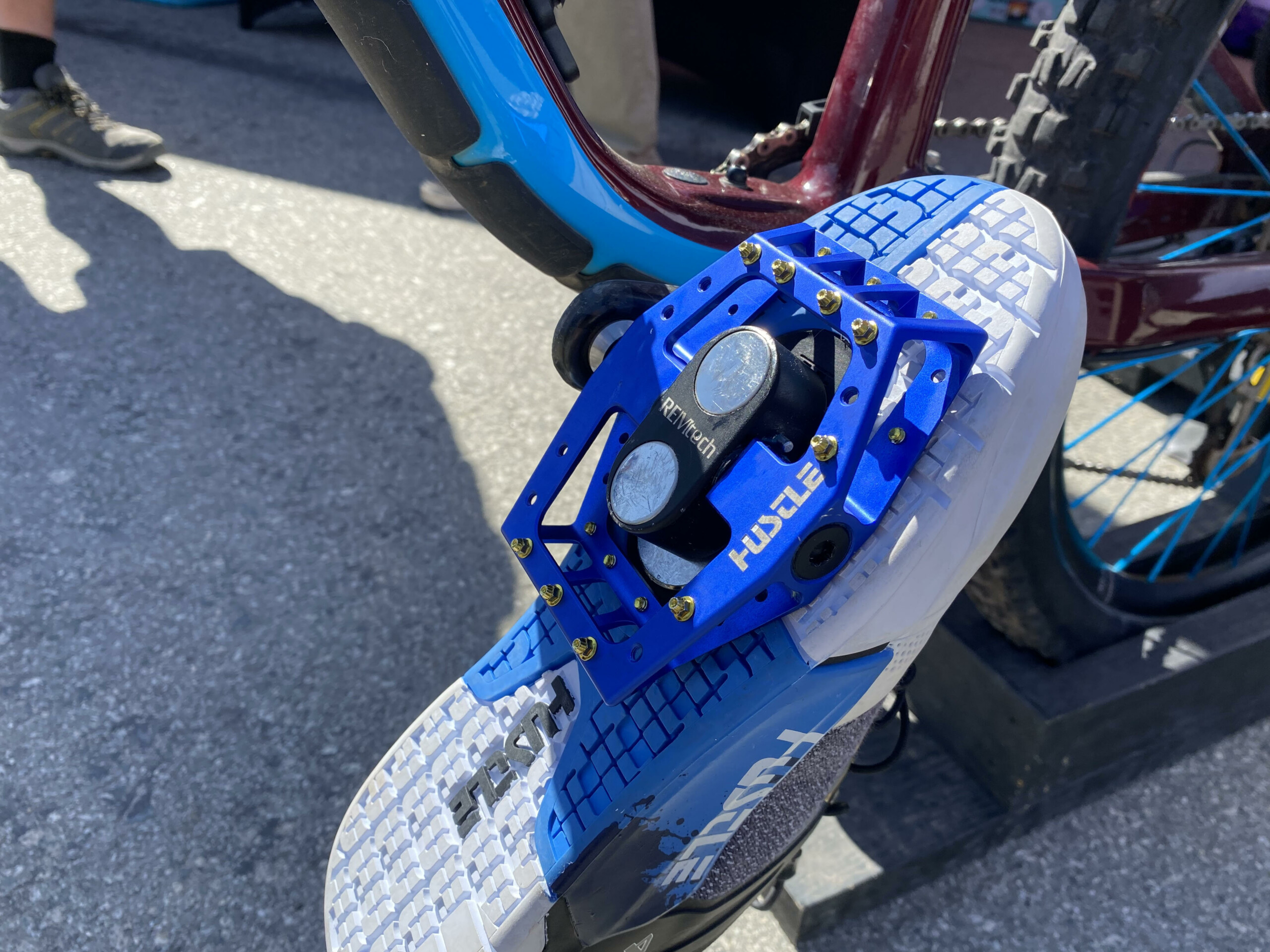 After a near miss on the infamous Portal Trail in Moab, Utah involving some clipless pedals and a several hundred foot cliff, Hustle Bike Labs founder Craig Pain set out to design a pedal system that held strong but released quicker than traditional clipless pedals. 
Enter the Rempedal system. 
Instead of the typical cleat and pedal system found in most clipless pedals, the Rempedal relies on two neodymium magnets (the same magnets used inside e-bike motors) nested inside a flat pedal. Those magnets attach to a small metal plate that attaches to the typical two-bolt SPD mountain bike shoes. The result is near limitless float and an easier pedal disengagement. The Rempedal is currently built as an alloy MTB model but Craig showed off a 3D-printed prototype for a cheaper and lighter composite pedal geared more towards commuters.
FLYER tandem electric bike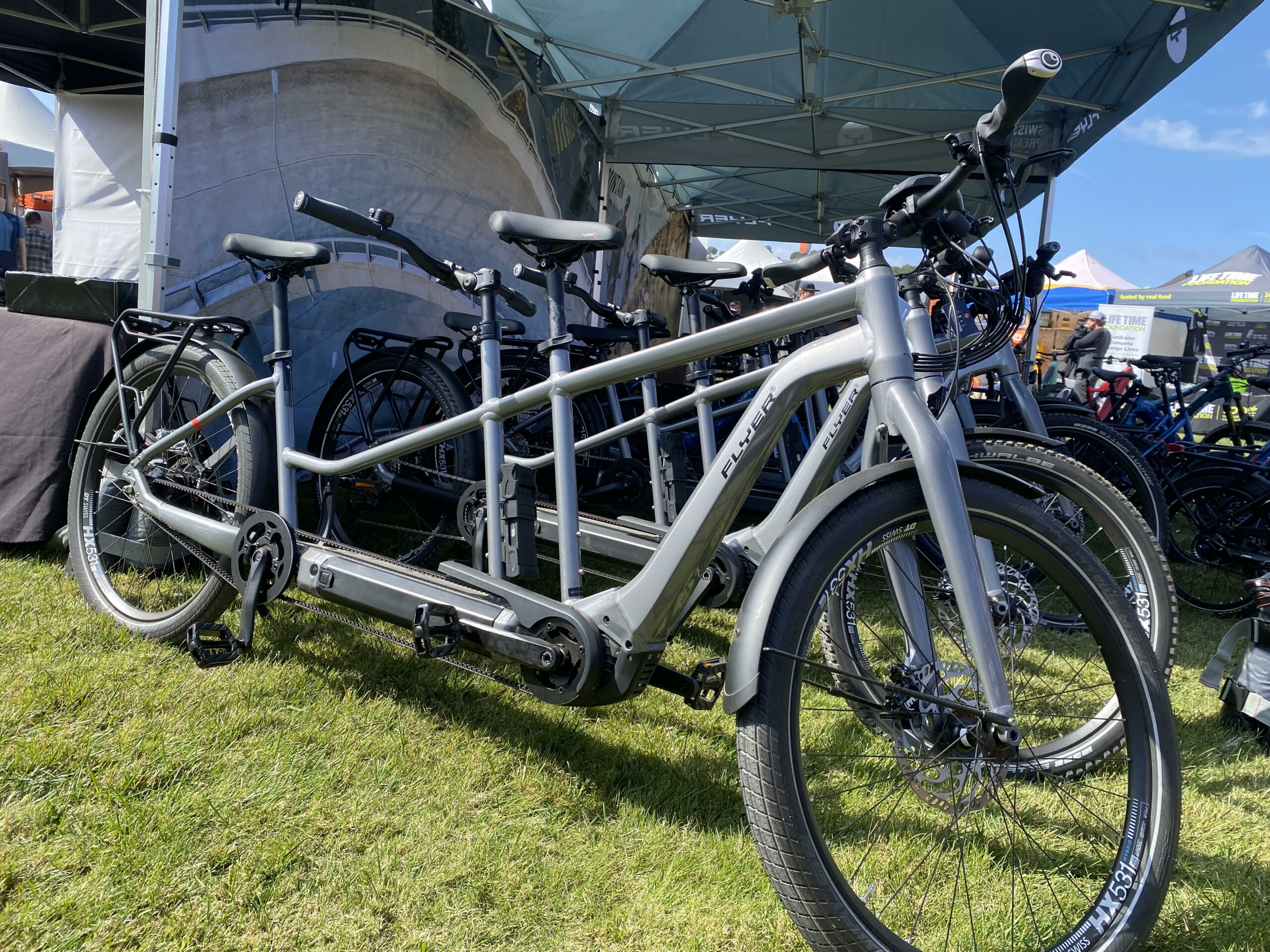 Why buy two e-bikes when you can buy one really long one? 
FLYER e-bikes, a Swiss electric bike manufacturer that's relatively new to the U.S., had a fleet of their tandem electric bikes at Sea Otter. Tandem e-bikes are still a relatively rare sight, but it's a concept that makes a lot of sense. The bikes are powered by the grunty Bosch Performance Line CX motor that produces 85Nm of torque and FLYER mounted two 625Wh Bosch PowerTube batteries into the portion of the frame connecting the two bottom brackets. That battery placement gives the bike an exceptionally low center of gravity — a nice feature on a type of bike that's typically a little unwieldy. 
With the choice of an XT drivetrain or Rohloff Speedhub and Magura brakes, the FLYER tandem is a premium build from a company that seems to know premium well — they've also got a line of nicely decked carbon eMTBs. 
Pinion Gear Box
Developed by a couple of Porsche automotive engineers, the Pinion gearbox system is making a very noticeable splash at this year's Sea Otter. 
The gearbox system, which when cut open looks remarkably similar to the internals of an automotive transmission, mounts to the bottom bracket and replaces the traditional derailleur-driven drivetrain. It comes in six, nine, twelve and eighteen gear flavors, depending on the model you choose, and is touted as a low maintenance and efficient drivetrain alternative. It can also be integrated with a mid-drive motor system and works well with hub-driven e-bikes.
Similar to a Rholoff Speedhub and contrary to a traditional bike drivetrain, the Pinion system works best when you stop pedaling to shift. It can shift under (light-ish) load, but it can make for heavy gear changes. 
The 2022 Stromer ST3 With A Pinion Gear Box
Speaking of Pinion… the gearbox system is set to come stock on new Stromer ST3 e-bikes coming to the U.S. somewhere in the first quarter of 2022. 
Dan Delehanty, Stromer's North American General Manager, had one of the Pinion-equipped ST3's on show at Stromer's booth at Sea Otter this year. The bikes are set to come with a 9-speed setup that ties in with Stromer's proprietary rear hub motor via a Gates Carbon belt drive. Not many e-bikes in the U.S. yet come with the Pinion system, but expect to see the gearbox system coming stock on more and more bikes in the near future. Stay tuned for a more in-depth look at Stromer's Pinion-equipped ST3 — we're looking to get our hands on one for a more long term review in the near future. 
Booomers Danso 1 Bamboo E-Bike
What's driven by a Shimano mid-drive motor, will surely turn heads at your local coffee shop and might give you a splinter? The Booomers Danso 1 bamboo frame electric commuter bike. 
Bicycle frames made of bamboo aren't a new concept in cycling, but very few have ever been equipped with an e-bike drive system — let alone the workhorse Shimano STEPS 6100 power plant. We'd also wager any one of Booomer's Danso 1 e-bikes are likely one of a kind considering bamboo doesn't grow exactly the same each time. That'll surely make for a good flex on all the normie aluminum and carbon fiber commuter bikes.