Winora Group Celebrates First Introduction at Interbike 2012 [VIDEO]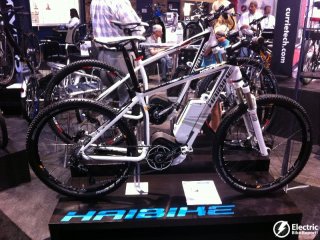 This is a press release from Winora Group.
Winora Group continues its expansion. For the first time the bicycle group from Bavaria displays its product in Las Vegas, NV at the Interbike.
With its Accell Group sister Currie Technologies, Winora Group is preparing to serve the US market with high quality E-Bikes from Germany. Winora Group initially presented its sporty e-performance range of XDURO ePower from Haibike.
Within the last few years the Winora Group had planned to export to the United States. Since the acquisition of Currie Technologies by the Dutch Accell parent company in 2011 the two new sister company's have been intensively discussing a possible brand market launch.
"Currie Technologies is one of the oldest and most established US developers and distributors of quality, high-performance hybrid and electric powered bicycles in the United States.
Their market experience, their know-how for E-mobility and their tight and high quality dealer distribution network made them our preferred candidate for our eBike launch in the USA." Susanne Puello, Managing Director of Winora Group described confidently.
With the upcoming green mobility movement building, the moment seems right to drive this initiative forward. A lot of US cities are looking intensively for alternative and sustainable mobility concepts to alleviate the local traffic congestion and are planning the build up of bicycle-friendly infrastructure. As a result, experts believe a huge potential for high-quality eBikes will follow.
The Haibike XDURO series starts its third product generation in 2013. The e-performance bike line-up with 16 different models has matured and offers with a cross bike over a women's mountain bike to a hard core off-road full suspension bike with 155 mm of travel and top quality components making a solid product range for sport use.
"The Haibike ePower range were a highlight at Interbike 2012 in Las Vegas, NV. The XDURO mountain bike range drew the attraction of the American dealer audience and we believe this category could be the trigger for wide-scale dealer embrace of the E-Bike category." said Larry Pizzi, President and Managing Director of Currie Technologies. "We will resume our planning after the bike show and look forward to the preparation of the full-scale launch for model year 2014."
End of press release
P.S. Don't forget to join the Electric Bike Report community for updates from the electric bike world, plus ebike riding and maintenance tips.
Reader Interactions