Win 2 Pedego Electric Bikes & Cool E-bike Gear!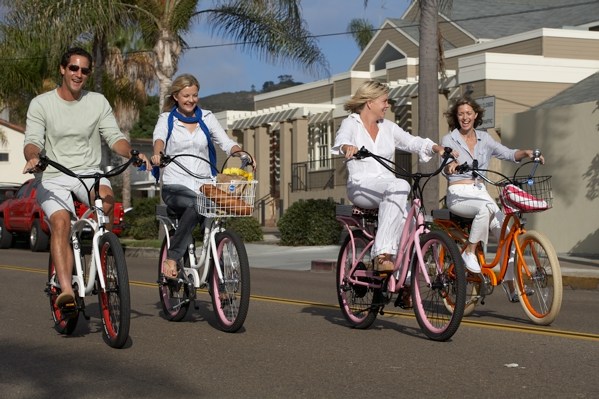 Here is your chance to win 2 Pedego electric bikes; 1 for you and 1 for your friend!  There are also cool e-bike accessories (Nutcase Helmets & Light and Motion lights) being given away weekly during the promotion which ends with the announcement of the Pedego winners on April 30, 2012.
This is a pretty cool promotion because each Pedego e-bike is worth $2,075!
It is super easy to sign up.  Just click on this link and follow the instructions.
Here is a link to the official rules of the promotion.
And here is the official press release about the promotion:
Pedego Electric Bikes Launches its 2012 Consumer Advertising Campaign with Thousands of Dollars in Prizes!
Pedego Electric Bikes, the largest U.S. owned electric bicycle company, is announcing its 2012 GET FIT – HAVE FUN – GET A PEDEGO consumer advertising campaign on Facebook®
Pedego® Electric Bikes is going straight to the consumer to make them aware of both the fitness benefits and enjoyment that is experienced riding a Pedego® Electric Bike. "We are excited to launch this campaign to make more consumers aware of the opportunity to have fun while exercising," says Pedego® Electric Bikes CEO, Don DiCostanzo. "Pedegos give people a great way to get fit without trying to become a tri athlete. Exercise can be done a variety of ways but bicycle riding has been proven time and time again to be a great way to shed a few pounds while enjoying the outdoors. Thousands of Pedego® customers have discovered that riding a Pedego is the best way to get back into cycling because of the electric advantage that's ever present whenever it's needed. With our ever growing dealer base of over 250 dealers in over 20 countries, we are reaching out to consumers to help drive more business to our retail partners. Social media has played a key role in our phenomenal growth and the goal of this campaign is to further extend the awareness of our electric bikes."
THE CONTEST
The promotion is now live on FACEBOOK (https://www.facebook.com/pedegoelectricbikes). The Grand Prize winner will receive a Pedego® Electric Bike Comfort Cruiser Balloon Series of their choice plus another one for a friend. In addition, cool weekly bike related prizes will be given out randomly among contestants that are being provided by contest co-sponsors like Nutcase® Helmets and Light and Motion.
ABOUT PEDEGO®
Pedego® is fast becoming the market leader by creating the coolest and most fashionable electric bicycles outfitted with the latest in electric bike technology. Through our chic, stylish designs partnered with a built-in electric hub motor, Pedego® offers a cost-effective and green alternative for transportation, exercise and recreation. Pedego® Bicycles are perfect for anyone who want to enjoy the fun of cycling and experiencing the outdoors without worrying about hills.
For more information about Pedego Electric Bikes, please visit us on the web at https://www.pedegoelectricbikes.com
P.S. Don't forget to join the Electric Bike Report community for updates from the electric bike world, plus ebike riding and maintenance tips.
Reader Interactions