Watch Out Bad Guys; The Los Angeles Police Department Has Electric Bikes!
Attention criminals!  Don't be surprised if the next police officer you see on a bicycle silently tracks you down with super human speed and agility!  Introducing the electric bicycle as a new tool in the LAPD's arsenal of criminal tracking vehicles.
Police around the world have been using bicycles as a way to serve and protect us in crowded areas like airports, sporting events, music shows, etc.  Bicycles are one of the most efficient forms of transportation, especially in heavily congested areas.  Bicycles have allowed police to respond quickly to criminal activity as well as to someone who has been injured in an accident.
Now add a little electric assist to a bicycle and you have an electric vehicle that can help a police officer track or respond to a crime or accident very quickly without over exertion.  This could significantly increase the speed and range which an officer could cover while allowing them to save their energy for the big chase!
I am excited to see this application of electric bikes.  There are so many more applications like:
Paramedics

Company vehicles

National Parks (For employees and visitors)

Universities (For staff and students)

Airports

Industrial Plants

Government organizations

People commuting to work

And people just having FUN!
Okay, here is the official press release from Currie Technologies and how they have been working with the Los Angeles Police Department to get some of their officers on electric bikes:
Currie Technologies® to present IZIP Express™ Police Edition ebikes to LAPD Deputy Chief Hara on Wednesday May 11th at 9:30 AM
Los Angeles, CA – April 22, 2011 – The Los Angeles Police Department's Bicycle Coordination Unit announced today that their initial testing and evaluation of IZIP Express™ Police Bicycles has been completed with favorable results. The Department has decided to begin field-testing the electric bicycles at special events to further explore their viability under actual patrol conditions.
In May of 2010, Currie Technologies®, the producer of the IZIP Express™, supplied the LAPD Bicycle Coordination Unit with prototype models for initial testing. With input and feedback from officers, the electric bike's components and design were further modified to ultimately become a special, purpose built, police edition model that could be added to LAPD's arsenal of community policing tools.
On Wednesday May 11th at 9:30 AM, Larry Pizzi, Currie's President, will present two IZIP Express™Police Edition electric bicycles to LAPD Deputy Chief, Terry S. Hara and Sergeant Matthew Bygum, Officer in Charge of the LAPD Bicycle Coordination Unit. The formal presentation will be made at the Company's IZIP Store™, which is located at 609 Lincoln Boulevard in Venice, Los Angeles, California. Members of the press are invited to attend. "We are honored to have the opportunity to support the LAPD and the City of Los Angeles with their embrace of light electric vehicles, recognizing their duty of care to the environment as well as the citizens of Los Angeles" said Pizzi.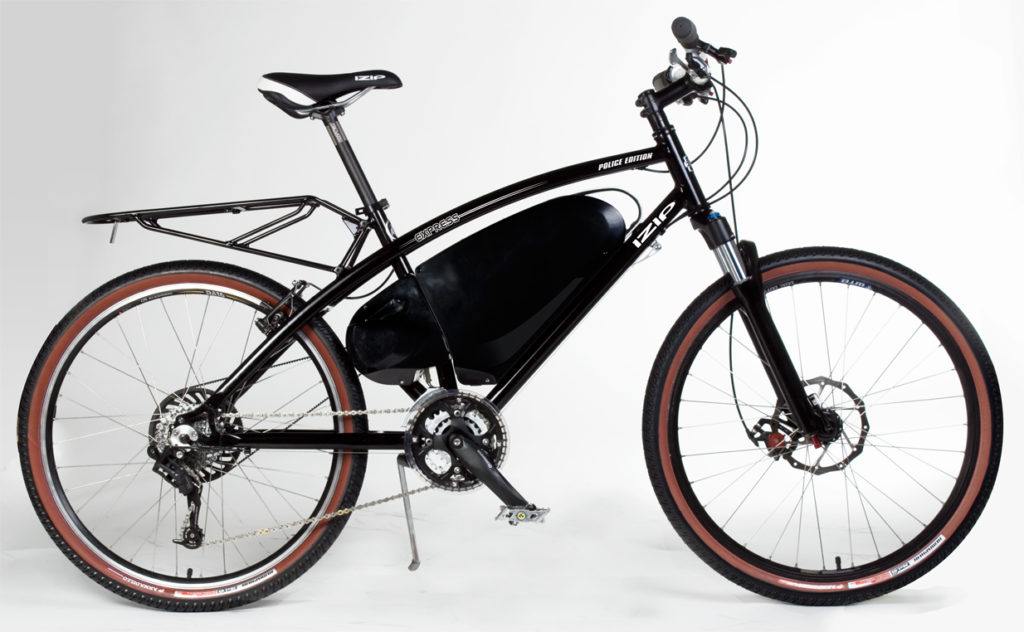 The IZIP Express™ Police Edition features Currie's Evo-Drive™ 2.0 technology, which is designed to amplify human power to that of a professional cyclist. The Express™ is powered by a patented dual planetary drive system that blends the power of a hi-torque 750-watt electric motor with human power to create one of the highest performance electric bikes on the market today. The mid-frame, removable power system provides exceptional balance, a lower center of gravity and superior handling, making it very well suited for community policing and security use.
About Currie Technologies®
Currie Technologies® is one of the oldest and most established US developers and distributors of quality, high-performance hybrid and electric powered bicycles and personal electric transportation products. Currie Technologies® was founded on the conviction that electrically driven vehicles will become increasingly important for fundamental environmental and economic reasons, and that new and large international markets will emerge. Currie Technologies® holds various technology patents on the Electro-Drive™ Propulsion Systems, unique electric drive systems that provide superior performance and durability at a reasonable price. To learn more about Currie Technologies® and its IZIP™ product line, please visit www.currietech.com.
For more information contact:
Larry Pizzi
President
Here are PDF's of the IZIP LAPD Express Features and Specs
What do you think?
Do think electric bikes will serve the LAPD well?  Can you think of other cool uses for an electric bike?
Please leave your comments or questions below.
Thanks!
-Pete
P.S. Don't forget to join the Electric Bike Report community for updates from the electric bike world, plus ebike riding and maintenance tips!
Reader Interactions