Turbo Bob Talks E-bikes at the IZIP Store in Santa Monica, CA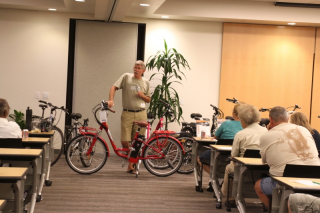 This is a guest post from Turbo Bob! 
Coming up on Saturday December 8th, I will be the key speaker at a special event at the IZIP Store in Santa Monica, CA.   Educating people on the utility and pleasures of E-bikes is getting more important everyday.
The main topic I plan on covering will be the control systems on electric-assist bikes and how to pick the one best for you.   Currie Technologies' line-up of IZIP and eZip E-bikes use most every combination of control systems and picking the right one can be the key to a rider's satisfaction with their new E-bike.
This event adds to my biannual E-bike seminar that I hold in San Diego.   I find that as people learn how much an E-bike can compliment their lifestyle, they are more willing to make the shift to a happier and heather way to move about their city.
In addition to my talk, there will be a question and answer session and a full complement of E-bikes to test ride.   The full crew of the IZIP Store will be on hand to make everyone feel at home during the afternoon.
Snacks and refreshments will be offered to the attendees.   I requested the chance to hand out raffle prizes and they responded with many.   After the smaller prizes are awarded, I will put all the tickets back in the hat and everyone will have a shot at the big raffle prize of the day.
Plus, the IZIP Store will have special deals for all the E-bike fans that decide to purchase a bike during the event.   In addition to the bikes, they have a large selection of great bike necessities and bike accessories.   I have been told that some of the raffle prizes will be gift certificates, so you may come home with just the item you have been wishing for.
I have reported on many of the IZIP E-bikes on my bike blog (Turbo Bob's Bicycle Blog) and have featured some on my YouTube channel of the same name.   I am proud to work with Electric Bike Report with guest posts and some fun new things in the coming new year.
You may know that my wife and I have been riding our eZips for over four years.   I like to think that my knowledge of E-bikes can help you, family and friends to gain a better understanding of the different bikes and how to choose the perfect one for your needs.
So please join me, Turbo Bob, for this fun day (Saturday December 8th) of savings, prizes and information at:
The IZIP Store
2803 Main Street
Santa Monica, CA. 90405
(310) 310-8846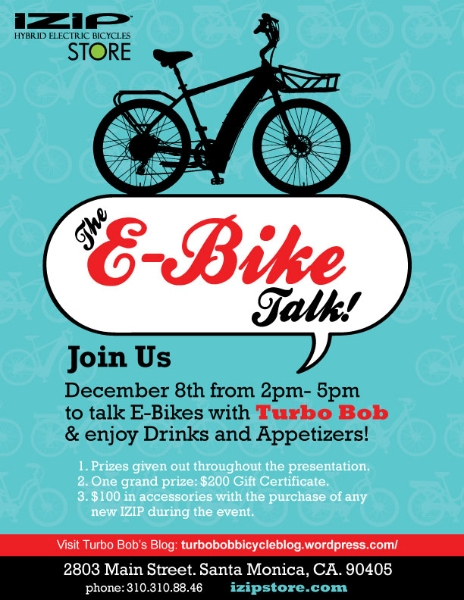 End of guest post from Turbo Bob
P.S. Don't forget to join the Electric Bike Report community for updates from the electric bike world, plus ebike riding and maintenance tips!
Reader Interactions