Touring Europe on eBikes – Why We Decided to Electrify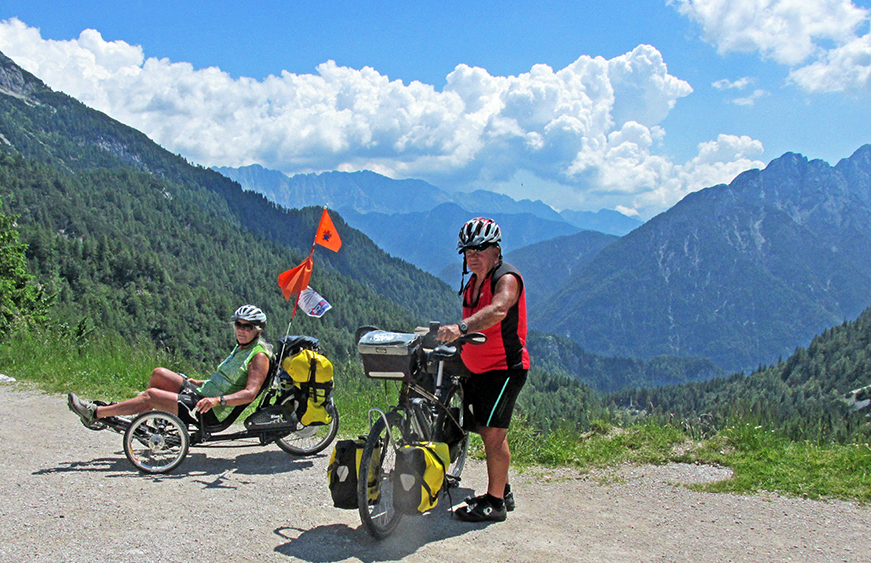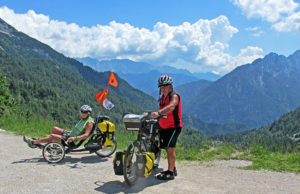 By Anne Poe
If you have read any other pages in our website, www.hikingbikingadventures.com,  you have seen that we have often chosen to pursue challenging "holidays".
The website stories start in 1984, our very first adventure, when we bicycled from Costa Rica to Peru and tried to bike through the infamous Darien Gap of Panama.
Thirty-one years and multiple adventure holidays later, we are now both in our 70's.  Mike read about a study done on marathon runners that showed their race time declined by 20% every decade after the age of 40. We may still have the mental desire to meet the challenges and go the distances of our former years, we just don't seem to get there! Age has made a difference.
Last summer, we bicycled 4000 kilometers around Europe with full luggage and no electric assist. Stories are posted in our blog and under "Bicycling Adventures" on our site. There were days, even weeks, we wondered what we were doing there.
In the United States, gradients on paved major and even minor roads rarely get steeper than 8%. In Europe, we constantly struggled up 10% to 15% gradients with many very short but very tiring gradients that registered up to 26% on our GPS.
Eventually, we changed our itinerary and followed the Euro Velo 6 route along major rivers. There were still plenty of big hills, but it was a much easier route than where we had started in Greece and Croatia. Even though we wanted to continue our original route, the challenge was too much for us to enjoy.
I was born with a genetic form of emphysema. At my current age of 71 years,  of the oxygen I take in, only 37% gets into my blood stream. Normal, healthy lungs in my age group pass between 70% to 80% oxygen from the lungs to the blood.
Without adequate oxygen to my blood, my heart wants to pump harder to compensate. Breathing gets short and stressed. My only choice is to go slow, especially uphill.
My average speed going up a 6 mile hill with 10% gradient was about 2 miles per hour and less. At times, my breathing would become very labored and I would have to stop and recover. I was not having fun.
Because of my compromised lungs, Mike carried more of the luggage. He had a fully loaded bike and pulled a Bob's trailer. Often, on long up hills, if he stopped to rest, he could not get started again and ended up pushing to a flatter spot or to the top. He got tired of pulling such a burden on a daily basis and lost his desire to cycle in the mountains. He was not having fun.
We prefer to cycle in the mountains. We did not want to give that up, but neither were we up to the extreme challenge anymore. Something had to change, or we might had given up hope of ever enjoying independent, long distance touring again.
E-bikes are a relatively new concept in America, but they are extremely popular in Europe. Last summer when we were riding, we saw many people riding with electric assist. One must pedal in order to engage the assisting power.
It has been described as bicycling with a tailwind. We decided if they could do it, we could do it and began a laborious search into the fast growing field of E-bikes.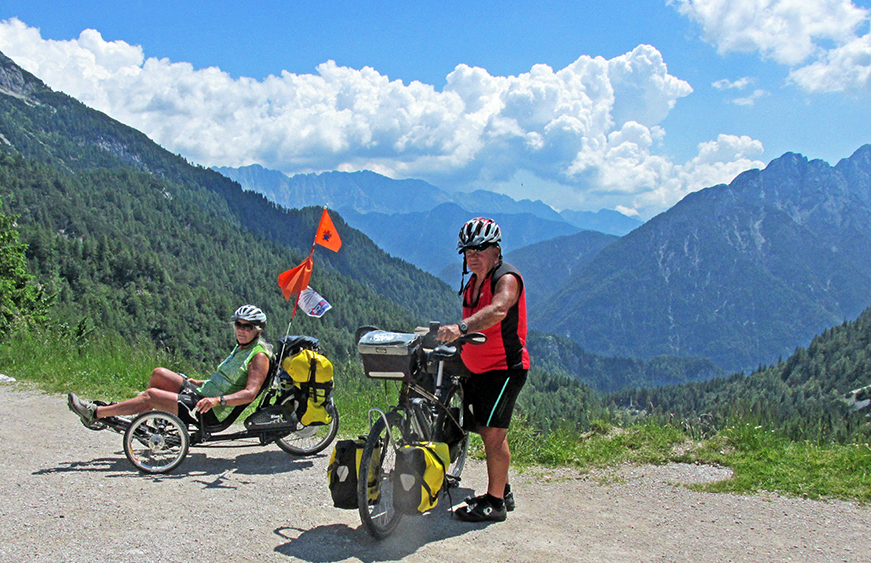 Thoughts on Touring with E-Bikes
Generally speaking, we were not interested in pedaling upwards of 50 miles a day
We never had a problem recharging the batteries: in restaurants for lunch if needed, at campgrounds, even a couple of times in private homes.
Distances between interesting destinations were well within our desired distance of travel per day
We still pedaled; we still very much enjoyed the feeling of bicycling and daily accomplishment
We were able to cycle the mountain areas we loved; without the motor assistance, we would have given that up; perhaps even bicycling altogether
My stressed breathing all but disappeared
We had fun!
We cycled about 4,000 kilometers in 6 different countries: Slovenia, Croatia, Austria, Germany, Czech Republic, and Italy. We found a lot of scenically rich, challenging, mountain routes that we could not have enjoyed without our BionX motorized systems.
The journey was a highlight in our lives. We are lucky to be living in an age where technology offers so many an opportunity to continue participating in an active lifestyle. Electrifying our bikes allows us to continue cycling.
About Us:
Adventure traveling since 1984, we have since authored three very popular hiking guides for Colorado and one for Utah, plus a bicycling adventure journey in Southeast Asia. Our most recent publication, Cycle Scenic Slovenia Routes/Maps/GPS Downloads, is all about our electric bike journey through Slovenia in 2015.
Our printed books are sold on Amazon.com. Our full color PDF downloadable books are sold in our Digital Store.
Reader Interactions