The ProdecoTech Electric Bike Line Up at Interbike 2014 [VIDEOS & PICS]
ProdecoTech had a large piece of real estate at this year's Interbike to show off some of their new electric bikes for 2015.
Notably there was the Outlaw 1200 (1200 watts of power), their new Speed Pedelec with torque sensor pedal assist, and the folding Mariner 500 e-bike.
They showed off a chain torque sensor can be added to any of their current bikes as well as some of their older models.
Plus, there was mention of the new battery location……in the downtube of the frame…..stay tuned for more on that!
In addition to those new e-bikes and torque sensor, there was the rest of their range of off road and street style electric bikes.
One of the unique features of all ProdecoTech electric bikes is that they are assembled in their Ft. Lauderdale assembly facility.
In this post you will get an idea of what all of these bikes look like with a couple videos and pictures.
Checkout this video of the off road ProdecoTech e-bikes: the Outlaw 1200, Outlaw SE, Outlaw SS, Phantom X2, Phantom X3, and Titanio Electric Bikes:
And here is a video of the ProdecoTech street e-bikes: the Speed Pedelec, Scorpion, Oasis, Stride 500, StrideMatic, Mariner 500 Electric Bikes:
Here are a few pictures of those bikes as well.
The Outlaw 1200 is one of the newest e-bikes to the ProdecoTech line up with 1200 watts of power and 28 mph speed.  Notice the RockShox suspension fork which is an upgrade from the other Outlaw models. This bike will also come in a candy red color.
The Outlaw 1200 has a 48V 12ah lithium battery and a healthy mix of SRAM, Avid, and Truvativ components.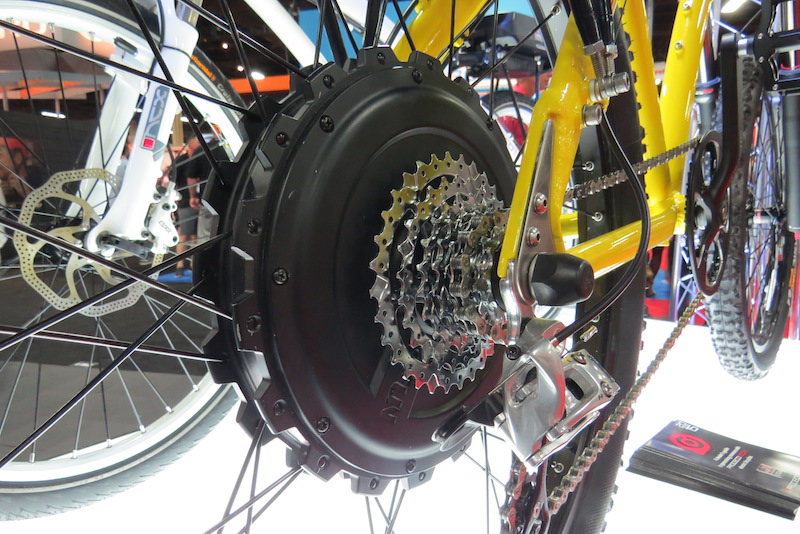 Here is a close up of the 1200 watt direct drive rear hub motor on the Outlaw 1200.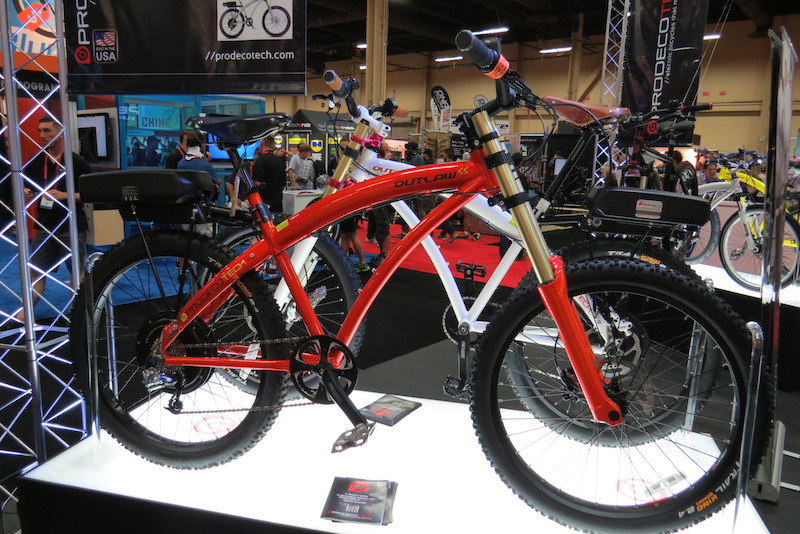 The Outlaw SS (28 mph) and the Outlaw SE (20 mph) were front and center as well.
The Titanio is their super light e-bike at 31.8 lbs! Titanium frames are very eye catching.
This is the new ProdecoTech Speed Pedelec (pedal assist) with their new chain torque sensor.  This bike features a 600 watt geared hub motor.
The new chain torque sensor can be added to any of their current bikes and some of the older models too. This allows you to have a torque sensor pedal assist system as well as a twist grip throttle option.
The Scorpion 9 is their 38 lbs. aluminum bike e-bike. The frame is made in Seattle and like all ProdecoTech e-bikes it is assembled in their Ft. Lauderdale assembly facility.
The Oasis is their beach cruiser style electric bike with 750 watts of power! This is their step thru frame Oasis.
And here is the traditional triangle frame Oasis.
The StrideMatic is a step thru style e-bike with the very simple SRAM E-Matic system. The rear hub has an automatic 2 speed shifting system.  You just get on the bike and go; no need to worry about shifting.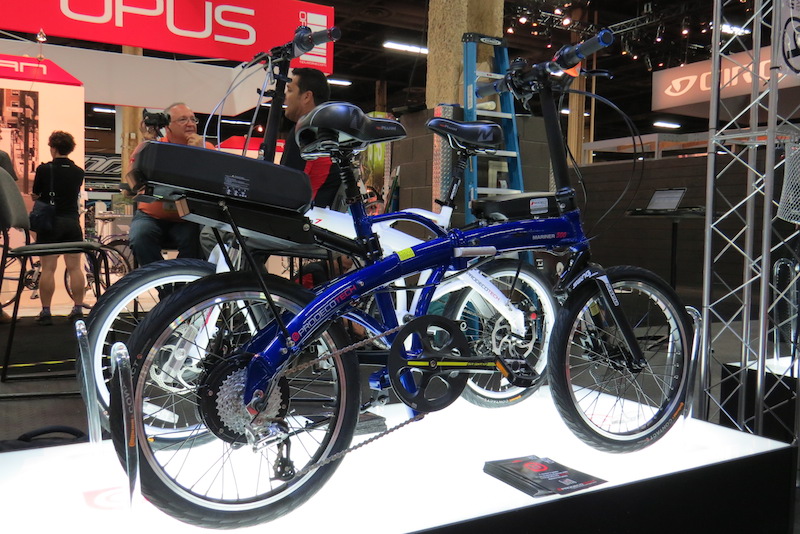 The Mariner 500 has a 500 watt geared rear hub motor with 48V 9ah lithium battery. That is a lot of power for a small e-folder!
The Mariner 7 will be upgraded to an 8 speed drivetrain for 2015.
That's it for now. Stay tuned for more news about the new ProdecoTech battery location in the downtube of frame….
P.S. Don't forget to join the Electric Bike Report community for updates from the electric bike world, plus ebike riding and maintenance tips!
Reader Interactions