The New Optibike M4 Electric Bike: An Affordable Optibike……[VIDEO]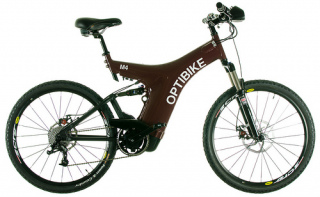 Yes, affordable and
Optibike
don't normally go together in the same sentence, but the M4 is the most economical of the Optibike line up at $5995!
But that is the price for the quality that Optibke prides itself on.
This is what Optibike has to say about the new M4:
"Introducing the new Optibike M4; If you have been looking for the American quality and award winning design of the Optibike at an affordable price; this is the bike for you.
You will love the Rock Shox suspension, durable and unique powder coated frames and 9 speed derailleur gear systems. The M4 uses the patented Optibike frame and Motorized Bottom Bracket (MBB)."
Here is a video from Jim Turner (owner of Optibike) about the new M4.
And here is a little recap of some of the specs of the M4:
Frame:  The Optibike aluminum monocoque frame
Motor:  440 watt motorized bottom bracket
Battery: 37 Volt 10.4 ah lithium ion housed in the frame.  There is the option to upgrade the pack to 37 Volt 26 ah battery.
Suspension: Rock Shox and Fox(?)
Brakes:  Avid BB7 mechanical disc brakes
Wheels:  Mavic Cross Ride
Drivetrain: SRAM 9 speed
Here is a link to more of the M4 specifications.
All in all it looks like a solid component spec.
So if you have been saving to get an Optibike of your own, the M4 may be your ticket to affording one sooner!
P.S. Don't forget to join the Electric Bike Report community for updates from the electric bike world, plus ebike riding and maintenance tips!
Reader Interactions