The E-Bike Cycle Tourists Journey Continues from France to Hungary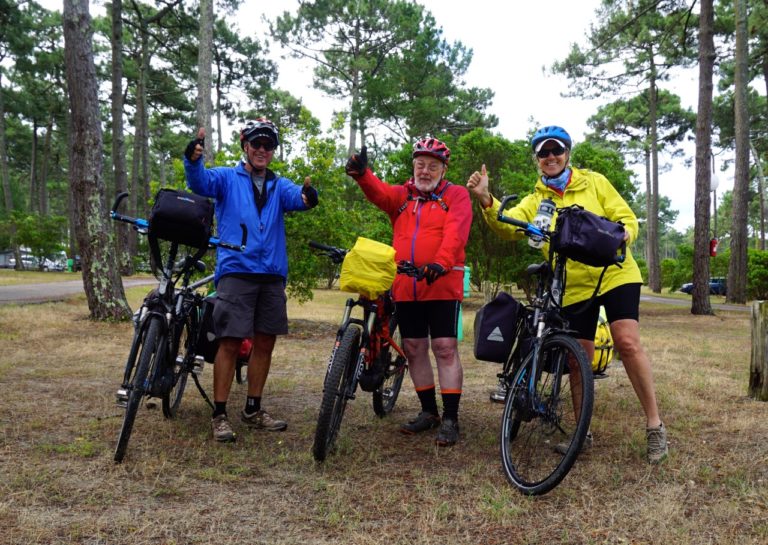 By Gary Corbett
And we are off – again.
Exactly 315 days and 23,500 kilometres of full-time e-biking since setting out from London in April 2015 to set a new world e-bike long distance record, the E-Bike Cycle Tourists' ongoing e-bike adventure continued from Hendaye in south west France on June 13.
The plan over the next three months is to pedal our ever-reliable Haibike xDuro Trekking e-bikes through France, Germany and Austria to Budapest in Hungary before returning to home soil in Australia in early September for yet another e-biking adventure.
After seven months in Portugal, Cyprus and England firstly sitting out the European winter and then our European Schengen visa exclusion period, it was fantastic to finally be on the road again.
And what a reintroduction to the trials and tribulations of self-supported e-bike cycle touring it has been!
Pouring rain, howling winds and even periods of beautiful sunshine, we have seen and experienced it all with the result that we have not only been totally soaked on a couple of occasions but also experienced an unexpected case of sunburn.
But that has been a small price to pay to be able to experience some of the best cycling infrastructure we have seen on our journey so far along EuroVelo 1 as we have e-biked up the Atlantic coast through Biarritz, Bayonne and around the Bassin d'Archacon to where we are currently camped at Lacanau Ocean.
It has also been fantastic to have been able to enjoy the company of 72-year-old Belgian/Frenchman Jacques Vuye – who has been following our journey for some time through the internet – for a few days of pedalling.
A keen e-biker if ever there was one, Jacques is well on his way to regaining his health and fitness after overcoming serious injury and illness, and gives his e-bike total credit for regaining his zest for life.
Such has been the profound impact that e-biking has had on his health, Jacques is now at the stage where he is planning a number of short unassisted e-bike cycle tours – something that just a few short years ago was  totally unimaginable.
As such he claimed the three days he spent with us was a unique opportunity to see firsthand what cycle touring on an e-bike was all about.
Given the huge smile on his face as we cycled along there was no doubt at all that the assistance his e-bike had given him to get fit had transformed his life – how good is that!
Surely there is no better advertisement for the health benefits of e-biking, no matter what your age.
With our Haibike xDuro Trekking e-bikes back to full health after a full service and the fitting of new Bosch sprockets, cassettes and chains in Hendaye prior to setting off – thanks in no small part to Jacques car full of tools and his expertise with bike mechanics – we have been purring along EuroVelo 1.
But then that hasn't been difficult at all given the amazing bitumen cycle track that has been constructed along the Atlantic coast over the past few years.
When I last cycle toured here in 2010 the track – if you could call it a track – was virtually non-existent, with the result that the ride was a lesson in perseverance given the narrow and bumpy surface and ever-present sand that my bike became bogged in on many occasions.
But not any longer.
Today the track is mostly traffic free – except of course in the few villages you pass through – boasts a smooth surface for 95 per cent of the way and in a word is a delight to ride (except, we discovered the following day, from Lacanau Ocean through to Hourtin Ocean where the trail is still bumpy, narrow and just plain hard work).
Otherwise it is quite simply a super highway cycle route that winds its way through the countryside and towering sand dunes along the coast and is something that every keen cycle tourist should experience for themselves.
Such was the quality of the track we managed to cycle 141.39 kilometres during seven hours 22 minutes of cycling on one day – the most kilometres we have cycled in one day in more than a year of e-biking.
Our current destination is Chinon in the Loire Valley where we will be meeting up with a film crew from our new major sponsors Haibike Germany for a five day film shoot that will record our journey for a worldwide audience.
Stay tuned for more details.
Thanks to Gary Corbett for this update on their adventures!
P.S. Don't forget to join the Electric Bike Report community for updates from the electric bike world, plus ebike riding and maintenance tips!
Reader Interactions