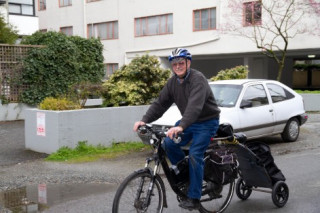 Guest post by Cathy Lau from Ohm Electric Bikes.
Jean Dion is not your typical bike commuter, but he is certainly a devoted one.
Unlike most commuters who choose to bike because they need to get to work one way or another, Jean is an 81 year old retiree who has started working again as an excuse and incentive to commute by electric bike.
To him, cycling is critical to [Read more…] about 81 Year Old Man Comes Out of Retirement as an "Excuse" to Commute by Electric Bike!