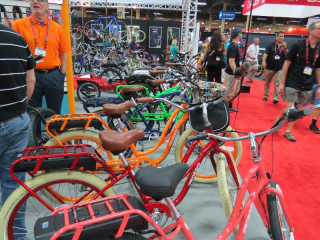 Wow, there was a lot happening in the electric bike world at Interbike 2013!
Interbike is the largest bicycle tradeshow in the US and it is where bicycle brands show off their new products for the next year and meet with their dealers to talk about orders for the next year.
This first part of electric bike coverage at Interbike features videos of the new electric bikes for 2014 from brands like Pedego, Haibike, eFlow, IZIP,  Optibike, and BH Easy Motion.
Enjoy the following videos and [Read more…] about The Electric Bike Scene at Interbike 2013 – Part 1 – Pedego, Haibike, eFlow, IZIP, Optibike, & BH Easy Motion [VIDEOS]