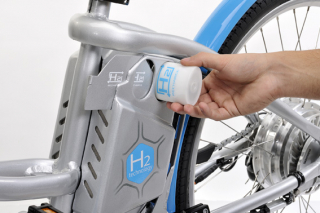 A hydrogen fuel cell powered e-bike called the Gitane Alter Bike uses replaceable (and recyclable)
energy cartridges
that eliminates the need for a traditional charger!  This system would allow you to travel long distances by installing new cartridges.  You wouldn't have to wait for your battery to charge.  Pretty interesting….
A writer for the LA Times recently got a Pedego City Commuter and has realized the benefits of e-bike commuting compared to commuting by car.  This kind of mainstream media is great for getting more people excited about e-bikes.
Speaking of the mainstream media, the Chicago Tribune recently ran an article about electric bikes growing in popularity [Read more…] about E-Bike News: Hydrogen Fuel Cell, Mainstream Media, E-Bike Share Program & More!