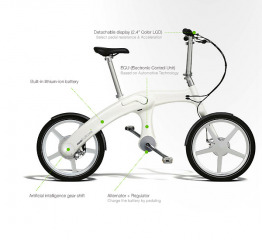 Recently the
Mando Footloose
series hybrid electric bike was announced and it is definitely a paradigm shift in the way we think about electric bikes.
The series hybrid type e-bikes have an alternator at the cranks that creates electricity from your pedaling.  The bike then uses that electricity plus the electricity in the battery to power the motor of the bike.  This type of e-bike eliminates the typical bicycle drivetrain (chain, chainrings, cogs, derailleurs, shifters, etc.)  Checkout the Mando Footloose for more detailed info on a series hybrid e-bike.
A friend of mine, David Calley, who is very technically minded, mentioned [Read more…] about Series Hybrid Electric Bike Compared to Traditional E-Bikes: Efficiency, Ride Feel, Cost & More!