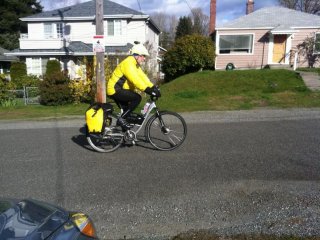 This is a guest post by Cathy Lau from OHM Cycles.
Seattlelite David Somers knew that his electric bike would save him money in the long run, but he didn't realize just how many dollars it would save him with only a few rides.
David has shared his electric bike experiences with us in the past, describing how he fared while pairing his OHM with a Burley Travoy Trailer to accomplish an impressive task (see Burley Travoy bike trailer review ).
Since then, David has been using his bike as his sole means of getting around, and has a very interesting new story to share with us: [Read more…]