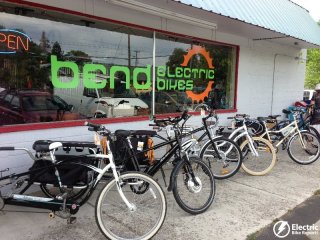 I recently took a trip to 
Bend, Oregon
and I had a chance to visit a couple of e-bike shops and check out some other e-bike & bike culture.
Bend is a mountain town in Central Oregon and has a population of around 80,000.
During the summer it's usually nice and dry with long sunny days.  Bend is a very outdoor focused town with lots of opportunities for walking, biking, hiking, boating/rafting, fishing, rock climbing, skiing, etc.
Like some other towns in Oregon, Bend has a lot of bikepaths and bike routes that many people (locals and tourists) use to get around town.  In addition, [Read more…] about Trip Report: The Electric Bike Scene in Bend, Oregon. [VIDEOS]