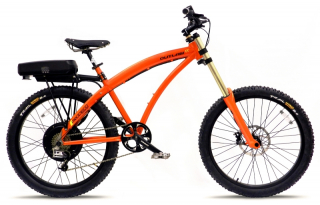 Make sure you checkout the full
review of the Prodeco Outlaw SS
!
The new Prodeco Outlaw is a powerful and fast electric mountain bike!
It pushes right up against the US e-bike power limit of 750 watts (1 Horsepower) and the Outlaw SS model can go up to 28 mph with throttle only!
First of all, the new Prodeco Outlaw electric bike just looks tough!  It's oversized aluminum frame, the double crown  suspension fork with 140 mm (5.5 inches) of travel, the knobby tires, and [Read more…] about The New Prodeco Outlaw Electric Mountain Bike!