Sustainable2Wheels: ETRA brings 2Wheels to European Parliament in Brussels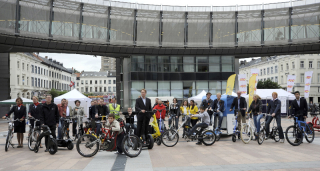 This is a press release from European Twowheel Retailers' Association (ETRA).
The 4th edition of Sustainable2Wheels has all the signs of being a very interesting and full day.
Among the many activities on the event program are two animated debates with prominent politicians, electric cycling classes with ex-pro Henk Lubberding, the presentation of state of the art 2Wheels and of several European 2Wheel projects, cycling tours through Brussels and a petition action for a European 30km/h speed limit.
Sustainable2Wheels is a full day's event, which includes a demonstration of different types of 2Wheels, i.e. bicycles, electric bicycles and powered 2Wheels, as well as a presentation of projects and organizations active in the field of sustainable mobility.
Sustainable2Wheels takes place on Wednesday 18 September 2013 from 8.30 a.m. till 3.30 p.m. on the esplanade of the European Parliament in Brussels.
As part of the European Mobility Week, a key period in the European institutional calendar, the event will illustrate how 2Wheels can help to achieve a sustainable and innovative transport system, as well as more liveable cities and healthier European citizens. Sustainable2Wheels takes place outside the European Parliament, targeting policymakers in the different European institutions.
On the program of Sustainable2Wheels are two interactive public debates. In a first discussion, the panel will talk about 2Wheels in the EU environmental policy. Reason for this debate is the 7th Environmental Action Programme, on which Parliament and Council have recently reached an agreement. Sometime this year, the European Commission is expected to publish a new Urban Mobility Package. Therefore, 2Wheels in urban mobility has been chosen as the topic of the second debate at the event.
Prominent politicians such as Isabelle Durant, Vice-President of the European Parliament and Brian Simpson, Chair of the TRAN Committee, have confirmed their participation. Furthermore, the European Commission and the European 2Wheel business will be represented on the panel. On behalf of the German Fraunhofer Institute, researcher Johannes Hartwig, will participate in both debates. In between the two discussions, he will briefly present the 2013 study "Economic Aspects of Non-Technical Measures to Reduce Traffic Emissions." The moderator of these debates is Klaus Bondam, the director of the Danish Cultural Institute in Brussels and formerly known as the "Cycling Mayor of Copenhagen".
Next to the debates, Sustainable2Wheels features many different 2Wheel related activities. Dutch trade association BOVAG comes to the event with their Electric Cycling Team. The team is headed by former professional cyclist Henk Lubberding.  With the team he will show electric bicycles from the sponsoring brands. Visitors can test-ride these electric bicycles and learn from Henk Lubberding how to ride an electric bike like a real pro.
Next to the Electric Cycling Team, around 15 companies will be showing their 2Wheels for urban transport. Sustainable2Wheels is very pleased to welcome for the first time, two companies who are producing 2Wheel components, i.e. the German tyre manufacturer Bohle who produces the quality brand Schwalbe and world famous component producer Shimano. The most loyal exhibitor of Sustainable2Wheels is Buzaglo, the Benelux distributor of Dahon folding bikes, who has not missed any edition of the event.
A considerable number of famous motorized 2Wheel brands will also be present to show how their sector is introducing new technologies to improve the performance of their vehicles in urban transport. Among them, Suzuki will present and demonstrate their new hydrogen scooter.
Furthermore, a variety of some 15 projects and organizations related to 2Wheels and sustainable mobility will be presenting themselves on the esplanade. Newcomers are BEBAT and Recharge, two associations active in the field of batteries, an item of increasing importance given the enormous European success of electric bicycles. DG INLO of the European Parliament will also be present with their Mobility Point, which will offer visitors of Sustainable2Wheels the possibility to have their bicycle engraved as an anti-theft measure.
Sustainable2Wheels is an event organized by the European Twowheel Retailers' Association (ETRA), the trade association for bicycle and motorcycle dealers. Several ETRA members, i.e. the national trade associations from Belgium, Denmark, France, Germany and the Netherlands will also be participating in the event with a view to meeting up and exchanging ideas with European decision-makers.
ETRA organises Sustainable2Wheels in cooperation with the Greens/EFA.
All practical details, including the event program and the exhibitors' list are on www.sustainable2wheels.eu. Further information can also be obtained from ETRA Secretary General, Annick Roetynck, Tel. +32 9 233 60 05 – Email [email protected]
About ETRA
ETRA is the European professional association for independent bicycle, moped and motorcycle retailers. ETRA's objective is to group these retailers in Europe and to defend and further their interests.
The organization represents some 7,000 companies, which employ approximately 17,500 people in Belgium, the Czech Republic, Denmark, France, Germany, Holland, Ireland and the United Kingdom. Furthermore, ETRA has a large number of associated members.
These are international companies/organisations active in the 2Wheel field who believe in ETRA's work and who have therefore chosen to support that work through their membership.
ETRA's full membership list is here: https://www.etra-eu.com/members.asp
P.S. Don't forget to join the Electric Bike Report community for updates from the electric bike world, plus ebike riding and maintenance tips!
Reader Interactions