The Specialized Turbo E-Bike Now Available in the US! [VIDEO]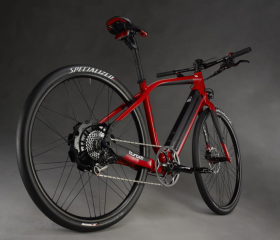 It's here…..the fast 
Specialized Turbo
electric bike, previously only available in parts of Europe, has now landed in the US!
As the name implies, this e-bike is meant to give your pedal power a Turbo boost!  Specialized uses the phrase "It's you, only faster".
The Specialized Turbo and your pedal power can motor up to around 28 mph using a 250 watt high torque motor and a 36V 9.5ah (342 Wh) lithium ion battery pack.
This is a pure pedal assist bike (pedelec); there is no throttle option.  So that means you have to be pedaling 🙂  There are 4 levels of pedal assist in addition to a zero assist and a Re-gen mode.
The Re-gen mode turns the motor into a generator and recharges the battery.  Re-gen is handy for a long down hills or if you really want to get a workout!  The Re-gen mode is automatically activated when the rear brake lever is engaged; that is considered regenerative braking.
The battery is integrated into the downtube of the bike.  It can be charged while it is installed on the bike or it can be removed for charging off the bike.
The Turbo frame is an aluminum road style frame designed around 700c wheels.  The component spec consists of a SRAM 10 speed drivetrain, Magura hydraulic disc brakes, various Specialized brand components, integrated LED lights, etc.
Here is a video of the Turbo's specs as well as some riding footage:
Here is good review of the Specialized Turbo from the folks at CNET.
This is an article and video from the recent Turbo launch event.
And the price…….$5,900!  Specialized is known for going big when they first launch a new bike and then creating more economical bikes later.
What do you think?  Are you interested in the Specialized Turbo?  Please leave your comments below.
Thanks!
-Pete
P.S. Don't forget to join the Electric Bike Report community for updates from the electric bike world, plus ebike riding and maintenance tips!
Reader Interactions