NEW Shimano Electric Bike Component Group = Excitement!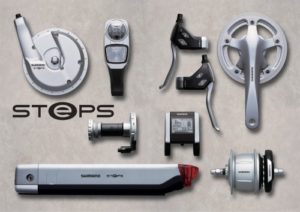 This is really cool!  Shimano (one of the most reputable bike component manufacturer's) is coming out with an electric bike component group!  It is called the Shimano STEPS (Shimano Total Electric Power System) electric bike component group.  This is good news for the electric bike market because Shimano has a reputation of providing quality components that work very well and last a long time.  They are typically engineering and manufactured with very tight tolerances.  This component group looks like it will be a success because it appears to integrate a lot of cool electric bike features into a clean package.
Below is a summary of all the features that this new component group will offer.  At the end of this article is the press release from Shimano if you want to know more.
250 Watt Front Hub Pedelec Motor (motor assists only when pedaling)

Regenerative braking for recharging the battery on downhills

Electronic Shifting

8 Speed Internal Rear Hub

24V / 4.0Ah lithium ion battery

Battery takes 1 hour to charge

Battery can be recharged over 3,000 times

Battery to last over 8 years

Integrated light system that runs off of battery

Cables offer potential to be routed inside of bike frame

Cycle computer that provided info on riding mode, battery power, gear indicator, speed, trip and odometer

Cycle computer can be removed easily for anti-theft

Diagnostic system that allows dealers to download info to computer for analysis
Shimano Steps will be shown at the Eurobike trade show in September and available for sale in December.
Here are some individual component pictures from Bike Radar.com
I think that is a great step towards creating more electric bikes that will operate smoothly and offer a very clean component package.  There are some great component groups on the market right now, but having a big manufacturer like Shimano step up to the plate and put together a very complete kit is very exciting!
Here is the Shimano Press Release: (from Road.cc)

First generation of Shimano e-bike components (STEPS)
Shimano is presenting a completely new component group for e-bikes named STEPS (Shimano Total Electric Power System). The development is based on our philosophy that an e-bike has to stay a bicycle and needs to have a smooth and natural handling with a well-balanced support while pedaling. The STEPS concept enables people to enjoy nature and to stay healthy.
Shimano's first generation of e-bike components is based on four design principles:
Fun and Comfortable
E-bikes with STEPS technology have a similar riding feeling as a regular bicycle with a well-balanced support that continues until a maximum speed of 25 km/h. The 250W front motor drive system contributes to a good traction in various road conditions and can be used for recharging the battery when riding downhill, using the motor as an additional brake similar to engine-braking with a car.
STEPS can be combined with several shifting options. Most advanced is the SHIMANO SG-E500 8-speed internal geared hub that operates with electronic shift buttons. Options for V-brake and roller brake will be available. Furthermore, STEPS can also be combined with NEXUS internal geared V-brake and roller brake hubs and with existing rear derailleur systems.
Eco
Shimano introduces the E-Gain system that offers a multi-regenerative function to recharge the battery while riding. When riding in the E-Gain mode – for example when riding downhill as described above – energy is regained and stored in the battery. When operating the brake lever, the pedaling support stops immediately and starts supporting the brake power, regaining energy as well.
When using the battery charger, Shimano offers a super quick battery charge of 1 hour to load a completely empty battery. Charging is possible with the battery on the bike but the battery can also easily be removed for charging. The 24V / 4.0Ah lithium ion battery can be recharged over 3.000 times. This means that even when it is recharged every day it lasts over eight years! The battery is mounted at the rear carrier, with an integrated tail light. Also the front lamp is part of the concept, using a 6V / 2.4W super bright white LED lamp.
Smart and Clean
STEPS components have been exclusively designed for e-bikes. The functions to operate the system are fully integrated into the components, offering a clean design with great user friendliness.
The electric switch buttons for riding mode, display mode and a light switch are integrated into the 4-finger brake levers, offering a clean cock-pit and smart cable routing. Cables have been provided with 5mm slim cable plugs to allow easy internal frame routing. The cycle computer offers a clear and quick overview of all e-bike functions such as riding mode and battery power but also a gear indicator, speed, trip and odometer. It features also a back light function and it can easily be removed from the bike for anti-theft. 

Reliable 
STEPS is developed according to Shimano's well know quality standards. This component group complies with all major European standards. 
STEPS is a multi condition system, allowing a storage temperature of -20 until +60 degrees Celsius. Usage temperature is from -10 until +50 degrees Celsius. All components are fully waterproof. 
STEPS has been provided with a diagnostic system that allows dealers and bike manufacturers to download data directly from the components to the PC. Consumers can rely on support from Shimano's well organized and proven dealer network.
-End of Press Release-
What do you think?  Are you excited about this new development in electric bike technology?
Thanks!
Pete
P.S. Don't forget to get sign up for updates from the electric bike world, plus ebike riding and maintenance tips!  (upper right hand corner of this site)
Reader Interactions