Seattle Cafe Delivers Tasty Grub with Electric Bike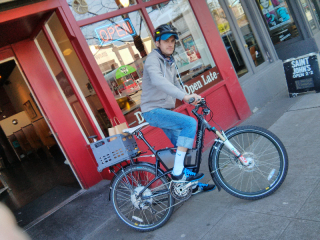 Guest post by Cathy Lau from OHM Electric Bikes.
Delivering food orders by bike is no easy task when your delivery routes are filled with steep hills and traffic.
Wanting her company's new delivery bike to be one she could trust to deliver both her food and her employees safely and reliably, Seattle café owner Emily Mabus invested in an OHM electric bike.
Since mid-March, the company's OHM XS750 has roamed Capitol Hill every day, always ready to uphold the Other Coast Café's daily 11am-9pm delivery schedule – helping the café's employees promptly deliver its delicious sandwiches to hungry customers.
Emily describes:
"We have about seven people who ride the OHM, all with different heights and skill levels. We use it every day, during daylight and evening. The electric bike takes us up and down the hills of Seattle in all kinds of traffic. It can handle it with ease.
Its reliability has meant that we can be on it every day without incident.  My staff likes the pedal assist and that the electric bicycle rides and handles just like a regular bike.  It's easier to park, as well!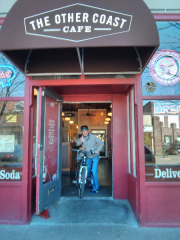 The fact that my staff feels more confident on this bike makes me believe that they can concentrate on the traffic better – enabling them to be safe.  It really handles our heavier deliveries with ease."
Her customers also appreciate the new bike:
"Our regular customers are glad that we can offer a more reliable schedule of delivery for them.  We were often having to only do walking deliveries when our previous bike was in the shop."
The café's first electric delivery bike has delivered such positive experiences that, already, a second one is a possibility:
"We only have delivery at our Capitol Hill location. If we open our Ballard location up to delivery, we would certainly buy an electric bike for that purpose."
End of guest post
Do you have a local restaurant or business in your area that makes deliveries via electric bike?  If so, please share in the comments section below.
P.S. Don't forget to join the Electric Bike Report community for updates from the electric bike world, plus ebike riding and maintenance tips!
Reader Interactions