Report on Electric Bicycle Imports to USA by Brand in 2014-2015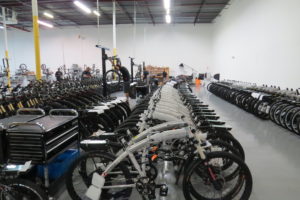 By Edward Benjamin.
One of the challenges of tracking the ebike business in the USA is created by a lack of a uniform tariff or HTS numbers that are specific to electric bicycles.
So a researcher is limited to a process of using descriptions such as ebike, electric bike, etc.
The descriptions can be vague or misleading, so our team then checks for shoppers names that we know (famous bicycle factories for example) and for consignees addresses and names.
The use of logistics companies and trading companies, whose names we often do not know, put a desire of most ebike merchants to keep their actual sales data secret, creates plenty of opportunity for error.
We have some experience at this, and while we are sure our data is not perfect, we believe it is useful and generally correct.
The USA is experiencing growth in ebike sales. This is evident from import records, as well as from anecdotes from retailers. It is evident in the increasing visibility of ebikes on the road, and in the bicycle dealers showrooms.
Bike dealers in the USA have recognized something that EU dealers have known for 10 years – that ebikes appeal to an older, affluent demographic, and the dealer makes more money selling ebikes.
Finding the way to serve the older customer is increasingly important in the USA bicycle business. About a quarter of all Americans are aged 55 to 75 (Baby Boomers) and they are the most important group for the sales of bicycles in USA history. They are learning that an electric bike can extend one's riding season for an additional 15  years or so.  Pedego, Haibike, Currie, Prodecotech (and many others) are suitable for this group.
A similarly large group are the Millennials, who are now generally 20 – 35 years old. This group is not buying cars like the baby boomers did, and unlike the baby boomers, they often aspire to live in big cities where a bicycle or an electric bike is more useful for personal transportation than a car.  Faraday, Stromer, BH are all suitable for this group.
The USA connives to suffer declining incomes, increasing competition in the work force, high cost of housing, fuel and credit. For many people, one of the most powerful tactics is to relinquish one of their cars, or all of their cars, and thus greatly reduce their cost of living.
Millennials moving to the big city in search of jobs face high costs for parking a car, as well as reduced utility in owning and using a car due to traffic and parking congestion.
Due to these factors, combined with the very simple fact that bicycle companies and dealers make more money on electric bikes and thus should and will promote them with more vigor, our team confidently predicts continued growth and increasingly rapid growth in the USA like market.
2014
We believe that the USA imported about 193,000 electric bikes in 2014.
According to USA government import records, the most imported US ebike brands of 2014 were Currie Technologies (Accell Group), Pedego , and Easy Motion (BH). (note that Currie discontinued the sales of their popular 500-600 dollar ebike that was distributed through Walmart and Sam's Club during 2013-2014. This created a big change in unit volume for Currie.)
Thousands of ebikes were imported by New York City ebike stores, and large bicycle brands that have started to offer electric bikes as part of their model line up.
Yukon Trail, a brand that supplies Walmart and sells through Amazon was among the larger importers serving the mass merchants. (These bikes are made by Hong Du in China.)
Some large ebike brands are hard to identify through import records, and many importers in the USA seek to obscure their name and address by using logistics companies or otherwise trying to hide info or confuse researchers.
Prodecotech, another large US ebike company, does not import finished bicycles, but rather parts that they assemble in their factory in Florida. Their numbers are not certain, but they may be the largest in unit sales.
There were many shipments to a number of large US cities, but no brand names were found in the data, so we were unable to confirm who the shipments belonged to.
2015
Data gathered from January 1st – July 2nd, 2015
Import records indicate that the most imported US ebike brands in this time period are Pedego , Easymotion (BH) and Currie Tech.
Analysis: We believe that the relatively low level of spring imports indicates that some 2014 arrival bikes were carried over to spring 2015. For example, Specialized imported more than 1,000 ebikes in 2014. None found for 2015 so far.
A large number of ebikes went to a New York City ebike shop chain called SunTech NY. Large bicycle brands Focus Bikes and Felt Racing reflected their increasing offerings with sizable imports of electric models.
The US ebike market continues to be dominated by a few dedicated ebike brands, as well as conventional bicycle companies expanding their offerings. Small online and local retailers make up the rest of the market.
Most electric bike imports are made through forwarding companies, keeping the brands identities difficult to identify.
In total, the import data reflected that 33,101 cartons of ebikes have been imported into the US so far in 2015.
Thanks to Edward Benjamin from eCycleElectric for that informative guest post.
P.S. Don't forget to join the Electric Bike Report community for updates from the electric bike world, plus ebike riding and maintenance tips!
Reader Interactions