ProdecoTech to Host LEVA E-Bike Technician Training & Certification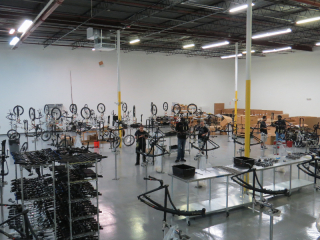 This is a press release from ProdecoTech.
Oakland Park, FL – Robert Provost President of ProdecoTech along with Heather Marshman Executive Director of the Light Electric Vehicle Association (LEVA) announced today that the Oakland Park based company will be hosting the LEVA E-Bike technician training and certification at their new 60,000 square foot state-of-the-art facility on May 1 and 2 of 2014.
ProdecoTech management expects this training will solidify the advancement of E-bike technologies to its dealer base and also to future prospects. The training has been developed by Dr. Don Gerhardt and various LEVA members and E-bike manufacturers.
Attendees will have the opportunity to purchase any ProdecoTech model at 50% off from MSRP (limited 2 bikes) and tour the plant to experience the process of what it takes to build an E-bike in the US.
For more information please visit this link, or contact Heather Marshman at [email protected].  Here is the link for the training registration.
About ProdecoTech
ProdecoTech is one of the leaders of the E-bike industry in the United States. Currently manufacturing 22 different models in its Oakland Park headquarters.
With over 50 employees, The ProdecoTech team continues to make history with its innovative designs, building in the US, and outstanding quality for low pricing. For more information please visit. www.prodecotech.com
About LEVA
The Light Electric Vehicle Association (LEVA) represents the strategic interests of light electric vehicle retailers, dealers, distributors, manufacturers and suppliers to promote the development, sale, and use of LEVs worldwide.
Members receive support and educational resources to expand their businesses while initiating efforts to influence and adopt legislation, regulation, performance standards, promotion and general best practices in the light electric vehicle industry.
 End of press release from ProdecoTech.
Here is my trip report after touring the new ProdecoTech assembly facility with a video and a bunch of pictures.
P.S. Don't forget to join the Electric Bike Report community for updates from the electric bike world, plus ebike riding and maintenance tips!
Reader Interactions