Pedego Unveils Trail Tracker for 'Peak' Performance in Europe [VIDEO]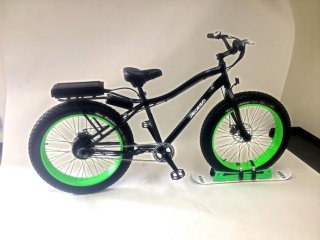 This is a press release from Pedego Europe.
Pedego's Trail Tracker electric 'fat bike' has been launched in Europe to bring off-road adventures all year round – including a unique partnership that allows it to 'float' on snow.
The Pedego Trail Tracker can climb steep mountain trails known to defeat most regular bike riders, whether on snow, sand or stone. It is now attracting interest at ski resorts from those looking for a new kind of winter fun.
The Trail Tracker is a heavy-duty, off-road monster, with four-inch thick wheel rims and vee rubber tyres with aggressive knobby tread. It has a seven speed derailer system, a rugged 600W silent motor and a 48V battery, as well as both pedelec and throttle options for power delivery.
"Most importantly it's great fun," says Pedego's European boss Daniel Robinson. "It's ideal for fans of the cult fat bikes who are seeking more adventure, because it is capable of carrying riders over almost any terrain."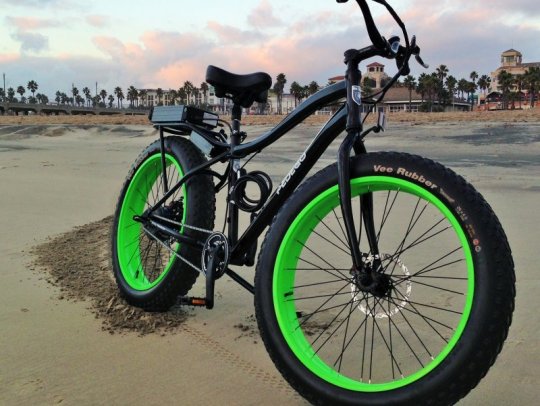 The Trail Tracker was originally designed as a show-stopping concept bike for display at the Interbike show in Las Vegas in 2012. Such was the positive reaction that Pedego started manufacturing for commercial sale and has not been able to keep them in stock since.
Now, a team of off-road thrill-seekers at Bikeboards is using the Trail Tracker to create an electric snow-mobile, as this video shows. (It's steeper than it looks).
Tracy Hoose, of Bikeboards, says: "Floating over the snow is the best way to describe it, it's like hitting the fast forward button in winter biking and it puts a smile on your face."
"The Trail Tracker creates a more aggressive and fun ride due to the grip and stability of the fat tyre and the power of the battery. The ski allows the Pedego to go where no other fat bike can go."
"Without our product bikes will sink and lose traction, so our partnership with Pedego is a huge opportunity and many resorts are experiencing the need to offer new activities to attract visitors, so the board/bike combo makes complete sense."
Daniel Robinson, of Pedego, adds: "We are very excited to bring this very unique product to Europe for the first time and we're confident its market-leading design and outstanding capability will blaze a trail across the continent, especially in the snow in partnership with Bikeboards."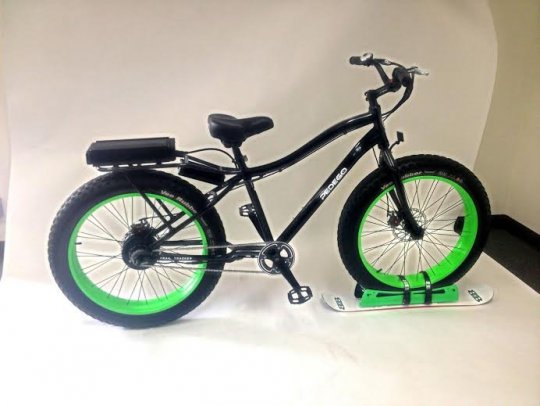 Pedego is one of the world's fastest growing e-bike companies and has a reputation for fun, chic design, comfort and the latest technology. The Trail Tracker joins an existing range of bikes that have been modified from US versions to suit European regulations – including speed limits and local customer demands.
Pedego Europe was established in 2011 in the Cotswolds as the first international distributor of the Pedego electric bike series outside the US, with pan-European responsibility.
For more information about Pedego Europe please visit www.pedegoeurope.com.
End of press release from Pedego Europe.
P.S. Don't forget to join the Electric Bike Report community for updates from the electric bike world, plus ebike riding and maintenance tips!
Reader Interactions