Pedego Launches the Destroyer "Fat Tire" Electric Bike at Interbike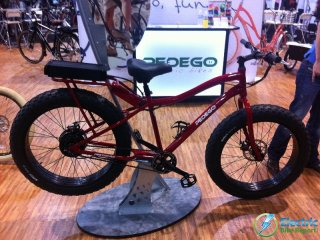 This is a press release from Pedego Electric Bikes.
Big news about an innovative bicycle thundered around the Interbike expo in Las Vegas, this week, as Pedego Electric Bikes launched its newest line of e-bikes: the Destroyer.
This solid bike lives up to its brawny name. With a rugged 48-volt, 500-watt silent motor, the Destroyer is made to leave others in the dust as its rider conquers new trails, both on and off the road.
The 4-inch wide tires on this e-bike have aggressive knobby tread to hug the turf and carry the rider over rough terrain with confidence.
Pedego Electric Bikes co-owner Terry Sherry is particularly proud of the Destroyer line. "On these bikes, the rider can be a true trailblazer," he says. "Everyone who has tested the Destroyer has fallen in love."
Pedego's Destroyer bicycle can be pedaled with relative ease over sand, dirt and other wild landscapes. It zips along at a top speed of 20 mph, as required by Federal law to maintain its status as a bicycle …though riders may think of it as a two-wheeled tank.
The Destroyer comes in three shocking colors: neon yellow, flame red and green camouflage. Pedego dealers will make the Destroyer available for test rides this holiday season. Meanwhile, shouts of  "Yeeeehaaaa!" will continue to be heard all around the e-bike test track at the Interbike expo. Retail price is $3695 for the off-road ride of a lifetime.
With more than 750 companies representing more than 1,200, brands, the Interbike trade show  lives up to its billing as the largest annual gathering of the bicycle industry in North America.
This event provides a one-stop opportunity for bicycle enthusiasts and merchants to connect with members of the entire industry, discover emerging trends and learn new business ideas at Interbike University. Diversity is key, with companies representing many forms of bicycling, including electric bicycles, the most noteworthy of which is Pedego Electric Bikes.
About Pedego®
Pedego®, the world's most renowned electric bicycle, built its reputation by creating the coolest electric bicycles outfitted with the latest in electric bike technology. With their chic, stylish designs complemented by a built-in silent electric motor, Pedego® offers a cost-effective and green alternative for transportation, exercise, recreation and fun!
Pedego® electric bicycles are perfect for anyone who wants to enjoy the fun of cycling and experiencing the outdoors without worrying about hills.  Hailing from Orange County, California, Pedego Electric Bikes is one of the fastest growing electric bicycle companies in the world. For more information, please visit https://www.pedegoelectricbikes.com/
End of press release
What do you think?  Would you like to ride a "fat tire" electric bike?  Where would you ride it?  Please leave your comments below.
Thanks!
-Pete
P.S. Don't forget to join the Electric Bike Report community for updates from the electric bike world, plus ebike riding and maintenance tips.
Reader Interactions