Passing the 10,000 km Mark on Ireland's Wild Atlantic Way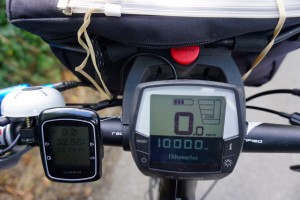 By Gary Corbett
By any standard it has been a big week for the e-Bike Cycle Tourists after passing the 10,000 kilometres mark while cycling towards a new world long distance e-bike record.
With the current record of 16,047 kms well within our sights, our eventual aim now is to clock up 20,000 kms or more to set a new, imposing, record.
The fact that the 10,000 km mark was reached on the west coast of Ireland was significant for a couple of reasons. Ireland, despite a complete lack of cycling infrastructure, has completely blown us away with its sheer beauty and the incredibly warm welcome we have received from everyone we have met.
From complete strangers who have selflessly offered to accommodate us to people who wave to us from their cars or from the side of the road, the interest in our record attempt has been amazing.
So far we have completed three newspaper interviews, have been interviewed at length on a morning radio chat show and virtually every time we stop we have had people keen to talk to us about our trip.
The down side, unfortunately, to cycling in Ireland is that there are no designated cycle routes, so most of the time we have found ourselves on busy, narrow roads with cars passing dangerously close.
That said most drivers give us a wide berth or, unlike in England, are happy to wait until there is a safe place to pass. For much of the past week we have been following the Wild Atlantic Way, a 2,500 km route that basically follows the coastline from the south of Ireland up the west coast to the north of the country.
Unfortunately the route was been planned with only motorists in mind, so for the few brave souls like us who decide to follow it on a bicycle tourist buses, drivers distracted by the stunning landscape and farm machinery are a constant hazard to be dealt with.
Fortunately for us the roads on Sheep's Head peninsular and the Ring of Beara – where we saw some of the most spectacular scenery of our trip so far – are too narrow for the big tourist buses to use, which was fantastic.
Also, on the famous Ring of Kerry all of the tourist bus companies have an unwritten agreement to only travel clockwise around the peninsular – so they do not have to pass each other on the narrow roads – as a result we made a point of travelling in an anti-clockwise direction to ensure they were always on the other side of the road.
With ongoing unseasonably good weather for late September the order of the day the cycling has been enjoyable, although despite the assistance our Haibike Trekking xDuro e-bikes provide, we have at times struggled with many of the steep hills we have faced.
So much so, that the decision was made not to cycle the Dingle peninsular – after all there is just so much hill climbing you can do towing 40 to 50kgs of gear even on an electrically assisted bicycle.
With our bodies crying out for some rest time, we are currently staying for a couple of nights with Janet Cavanagh from E-Whizz Electric Bikes in Kilfenora in County Clare. Our next stop is the Aran Islands where we will catch the ferry on Sunday before continuing to cycle up the west coast as far as we can for our remaining two weeks in Ireland before returning to Wales by ferry for the cycle back to London.
Our plan over winter is to travel to the south of Spain or Portugal where we will rent a villa to be able to continue to e-bike on day trips. Once our 3 month visa expires – again – we will fly to Cyprus for 10 or so week R&R off the bikes – before returning to the south of Spain to continue cycling through until the end of summer 2016.
The hope is that by that time we will have reached or passed 20,000 kilometres and will well and truly have claimed the record for the longest e-bike journey ever officially completed.
Thanks to Gary Corbett for this update from their electric bike tour!
Now, checkout some of these other e-bike touring stories:
World record attempt for longest electric bike trip – nearly 10,000 miles!
European Electric Bike Tour: Not All Who Wander Are Lost – Part 1
Electric Bike Touring to Eurobike [VIDEO]
Electric Bike Touring: 3,300 Miles from Seattle WA to Washington D.C. on a Pedego Interceptor
Electric Bike Touring: 80 Year Old to Ride 2,500 Miles on an Easy Motion NEO Jet!
Electric Bike Touring in Croatia, Austria, & Italy's Dolomites
E-Biking to the Grand Canyon with the Ride the Future Tour Crew! [VIDEO]
Tour de Mongolia – A Solar Powered Electric Bike Tour! Lots of Pictures.
Electric Bike Tour In The Nepalese Himalaya!
Iceland Challenge Short Film: Electric Bike Touring in Iceland! [VIDEO]
An Electric Bike Tour Across the USA!
Are you interested in e-bike touring? Where would you like to ride?
Please leave your comments in the section below.
P.S. Don't forget to join the Electric Bike Report community for updates from the electric bike world, plus ebike riding and maintenance tips!
Reader Interactions