Palo Alto Electric Bike Expo: Tech, Transportation, Adventure, & Fun! [VIDEOS]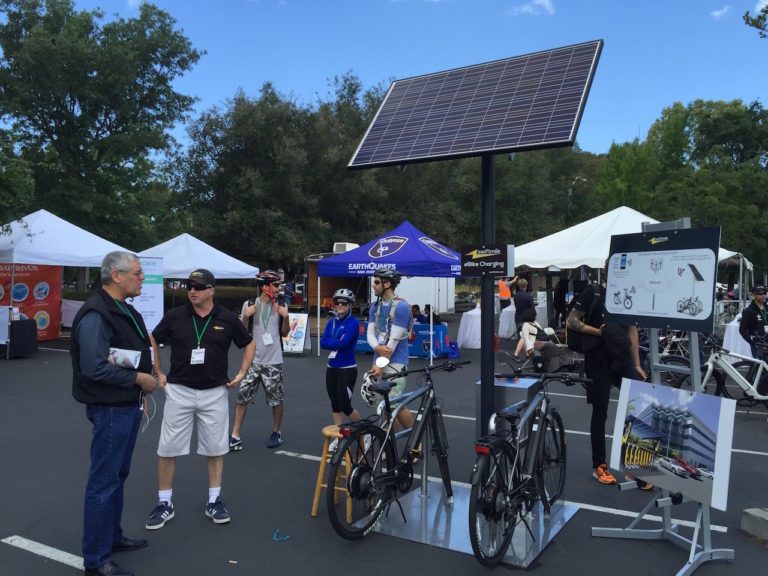 The Palo Alto Electric Bike Expo combined a lot of the unique aspects of the Bay Area like high tech, new forms of transportation, solar charging, adventure, dogs, and fun!
The Expo was held on April 22-24 at the Stanford Shopping Center with close proximity to Stanford University and the Stanford Research Park.
Attendees had a chance to ride over 125 different electric bikes from A2B, BESV, BULLS, Easy Motion, Felt Electric, Focus, Gazelle, Haibike, IZIP, Kalkhoff, KTM, Raleigh, Stromer, Tempo, Trek, Vintage, Xtracycle, and Yuba.
The Expo was covered by news from KGO ABC7, KRON 4 News, and KNTV NBC 11.
Thanks to Alecia Reid and the KRON team for spending so much time at the Expo.
The KRON camera man entrusted Jim from Yuba Bicycles to ride him around as Alecia Reid reported from the track while riding a Gazelle!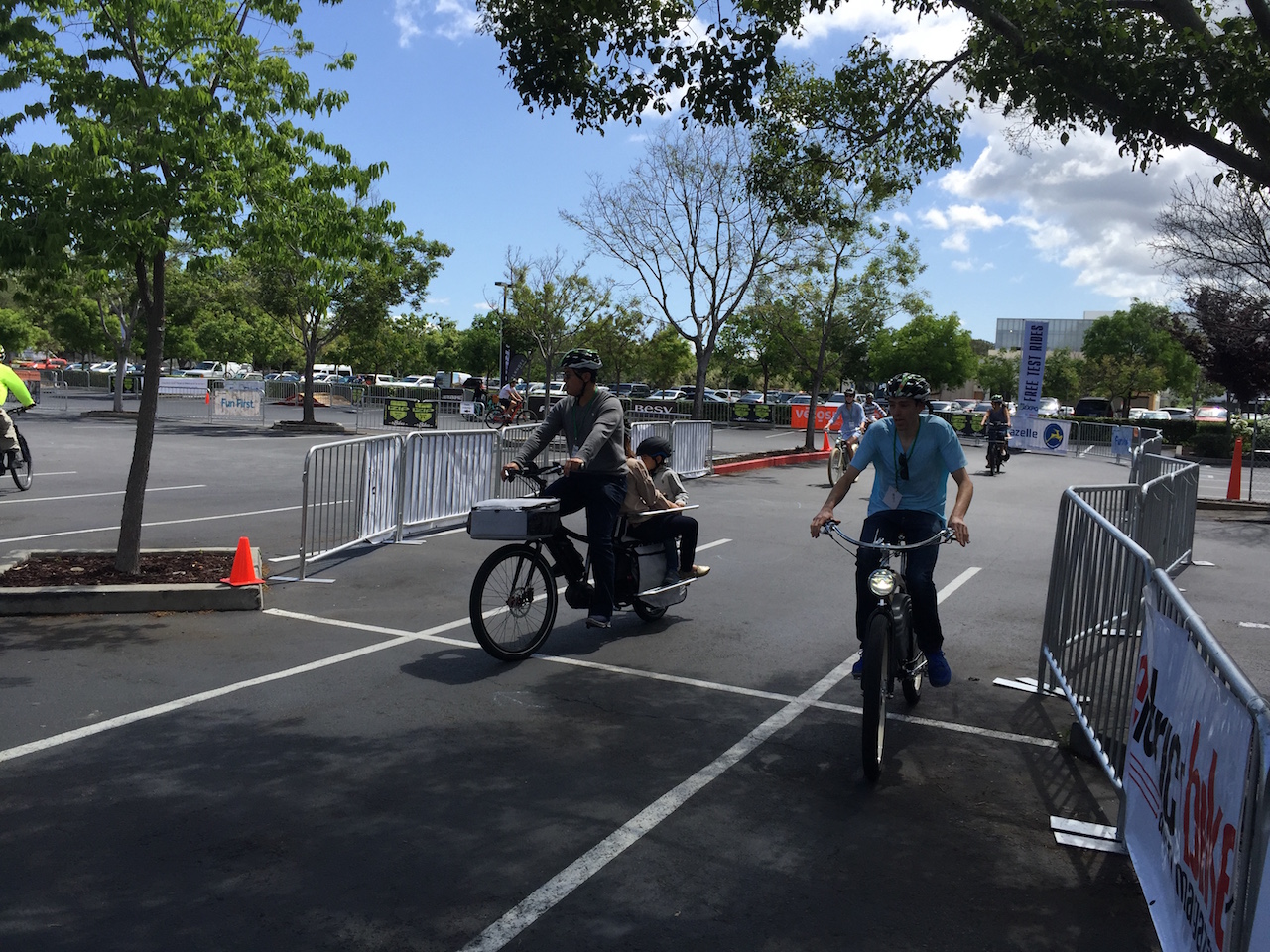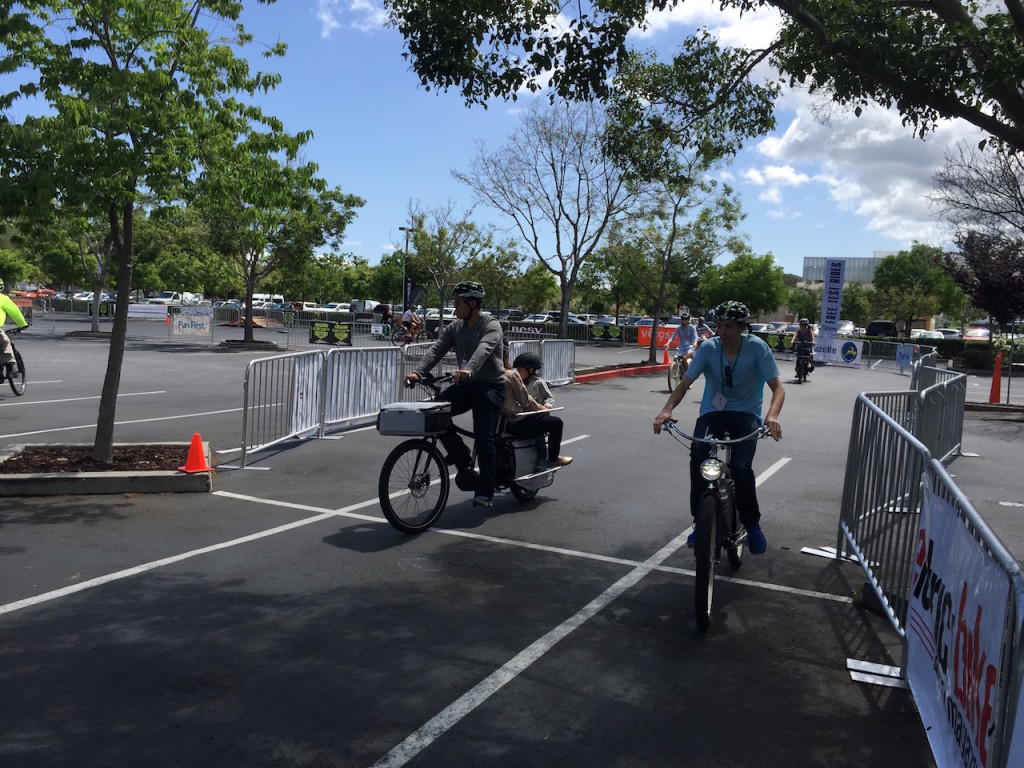 The test track was busy with people test riding different kinds of electric bikes ranging from beach cruisers to street commuters, to mountain bikes, cargo bikes and folding bikes. The Expo opened early on Friday for employees of businesses from the Stanford Research Park that included Google, Tesla, and other high tech companies.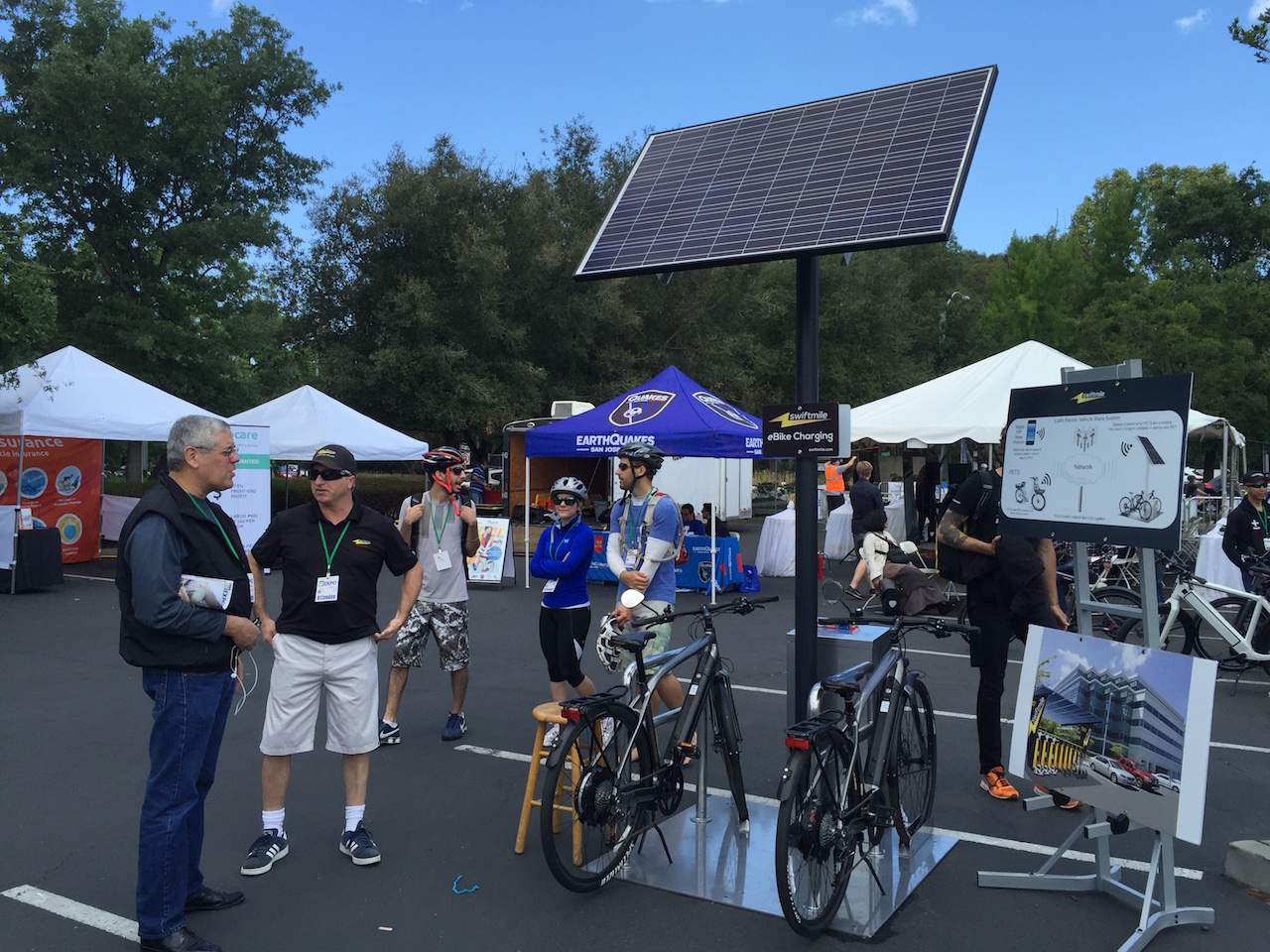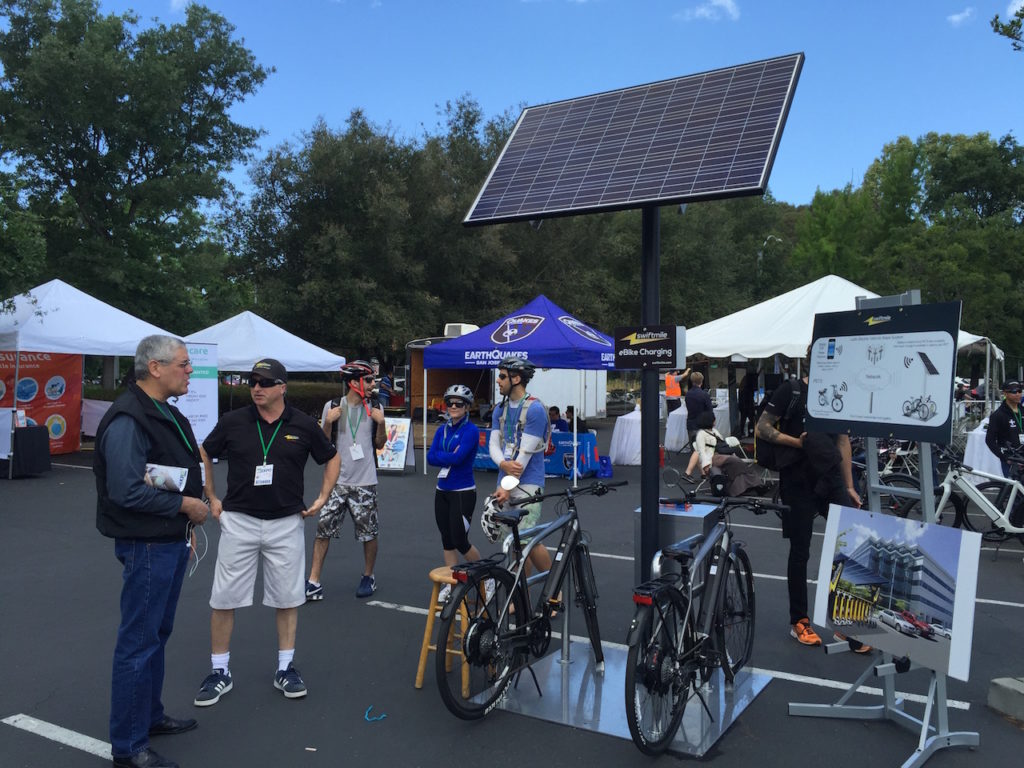 Swiftmile is a local Bay Area company that makes solar charging stations for electric bikes and their station was a popular stop in the Expo. Here is a full article about the Swiftmile solar electric bike charging systems.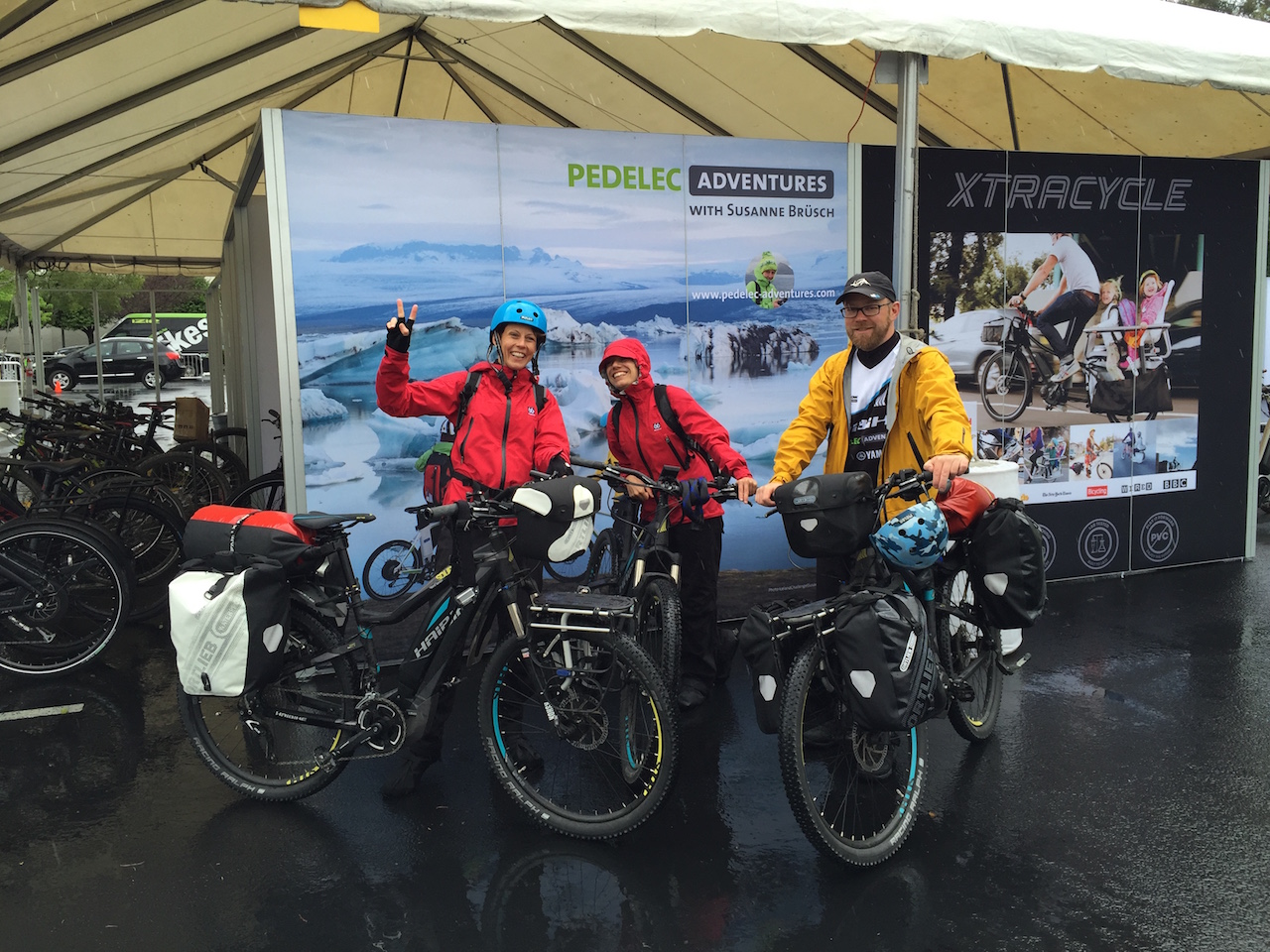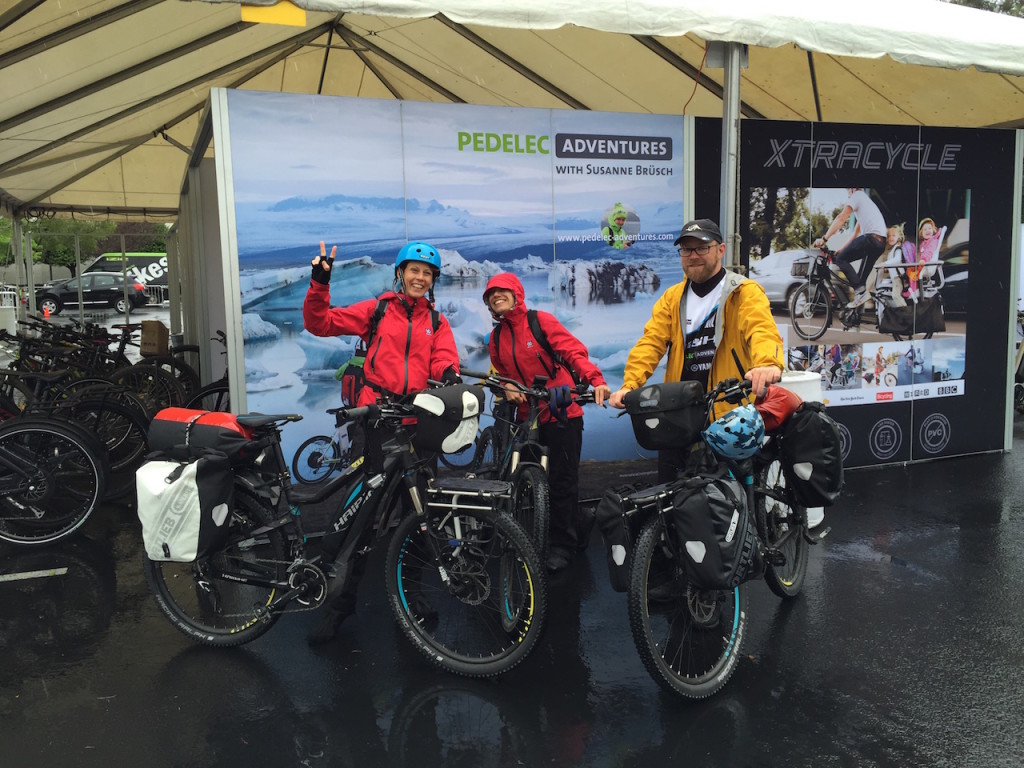 In true adventure form Susanne Brüsch from Pedelec Adventures rode with her team to the Expo from Motostrano (local e-bike dealer) in a down pour Friday morning. Susanne and her team had recently kicked off their 2,200 mile Sand to Snow electric bike adventure that includes riding from California to Colorado through many highlights like Yosemite, Death Valley, the Grand Canyon, Zion, Bryce, Monument Valley, Moab, and the Rocky Mountains.
They will be finishing the tour at the Denver Electric Bike Expo and she will be there to present on their tour. Susanne presented on the Sand to Snow tour twice during the Palo Alto Expo. Here is a post with more information about the Sand to Snow tour and other electric bike adventure tours that Susanne has done.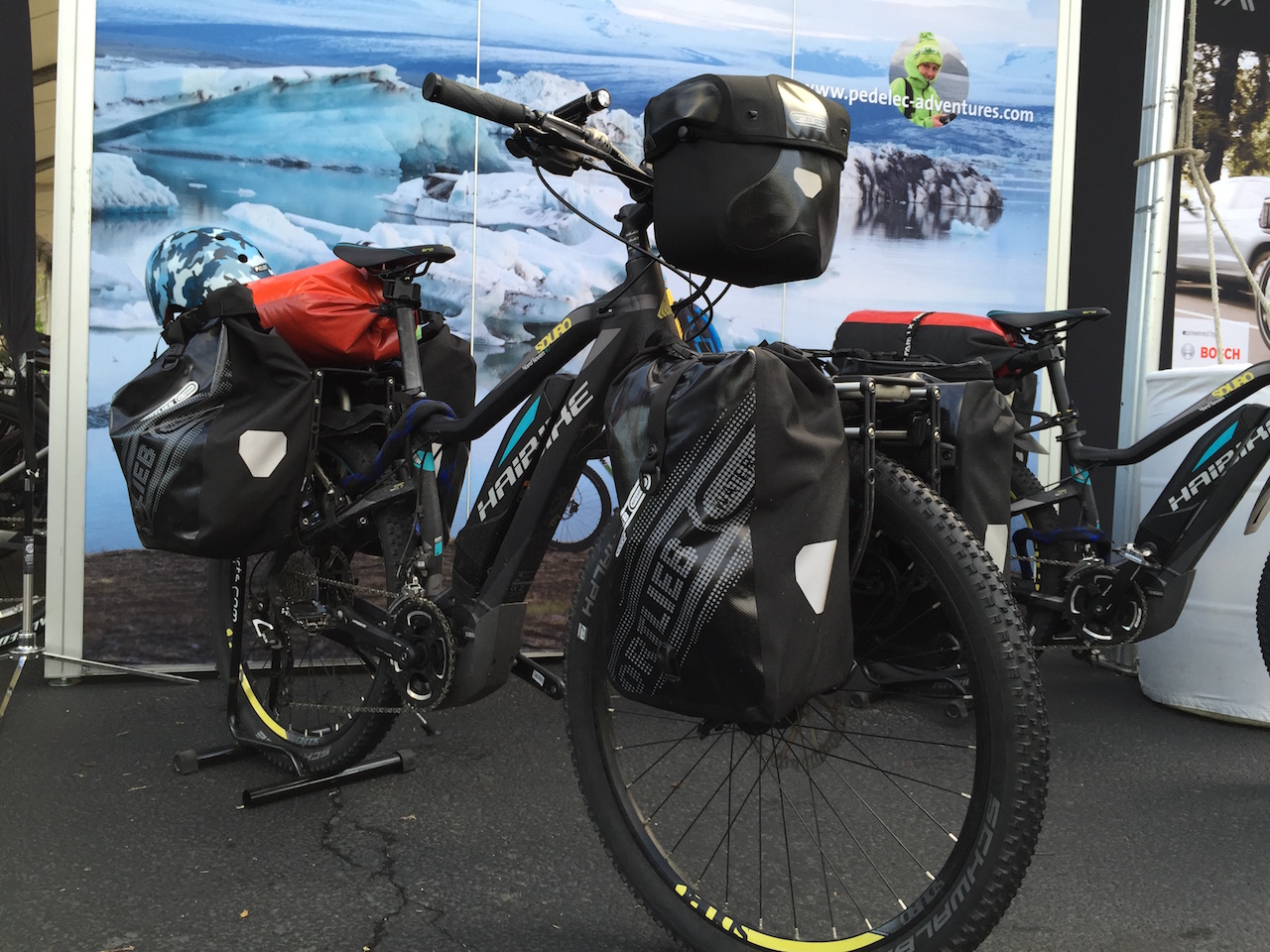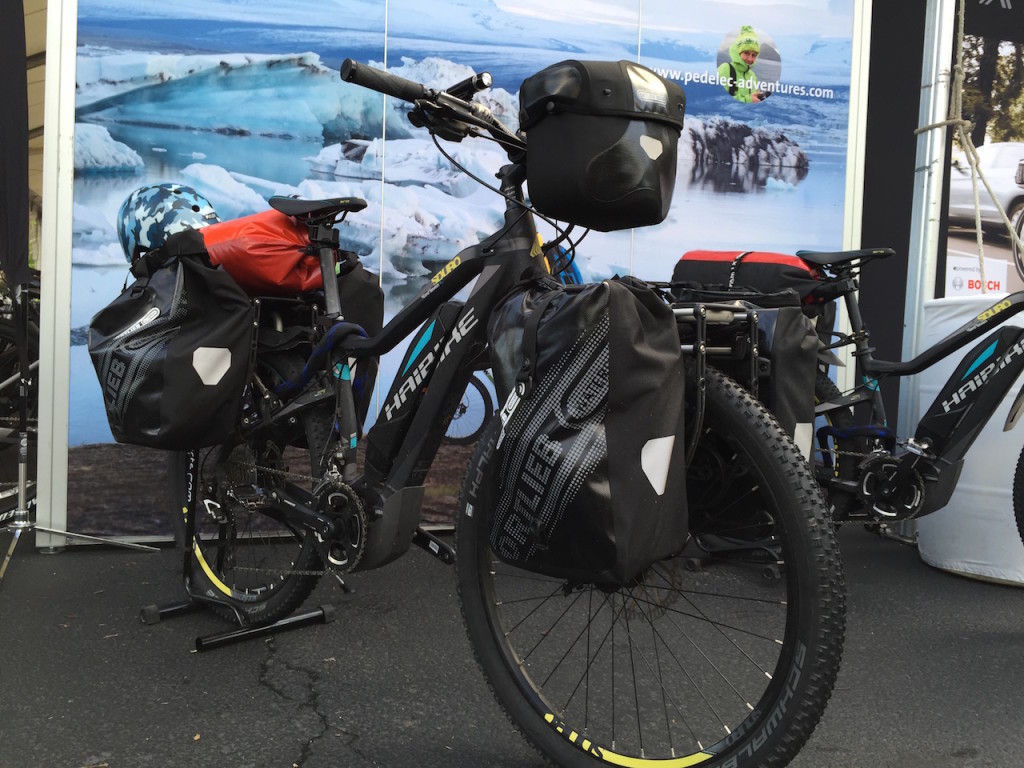 Susanne and her team are riding Haibike SDURO Hard Seven RC and AllMtn RC electric mountain bikes with the Yamaha mid drive system.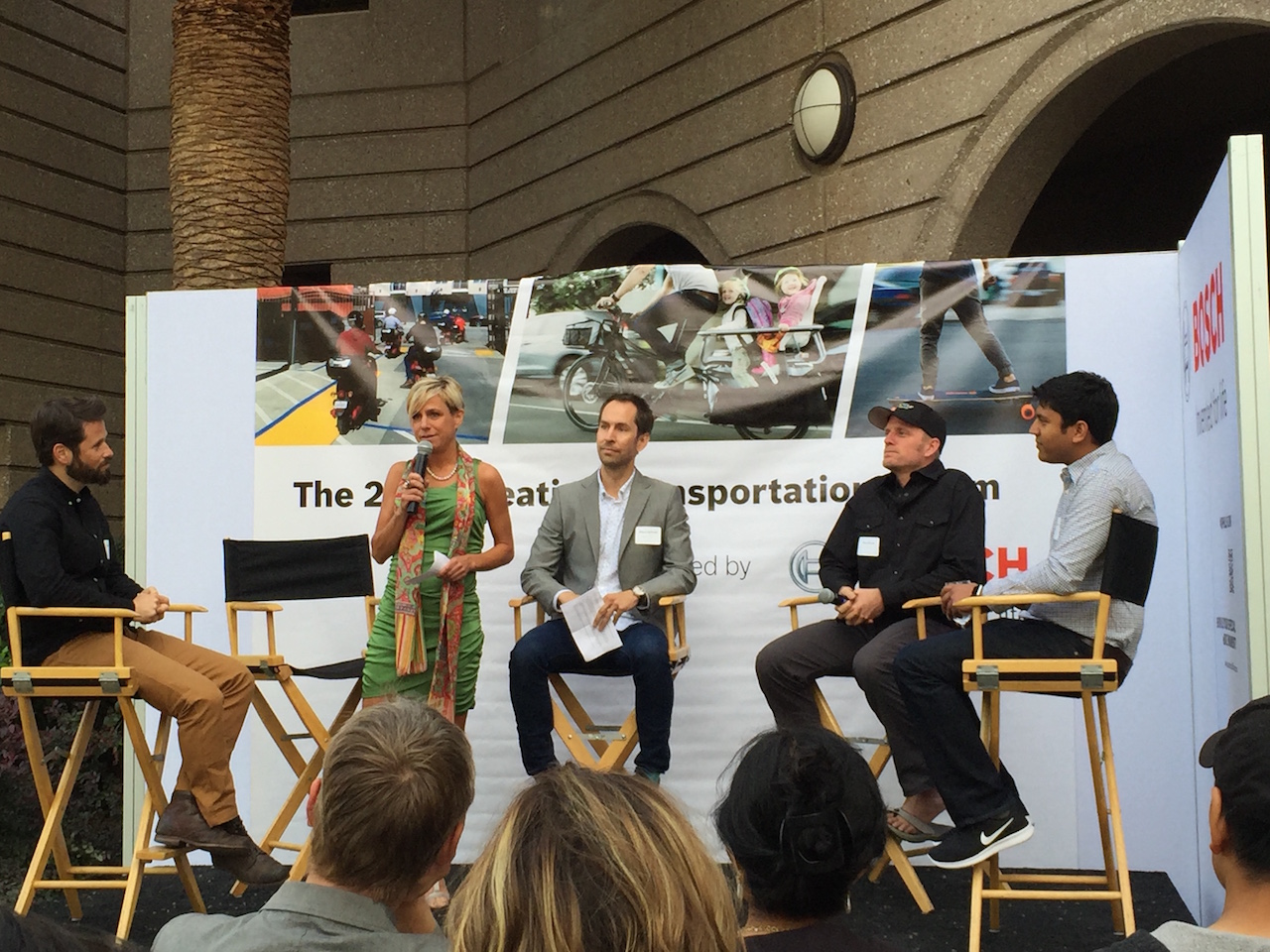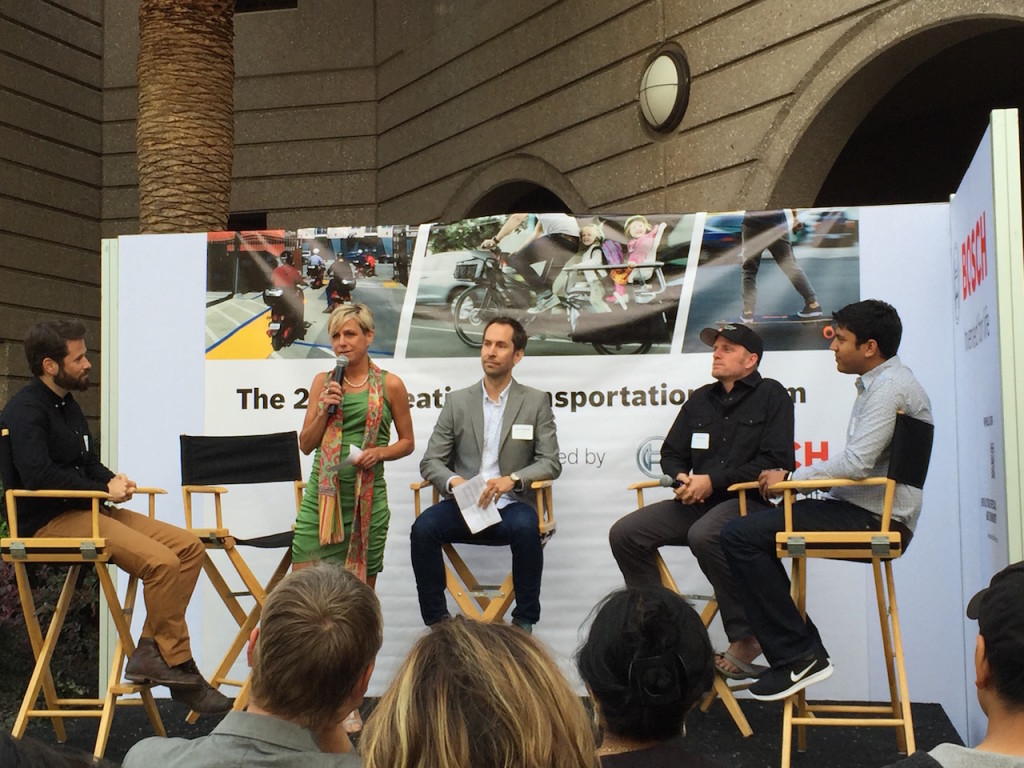 Bosch held a Creative Transportation Forum that was held Thursday night before the Expo opened. Claudia Wasko, general manager of Bosch eBike Systems North America hosted the forum with leaders of Xtracycle (Ross Evans), Faraday (Adam Vollmer), Boosted Boards (Sanjay Dastoor), and Skoot Networks (Mike Walkman). There were great discussions about the different types of eMobility solutions and attendees had a chance to test ride a variety of eBikes and eSkateboards.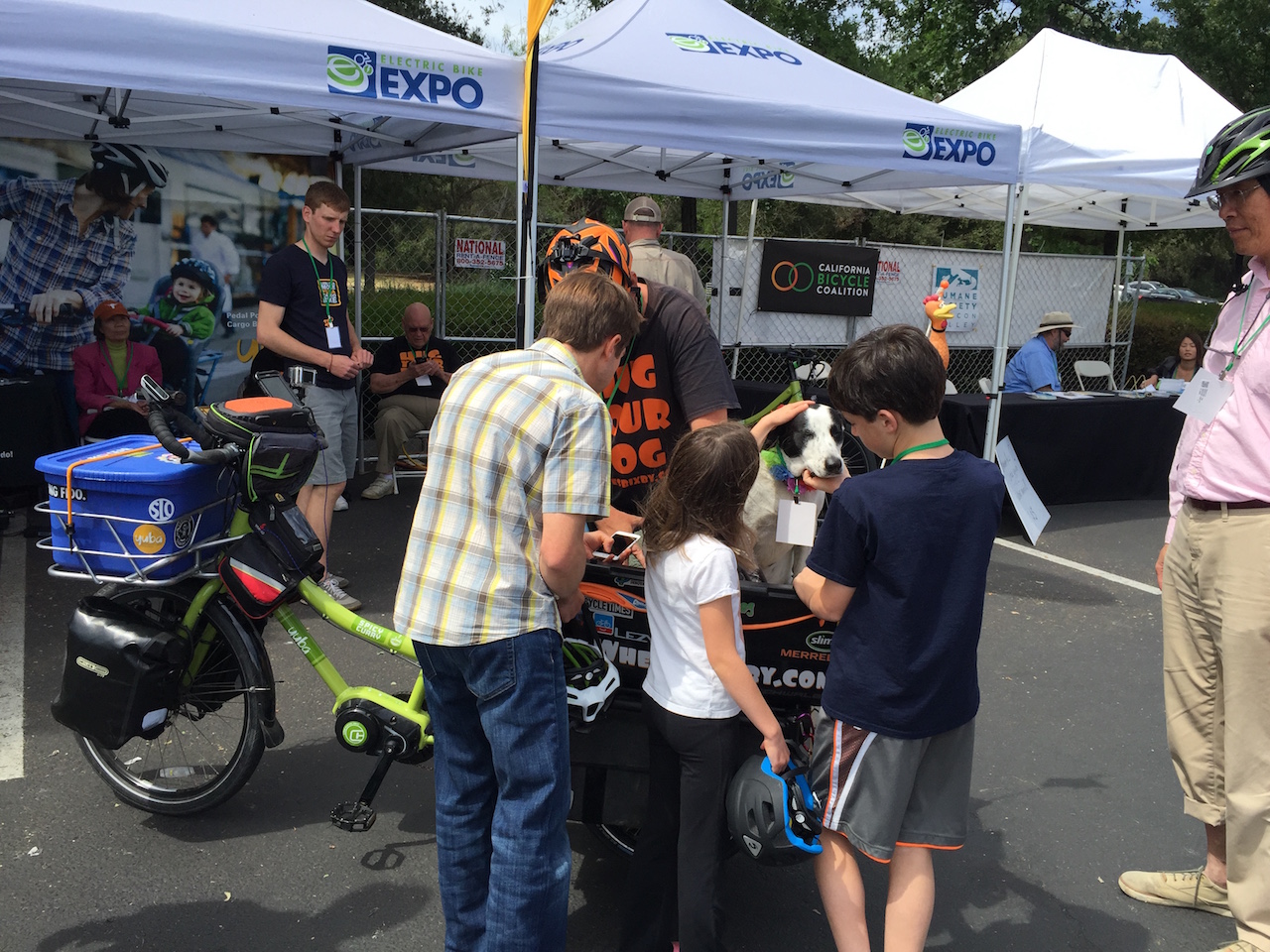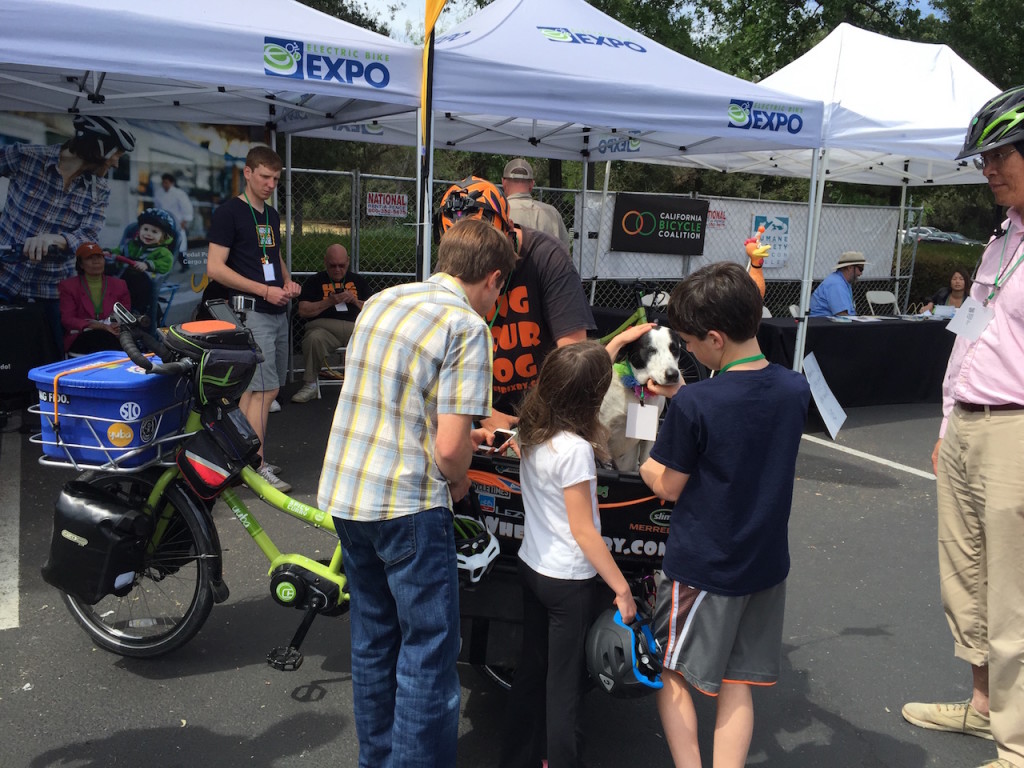 Where's Bixby? Bixby and her human (Mike Minnick) were at the Expo and they kicked off their 10,000+ mile electric bike adventure to raise awareness about pet adoption and to set a new long distance electric bike tour world record! Bixby and Mike will try to be at all of the Electric Bike Expos. Checkout this post with Mike and Bixby for more about their adventures.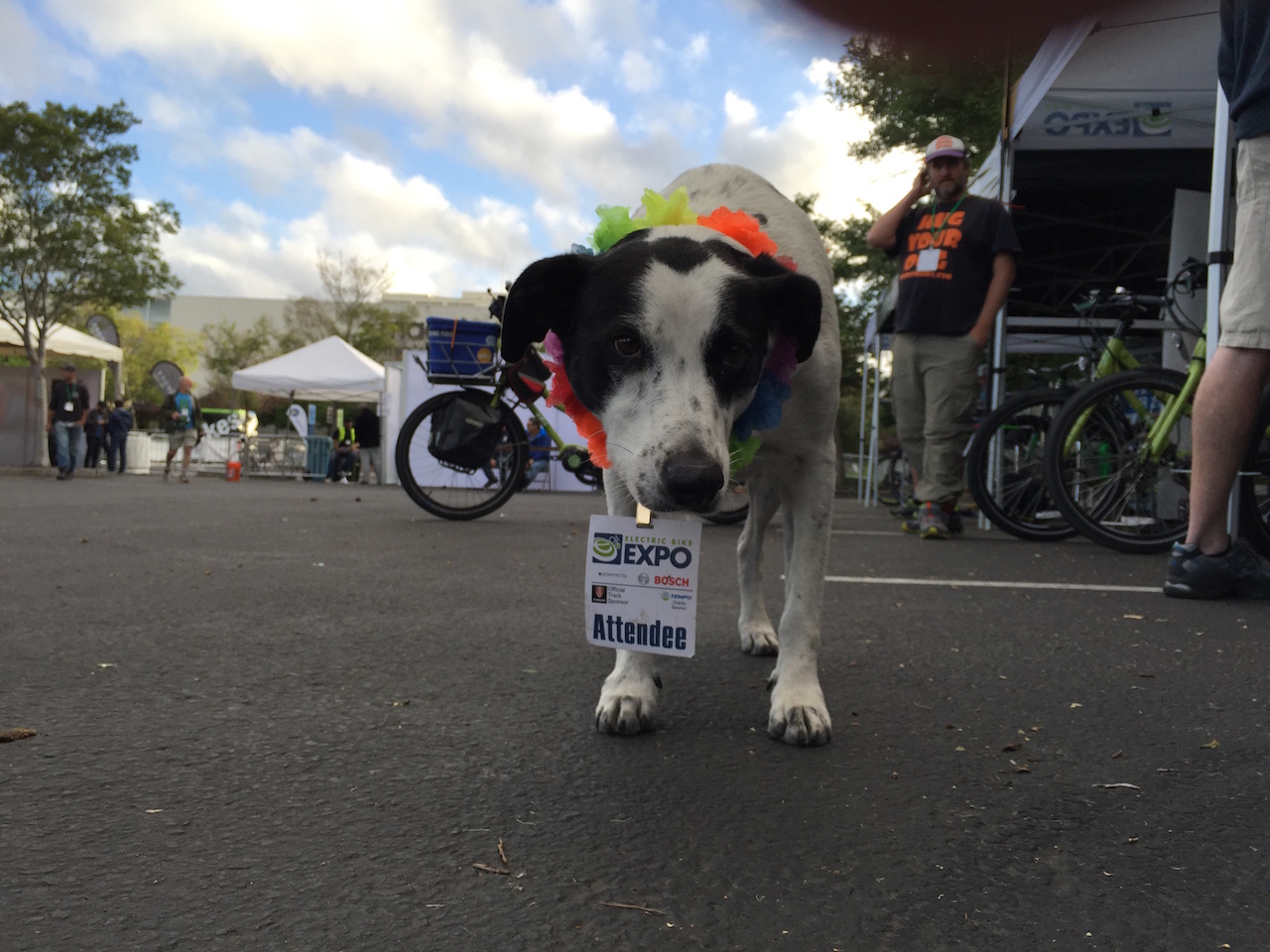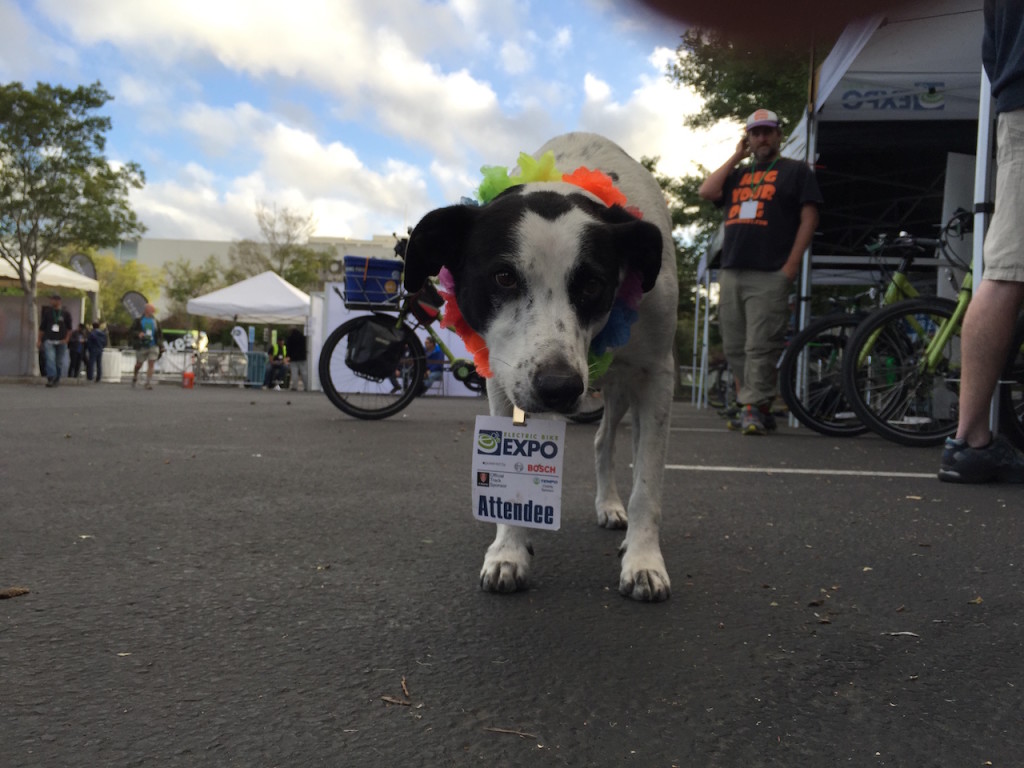 Bixby enjoyed some time off the bike and was obsessed with a new found ball that I was holding. She was relentless in her desire to play fetch!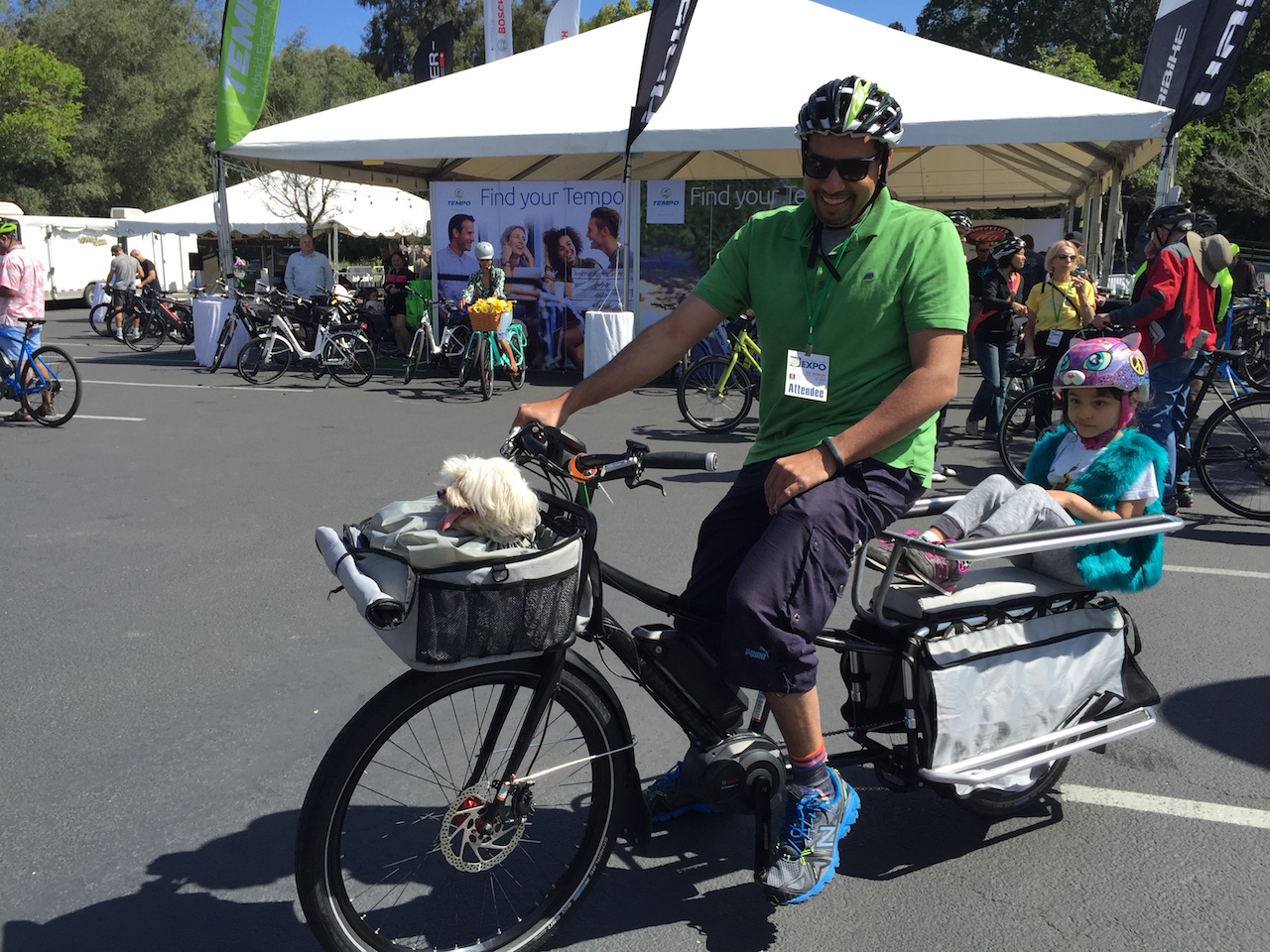 Bixby wasn't the only dog enjoying some rides during the Expo! This pup enjoyed a ride in the front bag of this Xtracycle 10e cargo bike.
Checkout an Electric Bike Expo near you!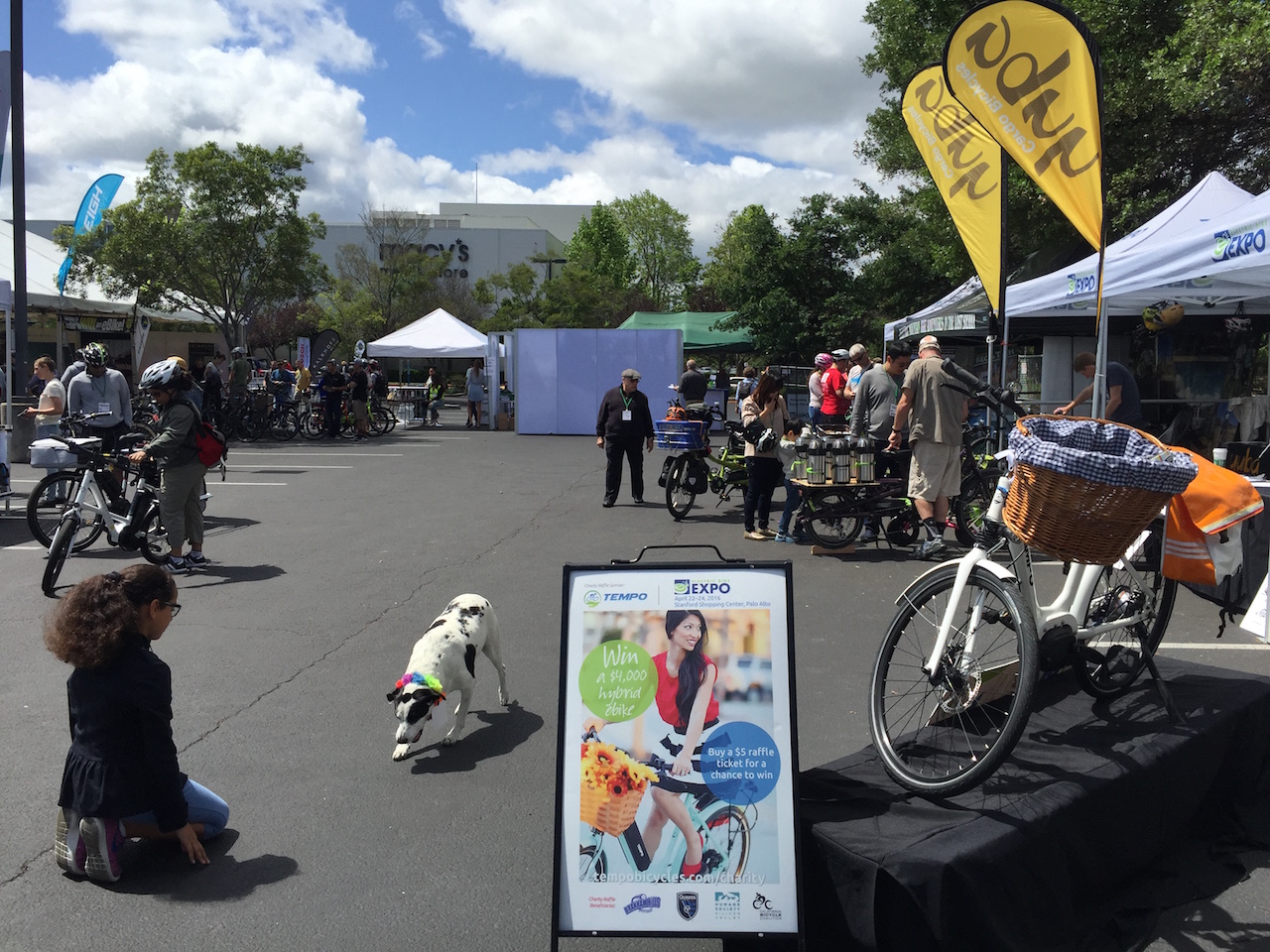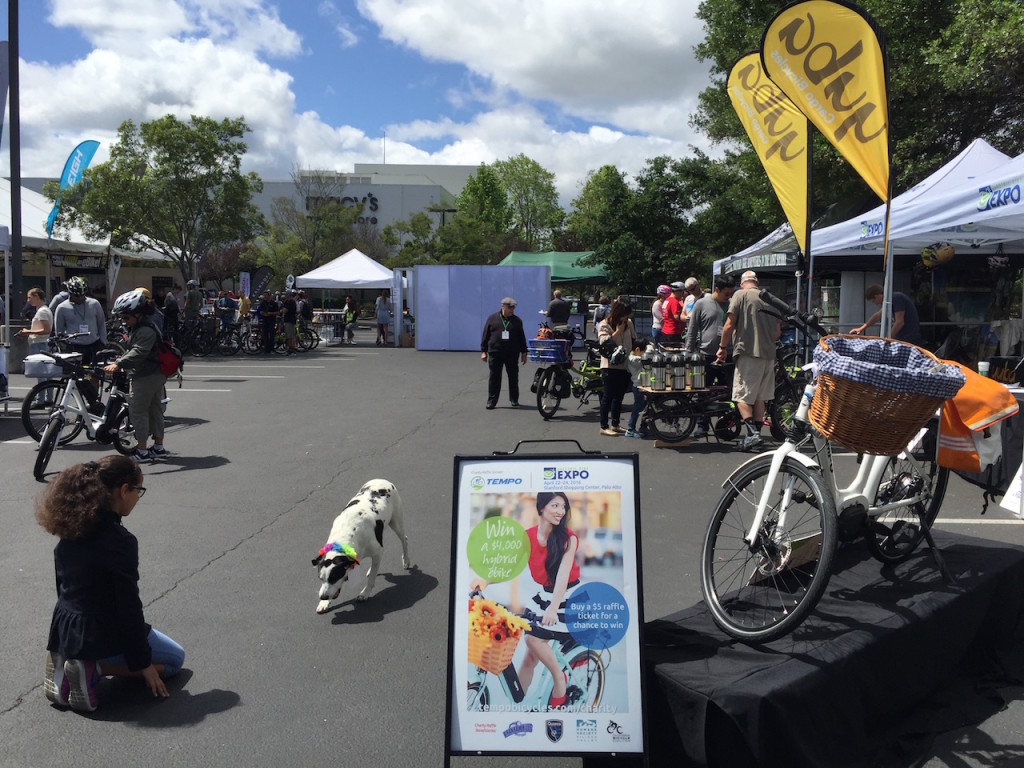 There were 3 electric bikes given away at the Expo! Tempo Bicycles raffles off one of their Santa Barbara or Carmel eBikes at each Expo and at the Palo Alto Expo the local charities to benefit from the raffle were the Quakes Community Fund, Branham Hills, Silicon Valley Humane Society, and the California Bicycle Coalition. Stay tuned for more on who the lucky winner is!
One lucky Palo Alto Electric Bike Expo rider won an Easy Motion 350W EVO Jet!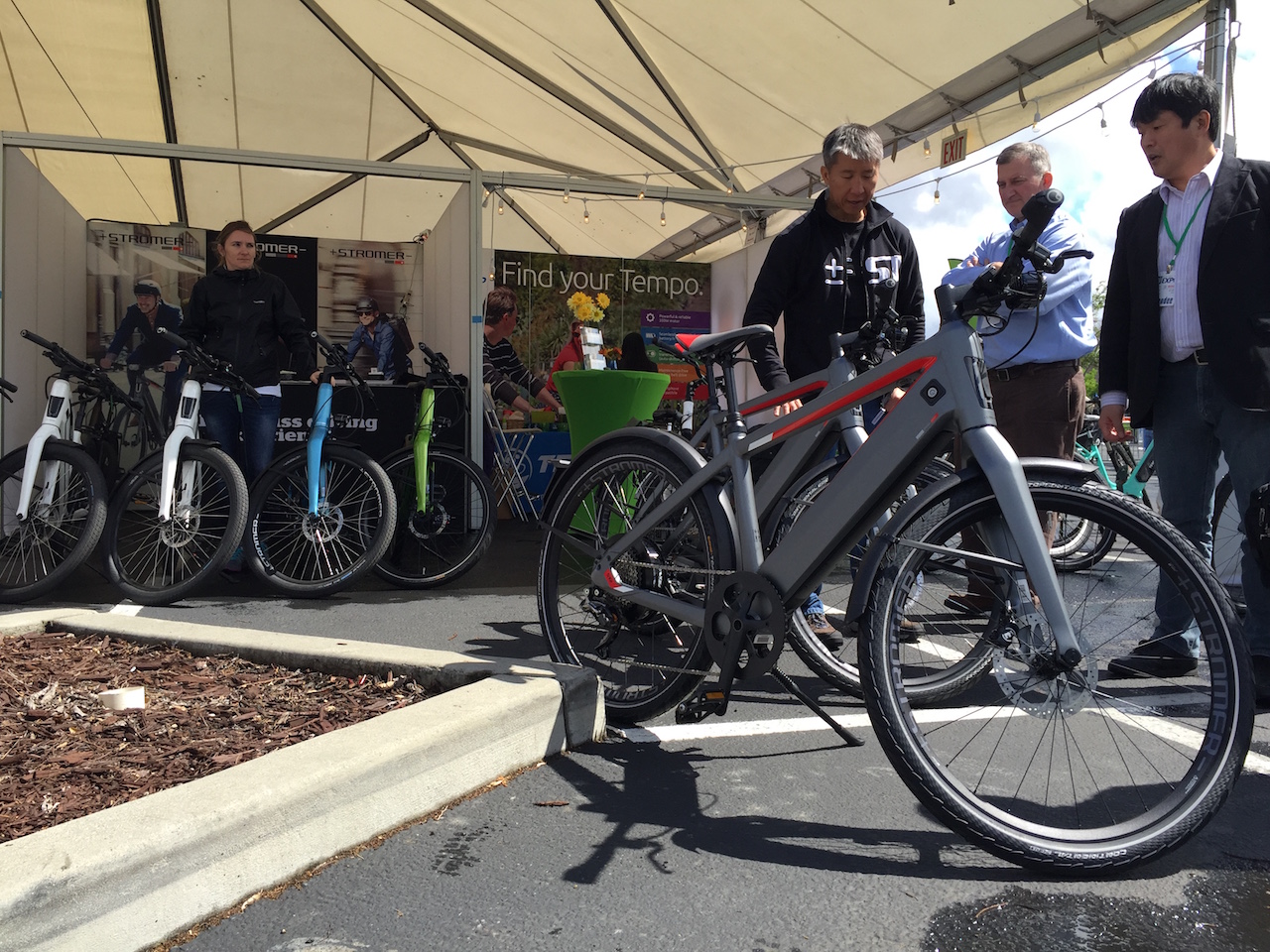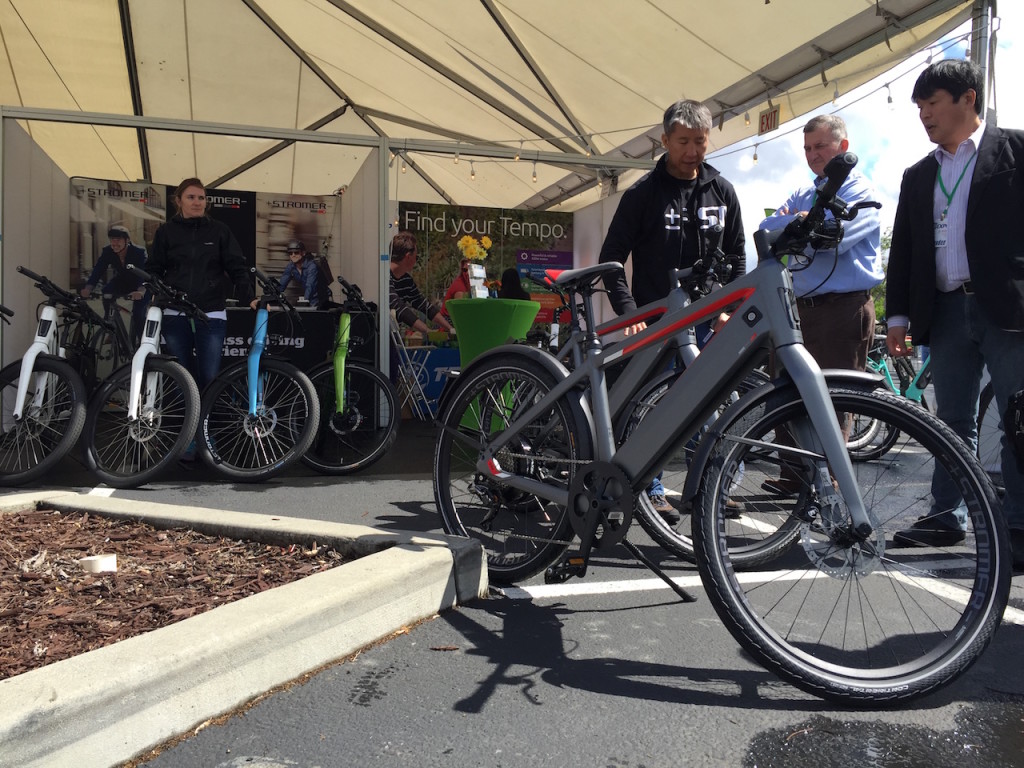 Stromer launched their new ST2s in the U.S. at the Palo Alto Expo. The ST2s has nearly a 1,000 Wh battery pack with a claimed range of more than 100 miles, plus it has electronic shifting!
One lucky Palo Alto attendee won the Stromer ST1 LTD for test riding a Stromer during the Expo.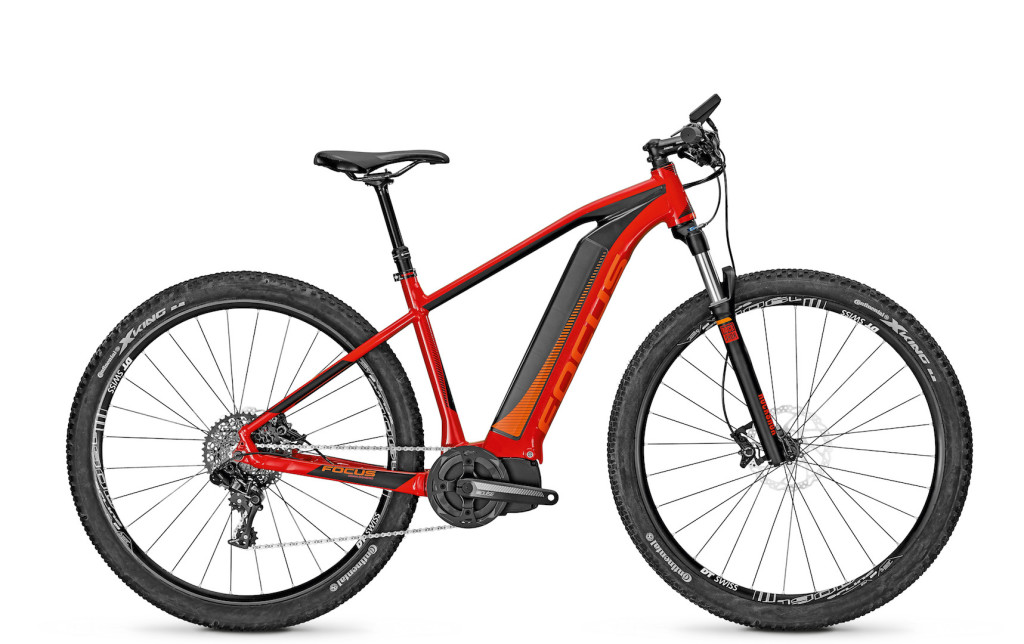 Focus recently launched their new Jarifa I29 Pro electric mountain bike and it was available for test ride.
Here is an aerial view of the Expo. Thanks to Warren, a friend of local dealer Motostrano.
Checkout an Electric Bike Expo event near you! Next up are Portland, and Denver. We are also planning for more locations in the Midwest and East Coast…..stay tuned for more on that!
-Pete
P.S. Don't forget to join the Electric Bike Report community for updates from the electric bike world, plus ebike riding and maintenance tips!
Reader Interactions