New Electric Bikes and Electric Bike Gear for 2011!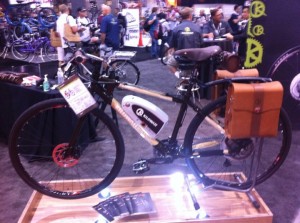 New electric bikes and gear!  This week (September 21-24) I will be at Interbike which is the largest bike convention in the U.S.  This is the place where all the bike industry gathers to show off the new products for the coming year.  It is going to be a good show for electric bikes because there are a lot of new products as well as seminars that are focused on electric bike education.
I will be attending the outdoor demo in Boulder City, Nevada where I will be able to test ride some of the new e-bikes.  I will also be attending the convention which is Wednesday through Friday in Las Vegas, Nevada.
I will be there to gather as much info on the new e-bike stuff and bike commuting gear as I can and I will report back to you with what I find!
If you want to get regular updates, the best way is to "Like" the Electric Bike Report Facebook page.  This will bring you the Electric Bike Report news to your Facebook news feed.  On the Electric Bike Report Facebook page there is a little button at the top that says "Like".  Hit that button and Electric Bike Report will be added to your new feed.
I will be adding more extensive e-bike info from Interbike to the main site, it just won't be updated as quickly as the Facebook posts.
As always, if you want to get updates on the electric bike world, PLUS e-bike riding and maintenance tips, then you can sign up for these in the upper right hand side of this site.
Have a great week and stay tuned to Electric Bike Report for all the new e-bike stuff and bike commuting gear coming your way!
-Pete
Reader Interactions