Interbike 2015 E-Bike Report: Test Track & Economical E-Bikes [VIDEOS]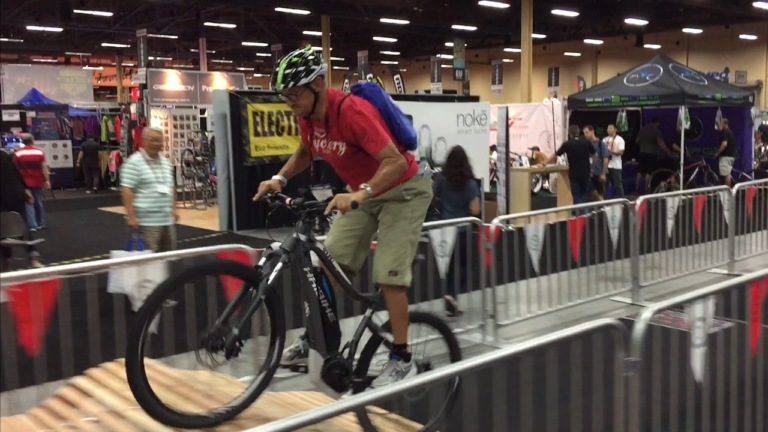 Interbike 2015 was an exciting show for the electric bike scene!
Interbike is the largest bicycle trade show in the Americas and it was held at the Mandalay Bay convention center September 16-18.
At the show there was the solid core brands of e-bikes on hand along with a new batch of e-bike brands and component companies.
Some of the highlights of the show were: the new indoor test track, a number of quality electric bikes under $2,000, a wide variety of drive systems, and more.
The Circuit presented by Shimano
The new indoor bike test track,"The Circuit presented by Shimano", had 1,750 people test riding many bikes over the 3 day period of the show. Based on rough calculations, ~8,750 bikes were tested on the track!
Here's a quick look at the track with the Shimano hill ramp and ProdecoTech terrain lane bumps:
The track was operated by the Extra Energy Services N.A. team, who is also running the Electric Bike Expo test track events that start in January of 2016.
I am a member of this organization and it was very rewarding to help with the track assembly and to see so many people test riding the different electric bikes on this track!
Electric Bike Report also prepared a print magazine for Interbike to provide to dealers who already carry e-bike or dealers who are considering it. The magazine was handed out to participants at the test track and all over the show floor. Below is the digital version of the magazine.
There will be a similar type of magazine that will be handed out at all of the Electric Bike Expo events and it will have consumer focused articles and style.
The Under $2,000 Electric Bike Trend
One of the biggest trends that I saw at the show was a number of quality electric bikes under $2,000. Based on my discussions with electric bike dealers, this is a good trend to get more consumers in the door and trying electric bikes.
The following videos are of the brands that are offering at least one or more e-bike(s) in the price range. There are plenty of other bikes in these videos that are above the $2,000 price point.
Thanks to Troy Rank for his help with some of the following videos.
ProdecoTech has offered a number of electric bikes in this price range for years. Here's a video of some of their new models.
Raleigh has increased their line up significantly and they have the Sprite iE as their entry level e-bike.
IZIP just launched their Vibe+ economical mid drive bike and this video also features their latest line up.
Easy Motion USA launched 2 new economical e-bikes and this video also includes a number of their new e-bikes, including 2 all wheel drive e-bikes!
Juiced Riders, well know for their cargo/utility e-bikes, will be launching their new sport style e-bike at $1,499.
Blix is a relatively new brand for the U.S. market with clean looking e-bikes. They are also distributing the higher priced Wallerang with Shimano STePS mid drive.
Magnum is also a newer brand to the U.S. market and they are offering 2 models under $2k.
Haibike: while they don't have an e-bike under $2,000, they did introduce their SDURO line with the Yamaha mid drive system. And their SDURO Cross SM is priced at $2,499. A pretty good price for a mid drive from Haibike!
Stay Tuned for More!

That's it for part 1 of Interbike coverage. Now checkout the second part of coverage with videos from Stromer, Bosch, A2B, BESV, OHM Cycles, Yuba, Gocycle, Xtracycle, KTM, and Vintage!
Thanks
-Pete
P.S. Don't forget to join the Electric Bike Report community for updates from the electric bike world, plus ebike riding and maintenance tips!
Reader Interactions