Hovenring: A Floating Bike Roundabout! [VIDEO]
Enjoy this video of the "floating" bike/pedestrian roundabout in the Dutch city of Eindhoven.
Here is the official Hovenring website with more info, pictures and videos.
Bicycle Dutch has more info on the technical specs and the history of the Hovenring.  Here is a quote about the project:
"The area is full of new housing with a lot of children and especially for those kids cycling to school, the new situation is far better. Now, both types of traffic are completely separated in time and also in place, so cyclists can pass this large junction safely and without stopping."  From Bicycle Dutch.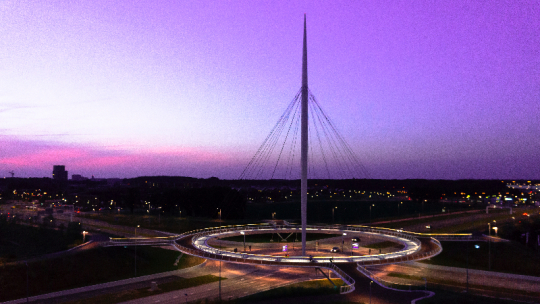 Safe cycling infrastructure is important for getting more people on bikes.  This might be an extreme example but it is definitely inspirational.
Here is an interesting article on how Portland Oregon became one of the more bike friendly communities in the US for the cost of 1 mile of urban freeway.
Are you seeing improvements in the biking/pedestrian infrastructure in your town or city?  What improvements would you like to see?
Please leave your comments in the comment section below.
Thanks!
-Pete
P.S. Don't forget to join the Electric Bike Report community for updates from the electric bike world, plus ebike riding and maintenance tips! 
Reader Interactions