e-Bike Cycle Tourists' Haibike xDuro RX Trekking Electric Bike Review After 12,000kms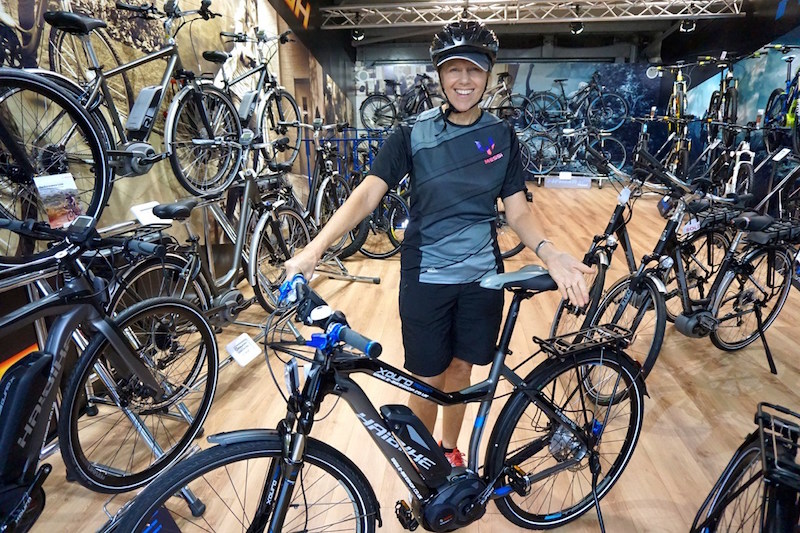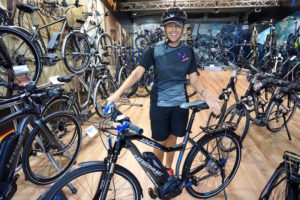 By Gary Corbett.
At approximately the half way mark of the e-Bike Cycle Tourists world e-bike long distance record ride, the time has come for us to review our Haibike xDuro RX Trekking Electric Bikes as supplied by sponsor e-bikeshop.co.uk
In the lead-up to setting out on our record-breaking ride, which has now seen us cycle more than 12,000 kilometres through 11 countries over seven months, the number one priority was to source an e-bike that ticked all of the boxes needed to successfully complete a self-contained long distance cycle tour of more than 20,000kms while towing a fully laden trailer.
At the top of the list of requirements was a bike that provided a full range of gear options, long battery life, a mid-mounted geared motor and frame-mounted battery, a relatively upright sitting position suitable for long days of comfortable cycling, hydraulic brakes for reliable stopping, front suspension, an overall suitability for long distance touring, 700mm wheels for low rolling resistance and, most importantly, a sturdy frame capable of withstanding punishing long distance riding both on and off-road.
The Bosch Performance Crank Drive Motor
After an exhaustive search of e-bikes models manufactured by companies from throughout the world, in the end it seemed that all roads, no matter what specifications were taken into account, pointed to just one e-bike – the Haibike xDuro Trekking RX e-bike in combination with the Bosch Performance crank drive motor and 400wh battery system.
On paper it appeared the perfect vehicle to not only break the existing world e-bike record of 16,047kms, but to smash it. However specifications on paper are one thing; the big question was whether our unisex Haibikes would live up to their hype where it mattered most – on the roads and off-road trails of the UK, Ireland and mainland Europe? (We chose the unisex model due to the lower height of the crossbar – an important consideration when you are getting on and off your bike dozens of times every day).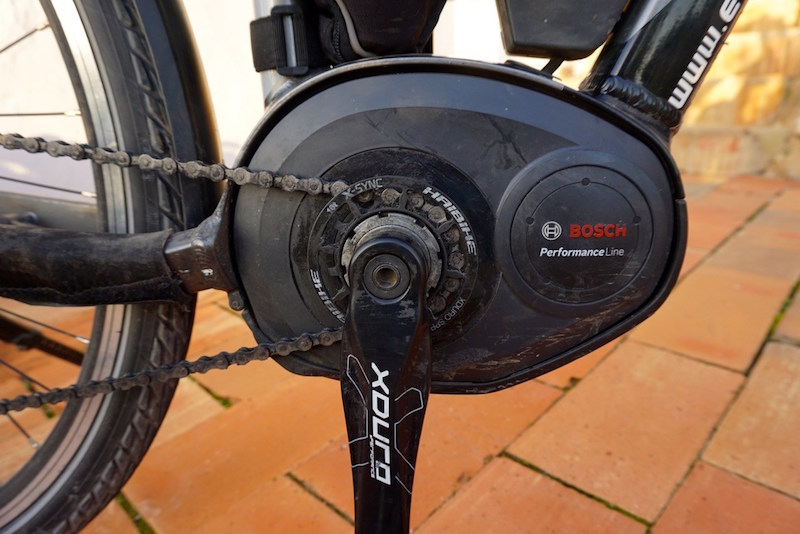 With the Bosch crank drive motor offering up to anything from 50% assistance in 'eco' mode through to 275% assistance in 'turbo' mode, after seven months of cycling on a daily basis our Haibike RX Trekking e-bikes haven't just met our expectations, they have surpassed them is so many ways.
So far there has not been one hill – and there have been many, many extremely steep climbs tackled while towing our fully laden Tout Terrain trailers – that have defeated us.
Such is our newfound confidence in our Haibikes and the electrical assistance available when needed, that we have now adopted a "we can climb any hill" attitude to our cycle touring.
This is a huge statement indeed for someone who prior to setting out on the current e-bike world record attempt had been forced to walk up many, many big hills while cycling an estimated 30,000-plus kilometres on a standard non-electric touring bike.
Given the sturdy build of our Haibikes, over the course of the past few months there has only been one occasion where either of our bikes has broken down – and that was in France when a Sram hub disintegrated, resulting in a five day wait while a new hub was sourced and fitted.
Over 12,000-plus Kilometres the Haibike/Bosch Combination has not Missed a Beat
Other than that there has been a long list of parts such as brake disc pads, brake rotors, rear wheels, chains, rear tyres, pedals and an entire rear hydraulic back brake system that have had to be replaced, but over 12,000-plus kilometres of cycling in temperatures from below freezing to above 40 degrees the Haibike/Bosch combination has not missed a beat – testament indeed to the quality of the product.
A feature of the Haibike Trekking e-bikes that we have both liked is the backlit Bosch display unit. The unit is easily read – even by someone who requires reading glasses – and clearly shows speed, distance travelled, assistance levels, maximum and minimum speeds, average speed, battery range and the time.
With battery preservation of utmost importance on a long distance ride – we have always been acutely aware that the e-bikes are just heavy bicycles without the aid of electrical assistance – the display unit accurately allows you to monitor battery usage on an ongoing basis, therefore preventing any costly miscalculations as to how far you have to go until the batteries run out.
Another important requirement for any long distance cycle tourist is the availability of a wide range of gears capable of tackling any situation – something our Haibike xDuro Trekking e-bikes do remarkably well.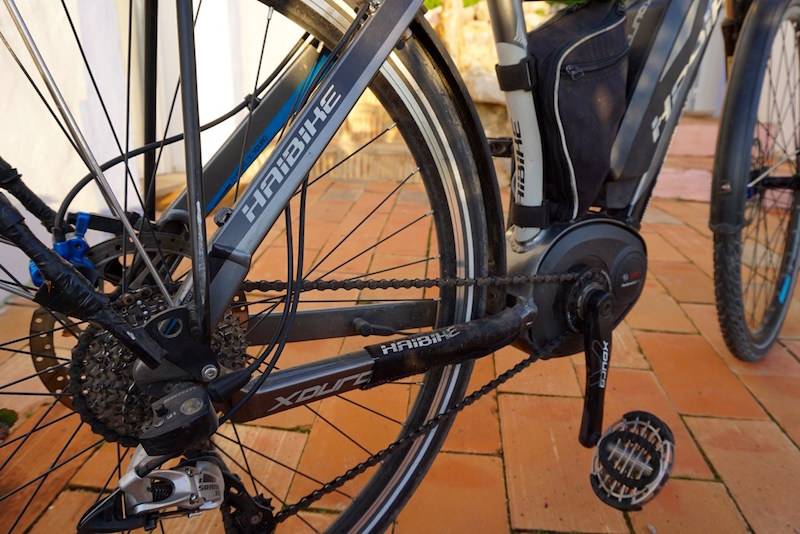 With the Sram three speed dual drive internal rear hub/nine speed cassette combination providing a choice of 27 gears in addition to the assistance provided from either 'eco', 'tour', 'sport' or 'turbo' electric modes, there is always a suitable gear available no matter what terrain you are cycling over.
What is fantastic about the mid-drive construction of the Haibike is that rear wheel maintenance and the changing of flat tyres is the same non-fuss arrangement as on a normal non-electric bike – something we can vouch for after 11 flat tyres so far!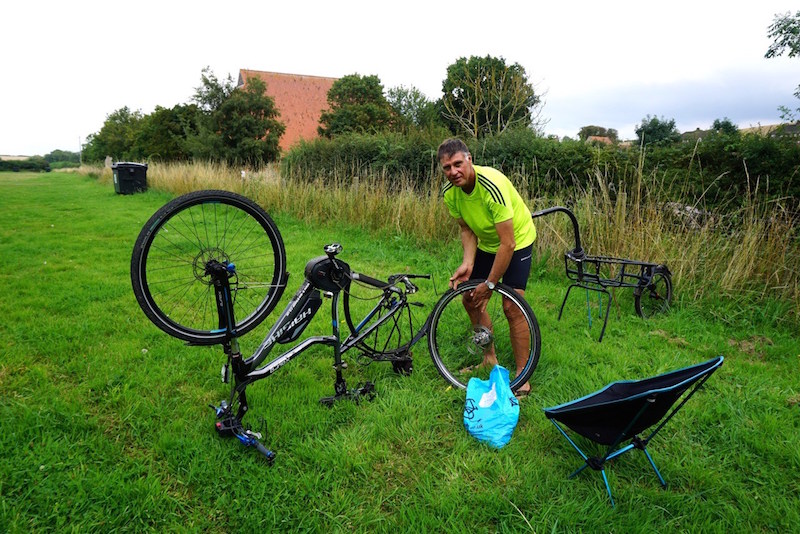 Also, the positioning of the mid-drive motor low on the frame means that you have a low centre of gravity, another important consideration for any cycle tourist carrying heavy panniers or towing a heavy cycle trailer.
Certainly there has been no occasion when we have felt that we have been out of control or unbalanced while cycling – and that has been up to speeds of 63kph with a full load down some seriously steep hills.
Changes Recommended to the Haibike Trekking Model for Long Distance Cycle Touring
From experience we would only recommend a few minor changes to the Haibike xDuro Trekking e-bike setup as delivered from the factory for anyone contemplating a long distance cycle tour.
First and foremost get rid of the standard bike kickstand that is supplied and upgrade it to a stronger and sturdier stand, exchange the standard 32 spoke rear wheels for 36 spoke wheels to provide more strength, get rid of the standard bike seat as supplied and fit your own well-worn seat, consider fitting, as we have, seat suspension posts for even greater comfort and fit handlebar risers that allow you to ride in a much more upright position when needed – an important consideration when you're on the road for anything up to nine hours per day!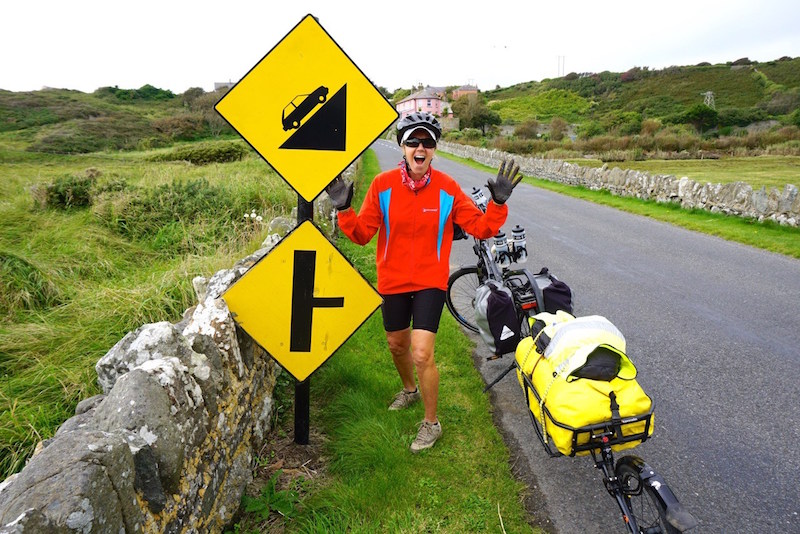 With the Haibike battery pack taking up the space where a water bottle holder is usually fitted on a regular non-electric bike, it is also necessary to fit an aftermarket water bottle holder on the bike. With limited positioning options available, we opted to fit bottle holders on the bikes' handlebars and – on Rachel's bike at least – another twin holder bolted to the frame of her saddle.
It is also important for anyone considering using the Haibike Trekking model for a long distance tour to consider purchasing a second spare battery for each bike – as we did. While the batteries are far from cheap, without a backup battery it is impossible to cycle the daily distances required – and to have peace of mind that you will get to your destination – on a long distance tour.
So far we have averaged 75 kms per day over more than 160 days of cycling, with our best daily total 137.8 kms. With each battery – depending on the terrain being cycled achieving anything from 40 to 90 or so kilometres – it is patently obvious that more than one battery per bike per day is required.
Pros:
• Strong, sturdy construction suitable for all riding situations.
• The availability of 27 gear options in combination with 4 electrical assist modes.
• Sturdy rear pannier rack
• The Bosch Performance crank drive motor and 400wh battery system – it is faultless.
• Well balanced mid-drive electrical motor.
• The easy-to-read backlit Bosch display unit.
• Ease of use for anyone of any age or riding ability.
• As far as electric bikes go it is a head turner – something we know only too well.
Cons:
• No braze on points provided for a water bottle holder
• Wheels are only 32 spoke – for cycle touring they need to be 36 spoke.
• The bike stand as supplied is not strong enough
• Size and weight of batteries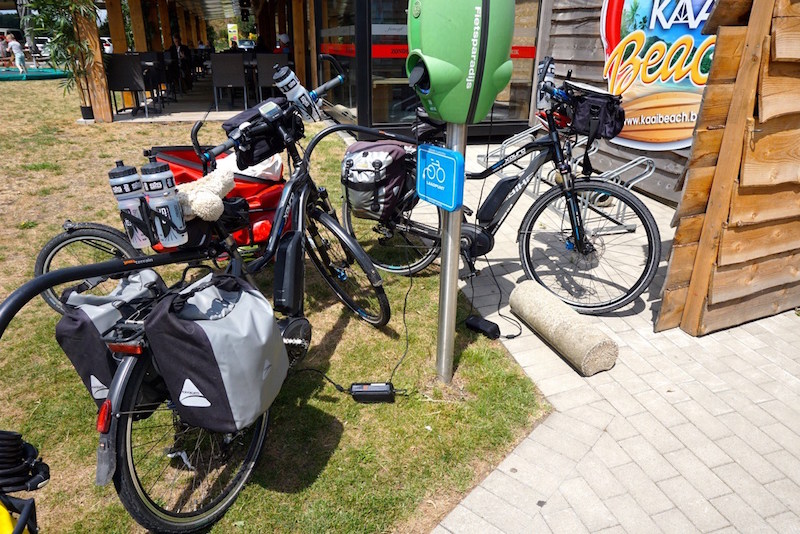 Thanks to Gary Corbett for this review of their Haibike RX Trekking e-bikes.
Learn more about the E-Bike Cycle Tourists.
P.S. Don't forget to join the Electric Bike Report community for updates from the electric bike world, plus ebike riding and maintenance tips!
Reader Interactions