Getting Fit for an E-Bike World Record Breaking Ride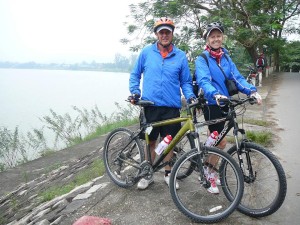 By Gary Corbett.
As the time approaches for the e-Bike Cycle Tourists to head off from London in late April in an attempt to set a new world e-bike long distance record, we are facing a challenge of a very different kind … to get fit!
Don't think for one moment that just because we are riding electric bikes that there isn't a very real need to be as fit as is possible for the challenges that lie ahead.
Far from being able to sit back and enjoy a free ride and not have to do any pedalling, our Haibike xDuro Trekking bikes as supplied by e-bikeshop.co.uk, are pedal assist – also referred to as pedelecs – a system that provides power only when you are actually pedalling. Basically the electric assist is just there to give a helping hand when needed.
As an aside, pedelecs are vastly different to throttle type electric bikes which allow you to either pedal or just kick back and enjoy a "free" ride. These types of electric bikes are not only considered as another type of  powered motorbike in some countries around the world, but have largely been responsible for tarnishing the image of electric bikes in the eyes of many people.
Anyway, back to the topic at hand – getting fit. As previously mentioned we will have to do a LOT of pedalling to cycle more than 16,047kms to better the existing world e-bike long distance record, so we have taken the bit between our teeth and have hit the gymnasium.
Many people have said that after just a few weeks on the road cycling anything up to eight hours a day, we will be fully fit, so why worry? But basically that just isn't our style. We have always lived by the motto 'if you are going to do something, do it as best you can' and that is the attitude we have taken towards getting fit for the record attempt.
But physical fitness, as we have come to discover, is something of a demanding master … the more you train the more pressure you put on yourself to have to train.
Also, throw in the odd health scare here and there and the fact that at the time of writing this article we are living in Bangkok in Thailand where it is virtually impossible to ride a bicycle due to the chaotic traffic and pollution, improving our fitness has been, to say the least, a challenge.
So it is off to the gymnasium – and the swimming pool in Rachel's case – as often as is possible to ride the exercise bike, walk/run on the treadmill, use the stair climbing machine, stretch, lift weights and generally do what we can to get fit.
But when is too much training too much? Should we just concentrate on riding the exercise bike, or should we also do weight training, fit ball and other various strength exercises as well?
Basically in the end I have just gone for it and done the lot, with Rachel concentrating on swimming, the exercise bike and light weights.
The end result is definitely a huge improvement in our fitness, and a quiet confidence that we will be more than ready when the time comes to head off.
The thought of successfully riding well in excess of 16,047 kms (nearly 10,000 miles) throughout the UK, Europe and Scandinavia to set a new world e-bike record is certainly all the motivation we need to keep working hard.
Thanks to Gary Corbett for a look at their e-bike tour preparations.
I am looking forward to following Gary and Rachel as they set off of to break the world record and promote electric bikes along the way!
E-bike touring is becoming more and more popular.
Checkout some of these other e-bike touring stories:
European Electric Bike Tour: Not All Who Wander Are Lost – Part 1
Electric Bike Touring to Eurobike [VIDEO]
Electric Bike Touring: 3,300 Miles from Seattle WA to Washington D.C. on a Pedego Interceptor
Electric Bike Touring: 80 Year Old to Ride 2,500 Miles on an Easy Motion NEO Jet!
Electric Bike Touring in Croatia, Austria, & Italy's Dolomites
E-Biking to the Grand Canyon with the Ride the Future Tour Crew! [VIDEO]
Tour de Mongolia – A Solar Powered Electric Bike Tour! Lots of Pictures.
Electric Bike Tour In The Nepalese Himalaya!
Iceland Challenge Short Film: Electric Bike Touring in Iceland! [VIDEO]
An Electric Bike Tour Across the USA!
Are you interested in e-bike touring? Where would you like to ride?
Please leave your comments in the section below.
Thanks!
-Pete
P.S. Don't forget to join the Electric Bike Report community for updates from the electric bike world, plus ebike riding and maintenance tips!
Reader Interactions