New Ford Electric Bike Powered by Pedego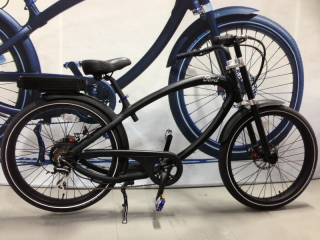 This is a press release from Pedego Electric Bikes.
In a move that is sure to surprise a lot of drivers, Ford Motor Company is about to transform two-wheeled travel. No, not motorcycles – bicycles. Actually, electric bicycles.
Such light electric vehicles have been around for a while, but now Ford Motor Company has partnered with California-based Pedego Electric Bikes to offer a product with revolutionary style, engineering and quality: The Ford Electric Bicycle.
This state-of-the-art bike made its debut at Interbike 2013, the nation's largest bicycle retailer convention, in Las Vegas, Nevada. The bike will then be available at Pedego dealerships across the United States and Canada starting January 1, 2014.
It shouldn't really surprise anyone that Ford is a player in the e-bike game. Ford is continuing to go further by offering consumers a distinctive new choice that stands apart from the e-bike crowd.
This brand extension demonstrates Ford's commitment to green technologies while reinforcing the company's leadership in design. The new Ford e-bike carries on Henry Ford's vision and commitment to "make great products that contribute to a better world."
Pedego Electric bikes has a reputation for quality and stylish designs in an expanding line of e-bikes that includes Comfort Cruisers, Interceptors, Trail Trackers and City Commuters. This growth is a result of their core value, innovation, which makes Pedego a great match for Ford.
The result is an e-bike that could soon dominate bike paths across the map. Don DiCostanzo, co-founder and CEO of Pedego is excited that Ford approached Pedego to create a top-of-the-line electric bicycle. "We're very pleased that Ford Motor Company pursued a partnership with our company, and we're thrilled with the e-bike that came as a result."
The Ford e-bike has already earned passionate praise from enthusiasts on the test tracks. Designed for Pedego by world-renowned bicycle architect Tony Ellsworth, the Ford e-bike provides a smooth, marshmallow ride whether you're conquering hills or charging through headwinds.
This high-performance bike soars from zero to 20 mph effortlessly with a 48-volt battery and powerful 600-watt motor. And yet it's a pleasant, relaxed cruise – truly easy riding. The bike's crown fork with adjustable handlebars hold a 7-speed geared twist shifter on the left and a throttle on the right.
For extra comfort, the handlebars can adjust in and out as well as up and down. The rider enjoys all of these features while gliding on Schwalbe Fat Frank tires. Pedego's creative team has built an e-bike that fits Ford's required key design elements: sleek styling and a sporty feel that make riding fun, whether you're seeking adventure or running errands around town.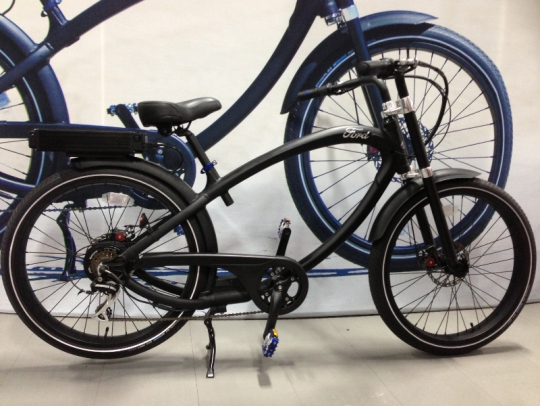 About Ford Motor Company
Ford Motor Company, a global automotive industry leader based in Dearborn, Mich., manufactures or distributes automobiles across six continents. With about 177,000 employees and 65 plants worldwide, the company's automotive brands include Ford and Lincoln. The company provides financial services through Ford Motor Credit Company.
For more information regarding Ford and its products worldwide, please visit https://corporate.ford.com/.
About Pedego® Electric Bikes
Pedego®, the world's most renowned electric bicycle, built its reputation by creating chic e-bikes outfitted with the latest in electric bike technology. Pedego's commitment to innovation has led to worldwide acclaim for their leading-edge design.
Their many stylish e-bike models, such as the Pedego® City Commuter, offer a cost-effective and green alternative for transportation, exercise, recreation and fun … without worrying about hills or headwinds! Hailing from Orange County, California, Pedego Electric Bikes is one of the fastest growing electric bicycle companies in the world.
For more information, please visit https://www.pedegoelectricbikes.com/
P.S. Don't forget to join the Electric Bike Report community for updates from the electric bike world, plus ebike riding and maintenance tips!
Reader Interactions