First Ever Electric Mountain Bike Race at Sea Otter [VIDEO]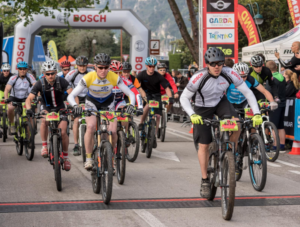 Are you ready to race your electric bike?!
April 15th, 2016 marks the date for the first ever electric mountain bike (eMTB) race at the Sea Otter Classic that will be held at the Laguna Seca raceway near Monterey, California.
The Sea Otter Classic is one of the largest cycling events in the U.S. with over 10,000 athletes and 65,000 fans attending. It is a mix of races (mountain, road, cyclocross, and now eMTB!), fun rides, and an expo for cycling companies to show off their products to the public.
This eMTB race, co-sponsored by Bosch and Haibike, builds from both companies' years of experience sponsoring European eMTB races and features challenging climbing and descents on a mix of single-track trail and other terrain over the course of the 1.5 mile loop. The race is time-based –60 minutes in duration – a hybrid between short track and cross country. The racer who completes the most laps within 60 minutes wins.
If you want to race but don't have an eMTB to race, no problem, Bosch will be lending some of their eMTB's to racers for free! Details below.
Here's a video fly through of the course:
Here is the view of the course:
And an elevation profile:
Bosch is sponsoring an "Industry Challenge" category within the race that will award the industry race winner (someone who works in the bicycle industry) with $5,000 that will go to the local trail building non-profit of their choice.
"We added an Industry Challenge to the race as a way to inject some friendly intra-industry competition into this category, but more importantly, to provide an extra tailwind to trail-building associations who are doing valuable work for the mountain bike community." Says Claudia Wasko, Regional Business Unit Leader of Bosch eBike Systems Americas.
"If people love what they do, they exercise and want to become better. If they become better, they want to compete. In any sport, in any part of life. Same happened with eMTB in Europe and now in the U.S."  says Claus Fleischer, CEO of Bosch eBike Systems.
"We are proud to sponsor the first e-mountain bike race at Sea Otter.  As the original ePerformance manufacturer, we have been supporting the eMTB race scene in Europe from the beginning and are excited to bring the opportunity to the US." says Susanne Puello, Managing Director for Winora Group and Haibike.
"eMTB racing already exists in many forms from short races, relays, 24h, to Enduro in Europe already. Why? Because they are exhilarating, physically demanding, and Mountain Bikers love competitive challenges! We're happy to work with Bosch and Haibike to bring this eMTB trend to the U.S. at the biggest bike festival in the country." says Frank Yohannan, President and CEO of the Sea Otter Classic, Inc.
Here are the details on the eMTB's that are eligible to be in the race:
Must be pedal assist; no throttles allowed
Max assist speed of 20 mph
400 watts max
Tuned eMTBs are excluded from the competition.
A change of batteries is not permitted. The batteries must be sealed with an appropriate label.
The eMTBs must be technically in perfect condition. All participants' bikes will be inspected at race start and must pass inspection prior to racing.
Technical assistance from the outside during the race is not allowed.
Here's the details on the race:
The Race: Compete in the 1st ever eMTB race at the Sea Otter Classic. Friday, April 15th, 4 PM on the "Swale" (near Dual Slalom). Full course details here.
The Stakes: One Industry Winner will take the glory…and a $5k cash prize to donate to a local trail-building non-profit organization of their choice.
The Rules: Ages 15 and older and all genders are eligible. No racing license required. Rules on eligible eMTBs.
The Sign Up: Registration is $55.
No eBike? No worries! Reserve an eMTB for free courtesy of Bosch (while supplies last), contact: eMTBindustrychallenge@gmail.com.
Good luck to all of the eMTB racers!
P.S. Don't forget to join the Electric Bike Report community for updates from the electric bike world, plus ebike riding and maintenance tips!
Reader Interactions