Electric Mountain Bikes – The Future of Freeride & Downhill Mountain Bikes?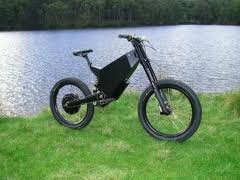 There is something new on the horizon for downhill and Freeride mountain bikes: electric motors! Typically recreational downhillers shuttle their heavy bikes up the hill in a truck and enjoy the gravity ride down. Now with an electric assist they can reasonable pedal these typically inefficient bikes up the hill without having to use 2 vehicles to shuttle them.
This bike setup will not work for typical downhill and freeride competitions, but maybe it will open up a new category of racing?!
It will be interesting to see if people really get into them or opt for an electric offroad motorcycle instead. Time will tell. I certainly would mind trying one! Looks like fun!
Reader Interactions