Electric Bike News – Week of 10/25/10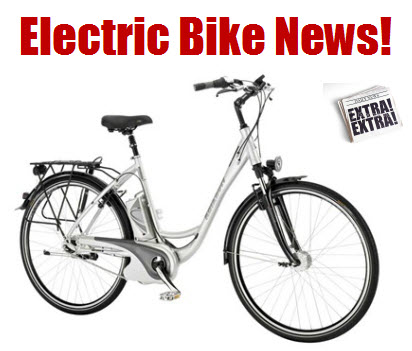 This is something new that I am trying.  Everyday I come across cool electric bike stuff happening in the world and I want to share it with you.  So I will be putting together one post a week just for electric bike news.  I will still be doing other posts on ebike reviews, guides, videos, maintenance, etc.  These news posts may be a combination of stuff that is currently happening as well as some info that is older news that I just stumble upon and want to share with you.
I will be adding links to this post through out the week, so stay tuned 🙂
And if you find something cool that you want to share with the Electric Bike Report community, please leave it in the comment section below.
If you would rather sit back and watch the highlights you can checkout electric bike news video.
To kick things off:
Check out this cool electric cargo trike.
Here is a pizza delivery electric cargo bike from Madsen.
Sylvia Halpern is currently touring the Pacific coast in Oregon and California on a electric recumbent trike.  Sylvia said "I'd love to meet up and ride with electric bike people on the road."  You can see more of her adventures around the world and learn about her story at Myrtle the Turtle Trike Tours.
How about a bike shelter that has solar panels that charge your electric bike.
France to Japan on a solar electric bike.
A little technical, but good news for lithium ion battery capacity.
Great story about a nurse practitioner who uses an electric bike to visit her patients.
Interesting…"Ivan Illich once calculated that if you add up all the time you spend on a car, including the trips to the garage and the time spent earning the money to buy the fuel and maintain the vehicle, and divide by the number of miles you travel, then your average speed is 5mph. You would be faster on a bicycle."
Whoa?! Folding electric bike that can store your stuff…….
Nice!  100,000 people in Los Angeles bike, walk and skateboard the streets without cars.  Here is a great quote from the story "We're alone in our cars. We pass above whole neighborhoods on freeways and never actually see them. Today, I've seen buildings I never took the time to lay eyes on before. Today gave people a chance to just slow down and it connected the neighborhoods of the city in a new way. That's important."  From the LA Times.
Here is a new cargo bike that is consider a SUV: shopping utility vehicle!  Adding an electric bike conversion kit to this would make carrying your groceries much easier 🙂
Ahhhhhh, Portland Oregon of course 🙂 Check out B-line.  They are a company that partners with companies to make their deliveries by electric cargo trike.  And their cargo containers are huge!  Big enough to have advertisements on them.   Also checkout their B-Shares program.
Here is the Lamborghini of electric bikes!  This is a review of the Optibike 850R.  Sounds like a cool bike, but just remember the price is based on "The Optibike is designed to show the world, and our customers, what an electric bike could be if it was built without compromise."  That is a comment from Craig Taber who works at Optibike.
Here is a pic of Ducati ebike. I like how mountain bike legend and electric bike advocate Gary Fisher put it "Ducati makes an e bike so clean and elegant. You should be well dressed to ride this fine machine.
Here are some electric mountain bike pics that an Electric Bike Report community member added to the EBR Facebook page.  I am interested to see where the electric mountain bike concept goes.  The Haibike with Bosche electric motor system.  The Corratec eBow carbon fiber hardtail mtb.  And then this crazy downhill rig, the Conway E-rider.
Here is a funny one!  A "suspicious bicycle" shut down a Mall of America parking ramp.  The bomb squad was called!
Big car manufacturer's are getting into bikes.  Here is a quote from BMW: "creating outstanding-looking bikes that are associated with BMW cars by their dynamic lines and exceptional performance".  Some are pursuing ebikes too.
Not sure how authoritative this financial analyst is but he does recommend this: "The stocks I do like are Alternative Transportation stocks such as rail and bus companies, bicycle and e-bike companies"
Chinese province, Shandong, has started an e-bike subsidy program.  I like this quote:  "Farmers who used to favor motorcycles now turn to e-bikes, because fuel prices have kept rising."
Here is an interesting story on a recumbent ebike and bicycle lifestyle center in Memphis Tennessee that is backed by a millionaire who sees the promise of ebikes.
Here is a story that is a little closer to home.  Electric Bike Report is in iTunes!  Learn how to  get EBR videos (reviews, news, maintenance tutorials, etc.) downloaded to your computer automatically with iTunes.  Then you can add the videos on your iPhone, iPod, iPad, iTouch, for viewing when you have some down time!
Seattle has painted some of their bike lanes green to make them more obvious to car drivers.  "The green bike lanes provide a visual cue to motorists to expect to see a bicycle."
Seattle DOT has a grant program available for "educating and encouraging safer walking and bicycling to school".  It is good to see this because educating and encouraging the young ones  is a great place to start when encouraging more people to ride!
California will be launching a bike sharing program soon.  Hopefully they will consider ebikes too!
Here is an ebike that you can ride on the beach, although sand isn't too good for a bike drivetrain (chain, cogs, etc.).  I like the title of the article "If Batman's Batpod was electric, it'd look like this".  Here is the Hanebrink electric bike.
That's it for right now.  I will continue to add more as I come across them.
And please add the stories that you want to share in the comment section below.
Thanks!
-Pete
P.S. Don't forget to sign up for updates from the electric bike world, plus ebike riding and maintenance tips! (upper right hand corner of this site)
Reader Interactions