Electric Bike News: E-Bike Skiing, Copenhagen E-Bike Share, Optibike B.E.A.S.T, Magnic Light & More! [VIDEOS]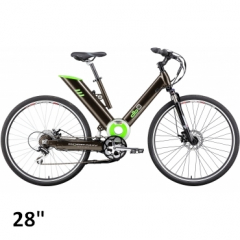 Drummer Electric Bikes
 is a new e-bike company on the scene with 5 different models including an electric cargo trike.   Their DBO-7 model definitely have an interesting design with the battery mounted in a frame tube behind the seat post.
I like the title of the this article "Here's Why The Next Generation of Electric Bikes Will Be Awesome".  The author highlights the benefits of the new Copenhagen Wheel and FlyKly Smartwheel all-in-one electric bike kits.
Optibike has partnered with the Boulder Colorado B-cycle bike sharing program.  They have provided an Optbike to pull a trailer that carries other bikes!  "The concept behind the B-cycle Electric-Assist Service Trailer (B.E.A.S.T) was to improve transportation of B-cycles by attaching a custom-built bike hauling trailer to an electric bike, provided by Optibike"
Electric bike skiing?  That's right!  Enjoy this video of a Pedego Trail Tracker set up with a "bike board".
The Fitness Shirt is a high tech shirt that can help optimize your workout by monitoring your heart rate and breathing in order to adjust the assistance from your e-bike.  It is intended to help you stay in a certain exercise zone.  Interesting…..
Here is another article title I like: "OPINION: Let's stop using the 'c' word".  That 'c' word is "cheating" and the article is a rant from an electric bike store owner who has some good points about how e-bikes are not cheating.
Copenhagen is working on an electric bike share program: "The city hopes people will zip around on electric bikes instead of clogging the streets with cars".
Since it is that time of year when the days are very short it is good to have bike lights with you at all times.  What about lights that require no batteries?  The Magnic Light is a touchless dynamo light set that use the rotation of a bike's rims to power the lights.  "Energy is drawn from the rotating bicycle wheels without any physical contact, and thus without friction. Instead, eddy currents created by strong magnets generate electricity to power the lights (International Patent Pending PCT/EP/2012/001431)."  Checkout this video for more info:
Here is the full review of the EcoReco M3 folding electric kick scooter.  This can be a great first and last mile commute solution when combined with mass transit.
Treehugger did a nice round up of their top 10 bike stories for 2013 and that includes some good news about e-bikes!  Also, here is a video they included about the bike commuting scene in Amsterdam and how it came to be:
Thats it for now.  Stay tuned for more e-bike news and reviews!
-Pete
P.S. Don't forget to join the Electric Bike Report community for updates from the electric bike world, plus ebike riding and maintenance tips!
Reader Interactions