Electric Bike News – Week of 11-1-10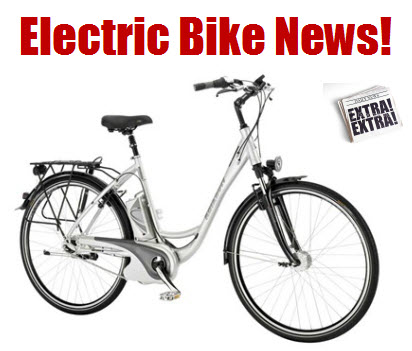 Wow! It's a new week already.  Crazy how time flies.  Well I have got some new e-bike news and cool stories that have crossed my path.
Remember that I will continue to add to this post through out the week as I come across more e-bike happenings.  So check back often 🙂
And please share your electric bike news and stories with the Electric Bike Report community in the comment section at the end of this post.
One more thing: If you would rather watch a video recap of this news, you can check it out here on e-bike news TV 🙂
Now the news!
Wow! Checkout this new futuristic electric bike from the makers of the Smart car: The Smart Ebike
Here is a wild ride!  An electric trike that is very stylish and powerful.  Not sure how practical but definitely a work of art.
Tommy Bahama electric bikes? Yup they are Pedego cruiser ebikes with some added Tommy Bahama flare.  They will be debuting at the new Laguna Beach store.
Here is a cool story on e bike rentals in Point Reyes national seashore park.  I like this quote from one of the SF Gate correspondents "I love my bike, it's my favorite vehicle ever, better than a sports car I had for few years,"
Here is a video of Portland Oregon's mayor Sam Adams learning about and riding an ebike:
Is this the future of electric bikes? Here is a "bubble" electric recumbent bike from Clive Sinclair.  Would you like to try one?
Here is a video from Best Buy that is mainly an ad for Best Buy but it has some good points about electric bikes. It's worth a watch.
WHoa?! These are some wild looking futuristic bikes!   These bikes are from the international Seoul Cycle Design Competition 2010.  Some of them are electric bikes.  I like the "serious beach bum" bike 🙂
The TwoQuater is a cool folding electric bike that can fold to a quarter of it's size.  It also can recharge it's batteries while cruzing downhill.
That's it for right now.  I will continue to add more as I come across them.
And please add the stories that you want to share in the comment section below.
Thanks!
-Pete
P.S. Don't forget to sign up for updates from the electric bike world, plus ebike riding and maintenance tips! (upper right hand corner of this site)
Reader Interactions