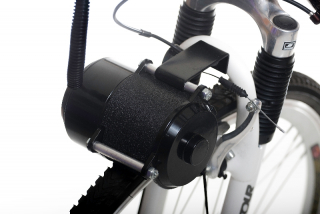 Electric Bike Factory
, in Fort Myers, Florida, has made the simplest, and perhaps oldest successful design for a DIY electric bike conversion kit in the USA since the 1990's.
The friction roller system (sometimes referred to as a "tire scrubber") is similar in function to the EV Warrior, the ETC, and the Zap systems that were the pioneering ebikes of the 1990's.
The motor has a roller that pushes on the bike tire to create a "friction" connection.   As the roller spins, so does the bike tire.
Such systems are very easy to install, very reliable, and work extremely well on nearly all bicycles and especially the adult trikes popular in Florida and other retirement areas.
The downside? They are slower, not quiet, and they do not work in the rain.
Mort Lashman  is the founder and operator of The Electric Bike Factory until very recently.  He assembled the product in a workshop attached to his home in Fort Myers, Florida, with assistance from his wife Estelle.
Mort will continue to repair antique slot machines – a business he has been in as long as the ebike kits. No one who knows him expects him to actually retire.
Chris Nardi, general manager of Electric Vehicle Outfitters (EVO), purchased The Electric Bike Factory from Mort in January of 2013.
Chris says that no changes are planned for the product, although new and more powerful models may be available in the future. And the distribution channels will remain the same.
"This is the first step for EVO. We hope to become a full service provider of DIY kits, and after sales service parts for the electric bike industry."
Electric Bike Factory kits are available from J&B Importers, from bicycle dealers, and from EVO.
Contact:
www.electricvehicleoutfitters.com
P.S. Don't forget to join the Electric Bike Report community for updates from the electric bike world, plus ebike riding and maintenance tips!