E-Biking Around Lake Constance and Along the Alsace Wine Route [VIDEO]
By Gary Corbett.
What a week of discovery it has been for the e-Bike Cycle Tourists.
After deciding we didn't have enough time left to cycle to Vienna on EuroVelo 6 as planned due to visa restrictions imposed by the Schengen Agreement, the decision was made to cycle around Lake Constance and then return to France to cycle the famed Wine Route in Alsace.
From there our new itinerary will see us cycle along EuroVelo 15 on the French side of the Rhine River to Koblenz where we will follow the Moselle River to Luxembourg before cycling to Belgium and Holland.
Here is a video along the Rhine River on the way to Lake Constance:
And what a great decision it turned out to be … Lake Constance provided five days of great cycling and sightseeing and the Alsace region, well, there is only one word that sums up the entire region – stunning.
Lake Constance, which borders Germany, Switzerland and Austria, features a well worn 285km long cycle track that twists and turns through historic village after historic village.
It is, without a shadow of exaggeration, a cycling super highway. At times while we cycled across France along the Loire Valley we couldn't believe the number of cycle tourists we saw.
But that was absolutely nothing to the huge number of cyclists that we passed while cycling around Lake Constance.
Organised cycle groups, families on day outings, long distance cyclists, elderly people and young people, you name it, and they were out cycling around the lake.
And what was most interesting was that a very large percentage of the people we passed along the way were riding e-bikes! Unlike in the UK, Brittany and along the Loire, in this part of Europe e-bikes are a downright common sight, and what a great sight it was.
Many of the older people we spoke to said they were enjoying being able to cycle tour for the first time in many years thanks to the assistance provided by their e-bikes – how good is that!
Multiply that situation by the thousands and thousands of people cycling e-bikes around the lake and you start to get an indication of just how popular e-bikes have become in Europe – particularly with people in the over 50 age bracket.
Our tour of the lake started at the thundering Rhine Falls at Neuhausen before we continued on the German side of the lake through to the eastern Austrian section before returning to where we started through Switzerland.
On one day we enjoyed the unique situation of having breakfast in Germany, lunch in Austria and dinner in Switzerland.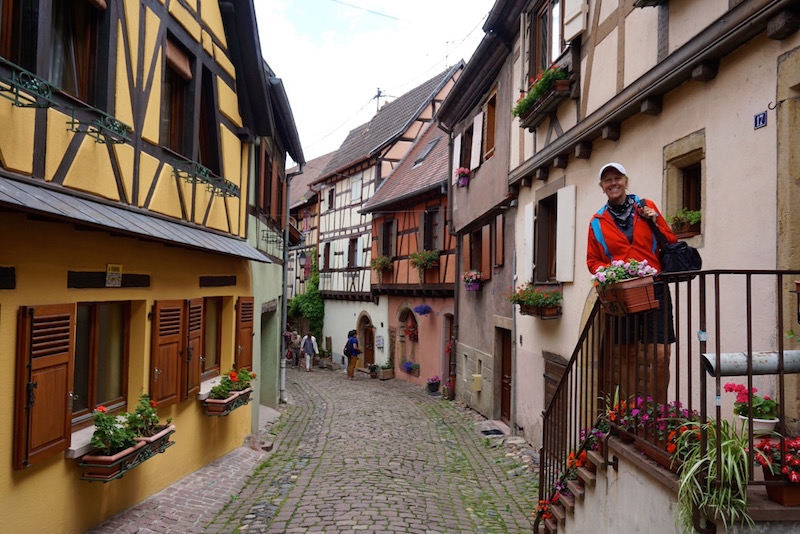 Towns along the way such as Stein am Rhein, Radolfzell, Gaienhofen and Ermatingen were straight out of picture postcards, and the views of the lake and the surrounding countryside along the way – they were simply mesmerising.
Between the towns the cycling was easy, with the countryside filled with orchards and farms growing every type of berry, fruit and vegetable you can possibly think of.
Given the distance to circumnavigate the lake it is a favourite destination for organised cycle tour groups – both guided and self-guided – with the result that most of Europe's leading cycle tour companies were represented with groups enjoying the region.
After an enjoyable five days discovering Lake Constance we retraced our steps along EuroVelo 6 to the Rhine River before crossing into France to cycle the Alsace Wine Route.
The 170 kilometre long wine route weaves through 120 villages from Thann to Marlenheim between the Vosges forests and the Rhine River.
The beauty of the region, the endless vineyards and the meticulously maintained villages – Eguishiem, Riquewhir and Hunawir are listed as three of the most beautiful in France – means that like Lake Constance it is a favourite with not only cycle tourists, but wine lovers and tourists in their thousands.
Along the way we revelled in exploring village after village and, when we had the opportunity, to feast on ripe, mouth watering cherries growing wild alongside the cycle track.
With more than 4,000 kilometres cycled since we left London on April 23 we are well ahead of our target of 400kms per week to set a new world e-bike long distance record.
We are currently camped in Strasbourg on the French – German border for a day of rest before continuing on our travels up the Rhine.
Who knows what amazing sights and adventures lie ahead?
Thanks to Gary Corbett for this update from their electric bike tour!
Now, checkout some of these other e-bike touring stories:
World record attempt for longest electric bike trip – nearly 10,000 miles!
European Electric Bike Tour: Not All Who Wander Are Lost – Part 1
Electric Bike Touring to Eurobike [VIDEO]
Electric Bike Touring: 3,300 Miles from Seattle WA to Washington D.C. on a Pedego Interceptor
Electric Bike Touring: 80 Year Old to Ride 2,500 Miles on an Easy Motion NEO Jet!
Electric Bike Touring in Croatia, Austria, & Italy's Dolomites
E-Biking to the Grand Canyon with the Ride the Future Tour Crew! [VIDEO]
Tour de Mongolia – A Solar Powered Electric Bike Tour! Lots of Pictures.
Electric Bike Tour In The Nepalese Himalaya!
Iceland Challenge Short Film: Electric Bike Touring in Iceland! [VIDEO]
An Electric Bike Tour Across the USA!
Are you interested in e-bike touring? Where would you like to ride?
Please leave your comments in the section below.
P.S. Don't forget to join the Electric Bike Report community for updates from the electric bike world, plus ebike riding and maintenance tips!
Reader Interactions