E-Bike Touring: A Tale of Thundering Traffic, Watership Downs & Andrew Lloyd Webber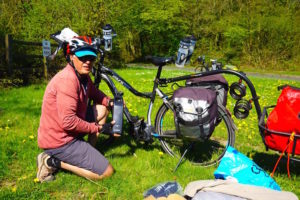 By Gary Corbett.
Finally. After eight months of planning, an exhaustive fitness regime and a general preparation worthy of a flight to Mars, the e-Bike Cycle Tourists are off and cycling on our way to setting a new world e-bike long distance record.
With a few days of e-biking around the Surrey countryside to get used to our new Haibike xDuro Trekking e-bike – Tout Terrain cycle trailer combination, we finally hit the road on April 23 as planned for our first day's cycling from Aldershot  – where we had been staying with friends – to Newbury on the historic Kennet & Avon Canal.
And what a baptism of fire it was! To cut a very long story short, it was a rude introduction to any cyclist's worst nightmare – cycling on busy British roads with semi-trailers and a constant stream of traffic whizzing uncomfortably close.
While sections of the day's 76.73km ride were on idyllic country roads and along charming waterways, unfortunately there was no escaping the fact that to get to our final destination we had to cycle along Highway A339.
So it was a case of suck it in, put your head down and go for it.
In the situation we found ourselves, this was where our e-bikes really came to the fore. Rather than amble along in Eco mode, it was either Tour, Sport or Turbo modes as we – in motoring terms – put the pedal to the metal.
Six stops later to ask directions after getting lost – something we are going to have to get used to over the course of our record attempt – and we finally pulled into a campground in Newbury where we set up home for two nights.
A pasta meal washed down with a good bottle of wine later and it was time to digest how our Haibikes had performed and to appreciate the more memorable parts of the day.
The Haibike e-bikes first. Given that we are carrying an estimated 60-plus kg of gear between the two bikes, the figures for the day provided very interesting reading.
Total distance covered – 76.73kms over 4.27 hours travel time – with a change of batteries required after 65.48kms.
Given that we had no data to go on prior to heading out on the range to be expected from the e-bikes batteries, 65km was impressive indeed. This was especially so considering the fact that during stages on the A339 we were in Tour, Sport and, for short distances, Turbo modes.
Given more favourable cycling conditions in the future where we can hopefully better preserve the batteries' charge by mostly cycling in Eco mode, the hope is to significantly improve the range we achieve.
It was also pleasing to note that with both bikes fully loaded they handled well, climbed hills effortlessly and generally were a delight to ride.
Basically our biggest learning curve centres around how to best control the e-bike – cycle trailer combo when we are not riding.
To put it in a nutshell all they want to do is fall over all the time given the heavy load being carried. As a result we have to be extra careful not to park on sloping ground or near anything that could prove to be an e-bike trap – such as unfenced canals etc.
But while the trailers hitched to the bikes can be somewhat cumbersome to manoeuvre at times, there is absolutely no doubt that the e-Bike Cycle Tourists 'e-bike trains' are a hit with the general public.
Just about everywhere we stopped people wanted to talk to us about the bikes and trailers, with stops to get our bearings, buy food or have a rest often being considerably extended by an explanation of what we are doing and where we are going.
The result on a day where we cycled for 4.27 hours, was a total travel time of nearly nine hours! Just as well we absolutely love talking about what we are trying to achieve.
Now for the highlights of day one. We enjoyed picture postcard perfect spring weather, we cycled along country lanes where the famous novel Watership Down was set and we got to see the palatial property where Andrew Lloyd Webber lives.
The rest, well, picture thundering semi-trailers and impatient British motorists and you basically have the full picture.
After a day camped at Newbury to get our thoughts together after such a big build-up to our ride, we head off along the Kennet & Avon Canal on the way to Bath and then Bristol along EuroVelo 2 (British National Cycle route 4) before branching off onto EuroVelo 1 (Brithish National Cycle route 3) for the ride to Plymouth where we will catch the Ferry to Roscoff in Brittany in France.
Stay tuned.
Thanks to Gary Corbett for this update from their electric bike tour!
Now, checkout some of these other e-bike touring stories:
European Electric Bike Tour: Not All Who Wander Are Lost – Part 1
Electric Bike Touring to Eurobike [VIDEO]
Electric Bike Touring: 3,300 Miles from Seattle WA to Washington D.C. on a Pedego Interceptor
Electric Bike Touring: 80 Year Old to Ride 2,500 Miles on an Easy Motion NEO Jet!
Electric Bike Touring in Croatia, Austria, & Italy's Dolomites
E-Biking to the Grand Canyon with the Ride the Future Tour Crew! [VIDEO]
Tour de Mongolia – A Solar Powered Electric Bike Tour! Lots of Pictures.
Electric Bike Tour In The Nepalese Himalaya!
Iceland Challenge Short Film: Electric Bike Touring in Iceland! [VIDEO]
An Electric Bike Tour Across the USA!
Are you interested in e-bike touring? Where would you like to ride?
Please leave your comments in the section below.
P.S. Don't forget to join the Electric Bike Report community for updates from the electric bike world, plus ebike riding and maintenance tips!
Reader Interactions